Description


Due to popular demand, we have added a bonus screening of A NIGHTMARE ON ELM STREET!
35th Anniversary Screening! Presented on 35mm!
1,2 our Freddy interactive movie game's coming for you.
Drunken Cinema invites you to ELM STREET (a.k.a. Revue Cinema) to celebrate a special 35th anniversary screening of Wes Craven's seminal horror classic, A NIGHTMARE ON ELM STREET — on 35mm!!!
Experience the ground-breaking special effects, the launch of Johnny Depp's career, and the introduction of one of horror's most iconic slasher villains, FREDDY KRUEGER with us at Revue Cinema with a great crowd!
There will be popcorn, wine & beer, trailers, a themed cocktail and prizes to be given away!

*Customized game card is included in the price of admission.
Doors at 9:00PM, event starts at 9:30PM Licensed. Probably going to sell out so don't miss out!

About the Film
A NIGHTMARE ON ELM STREET
USA 1984 101 min. R
Directed by: Wes Craven
Starring: Robert Englund, Heather Langenkamp, Johnny Depp, John Saxon

About Drunken Cinema
DRUNKEN CINEMA is a monthly series in Toronto, Kitchener, Hamilton and Montreal specializing in interactive movie game nights for extreme movie buffs. The series showcases cult classics and hidden gems from the 1980s and 1990s, while also providing an interactive movie game twist to enhance the viewing experience.
Disclaimer: All Revue membership discount benefits apply. Member free screening not applicable.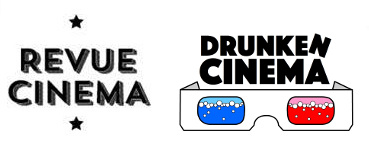 *As a licensed establishment, The Revue Cinema serves beer, wine, various spirits, and for this screening, a customized cocktail. Non-alcoholic drinks are also available. Please note that outside food & alcohol is not permitted in the establishment. Please enjoy responsibly.