Description
"In a deadly (drinking) game of cat and mouse, they must fight to survive."


To celebrate our 1st year anniversary of theatrical Drunken Cinema events at Revue Cinema, we invite you to participate in an interactive drinking game for one of our favourite cult thrillers from the early nineties: JUDGMENT NIGHT!
Watch this 1993 under the radar "chase flick" that features a (then) all-star cast, obligatory and explicit Denis Leary rants, and a classic genre-splicing soundtrack with us at a great theatre!
There will be popcorn, wine & beer, trailers, a themed cocktail and prizes to be given away!

*Customized game card and prop is included in the price of admission.
Doors at 9:00PM, event starts at 9:30PM Licensed. Probably going to sell out so don't miss out!

About the Film
JUDGMENT NIGHT
USA 1993 110 min. R
Directed by: Stephen Hopkins
Starring: Emilio Estevez, Cuba Gooding Jr., Denis Leary, Stephen Dorff

About Drunken Cinema
DRUNKEN CINEMA is a monthly series in Toronto, Kitchener and Montreal specializing in movie drinking game nights for extreme movie buffs. The series showcases cult classics and hidden gems from the 1980s and 1990s, while also providing an interactive drinking game twist to enhance the viewing experience.
Disclaimer: All Revue membership discount benefits apply. Member free screening not applicable.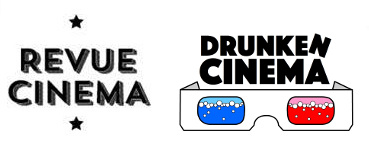 Organizer of Drunken Cinema: JUDGMENT NIGHT (1993)
The recently renovated Revue Cinema is Toronto's premier not-for-profit community cinema. We offer great second-run Hollywood fare, insightful programming like our Silent Revue series — where classics from the silent era are accompanied on live piano — Food in Film, Designing the Movies, annual galas, retrospectives & numerous other community offerings. The Revue opened in 1912, making it the oldest operating cinema in Toronto. Support us by becoming a member & enjoy great perks throughout the entire year!