Ticket prices for events in Canada now include taxes and fees, so the price you see is what you will pay.
Description
Featuring LIVE performance by BLOOD OPERA! (19+ Event!)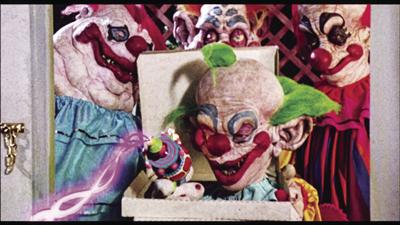 What happens when you mix together the 80s, alien clowns and The Dickies? You get one of the best cult horror movies ever made!
Drunken Cinema invites you all to CRESCENT COVE (a.k.a. Revue Cinema) to participate in an interactive film going experience in celebration of one of our most requested titles of all-time: KILLER KLOWNS FROM OUTER SPACE!
Re-live the groovy practical effects, the goofiness and the killer soundtrack in a great theatre with a fun crowd! This event will also feature another killer live performance by Blood Opera Inc.!
There will be a preshow, popcorn, wine & beer, trailers, a themed cocktail and prizes to be given away!
*Customized game card, clown nose and cotton candy glowsticks are included in the price of admission!
Doors at 9:00PM, event starts at 9:30PM Licensed. 19+ Event. Probably going to sell out so don't miss out!

About The Film

KILLER KLOWNS FROM OUTER SPACE
USA 1988 88 min. 14A
Directed by: Stephen Chiodo
Starring: Suzanne Sydner, John Vernon, Grant Cramer, John Allen Nelson
About Drunken Cinema
DRUNKEN CINEMA is a monthly series in Toronto, Kitchener and Montreal specializing in interactive movie game nights for extreme movie buffs. The series showcases cult classics and hidden gems from the 1980s and 1990s, while also providing an interactive twist to enhance the viewing experience.
Disclaimer: All Revue membership discount benefits apply. Member free screening not applicable.