Drunken Cinema Kicks Off Halloween weekend with SCREAM 3!
About this event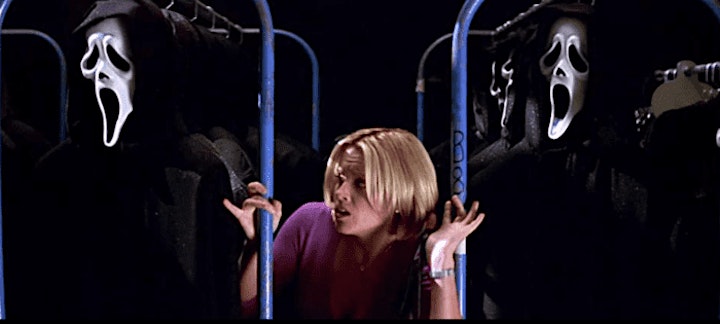 Someone has taken their love of horror trilogy interactive games one step too far.
You demanded a sequel screening after the success of our previous SCREAM & SCREAM 2 interactive movie game screenings  and we listened! DRUNKEN CINEMA kick starts Halloween weekend with a "scream",  by screening the sequel that horror fans have eventually grown to enjoy -- SCREAM 3! 
Drunken Cinema invites you to Sunrise Studios (a.k.a. REVUE CINEMA) to witness what was once the concluding chapter of the series until the slasher franchise was revived in 2011!  Re-visit the thrills, the chills and the horrific hair cuts (mainly Courteney Cox's) for the first time or for the 100th time with us at Revue Cinema with a great crowd!
There will be popcorn, wine & beer, trailers, and a themed cocktail !
*Customized game card and glowstick is included in the price of admission.
Doors at 9:00PM, event starts at 9:30PM Licensed. Probably going to sell out so don't miss out!

19+ EVENT!
About the Film
SCREAM 3
USA 2000 117 min. 14A
Directed by: Wes Craven
Starring: Neve Campbell, David Arquette, Courteney Cox, Liev Schreiber
*SEATING WILL BE RESERVED AT THE DOOR. PLEASE ENSURE YOU ARRIVE EARLY TO RESERVE A GOOD SEAT.
As part of the provincial government's vaccine certificate program, which was announced in September, everyone will be required to show that they received both doses of an approved COVID-19 vaccine at least 14 days earlier in order to enter the cinema for this event.
Everyone must bring either their paper vaccine receipt or PDF vaccine receipt available online, along with photo ID to prove that they have been fully immunized.
Regular admission applies. For INDIVIDUAL MEMBERSHIPS ($350) and FAMILY MEMBERSHIPS, please email us at info@revuecinema.ca to get a ticket!
About Drunken Cinema
DRUNKEN CINEMA is a monthly series in Toronto, Kitchener and Montreal specializing in interactive movie game nights for extreme movie buffs. The series showcases cult classics and hidden gems from the 1980s and 1990s, while also providing an interactive movie game twist to enhance the viewing experience.
Disclaimer: All Revue membership discount benefits apply.
Organizer of Drunken Cinema: SCREAM 3
The recently renovated Revue Cinema is Toronto's premier not-for-profit community cinema. We offer great second-run Hollywood fare, insightful programming like our Silent Revue series — where classics from the silent era are accompanied on live piano — Food in Film, Designing the Movies, annual galas, retrospectives & numerous other community offerings. The Revue opened in 1912, making it the oldest operating cinema in Toronto. Support us by becoming a member & enjoy great perks throughout the entire year!