Description
"Due To Popular Demand, We Added A Third Screening!"
You voted and DRUNKEN CINEMA delivered on our promise for our VIEWERS' CHOICE screening, and we are bringing you THE LOST BOYS interactive film going experience -- PRESENTED ON 35mm!!!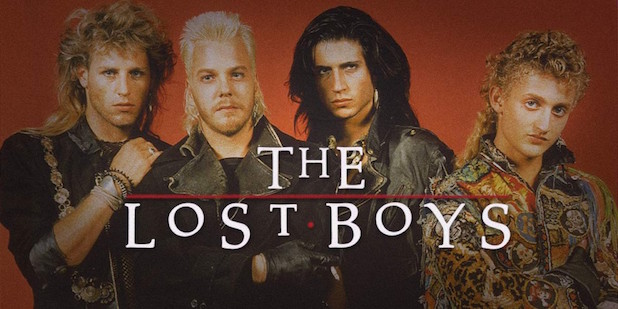 What happens when you mix together the 80s, the two Coreys, babes, bikes and a lot of blood? You get one of the best vampire movies ever made!
Drunken Cinema invites you all to SANTA CARLA (a.k.a. REVUE CINEMA) to participate in an interactive film going experience in celebration of THE LOST BOYS!
Re-live the vampires' keen fashion sense, Kiefer Sutherland's goosebumps-inducing evil laughter and of course THE FROG BROTHERS in a great theatre with a rowdy crowd!
There will be popcorn, pre-show, a themed cocktail and prizes to give away!
*Customized playing card and fangs are included in the price of admission.
Doors at 9:00PM, event starts at 9:30PM Licensed. Probably going to sell out so don't miss out!

About The Film

THE LOST BOYS
USA 1987 98 min. 14A
Directed by: Joel Schumacher
Starring: Jason Patric, Kiefer Sutherland, Corey Haim, Corey Feldman
About Drunken Cinema
DRUNKEN CINEMA is a monthly series in Toronto, Kitchener and Montreal specializing in interactive game nights for extreme movie buffs. The series showcases cult classics and hidden gems from the 1980s and 1990s, while also providing an interactive twist to enhance the viewing experience.
Disclaimer: All Revue membership discount benefits apply. Member free screening not applicable.