Description
Please join us in celebrating another AMAZING year!
We invite our entire membership and those interested in membership to attend our 2017 Annual General Meeting. We will be celebrating the achievements we made in 2016; we will be presenting and voting on improvements made to the DSAH By-laws; we will be conducting this year's election of Board Members –more details in the Agenda below. In addition, we have some exciting news regarding this year's Speaker – Robert Pio Hajjar. More information about Robert in the details below.
DETAILS
Date: WEDNESDAY, May 24, 2017
Location: Rygel Supports for Community Living
Address: 220 Cranbrook Drive, Hamilton, ON, L9C 4T2
EVENT TIMELINES:
Light snacks and greetings – 6:30-7:00 pm

AGM – 7:00 – 7:30 pm

Speaker – 7:45

-8:

30

pm

Questions and conversation – 8:30-9:00 pm
AGM AGENDA
Call to order

Approval of the 2016 AGM Minutes

Board President's Report

Treasurer's Report

Approval of the Auditor for 2017

Election of Board Members 2017-2018


Adjournment
To access the REVISED DSAH BY-LAWS, CLICK HERE
---
This AGM will be a FAMILY event – we encourage ALL members to attend and participate in shaping the future of YOUR Association. To help parents with small children attend this important event, we will be providing child minding and activities for the kids in a separate room within the facility.

OUR SPEAKER - ROBERT PIO HAJJAR
We are also very pleased to welcome Robert Pio Hajjar as our speaker this year:
"To celebrate Canada's 150th and Robert Pio Hajjar's appointment to the Order of Ontario, Robert and Ideal Way are giving back to the community - complimentary "I Can, YOU Can" presentations will be given to London schools, the Indigenous Communities and schools / organizations throughout Ontario. Two students from each school will have the opportunity to be the "YOU Can" to Robert's "I Can" and share their stories.
I Can, YOU Can helps foster inclusive attitudes and leadership through empowering students to become IDEAL Champions within their communities - I Can, YOU Can, Pilot Program, inspired by Robert Pio Hajjar and developed by Fanshawe College, is in Southwestern Ontario schools. Robert's message of "I Can, YOU Can" has been presented to over 400,000 people in 88 cities across North America."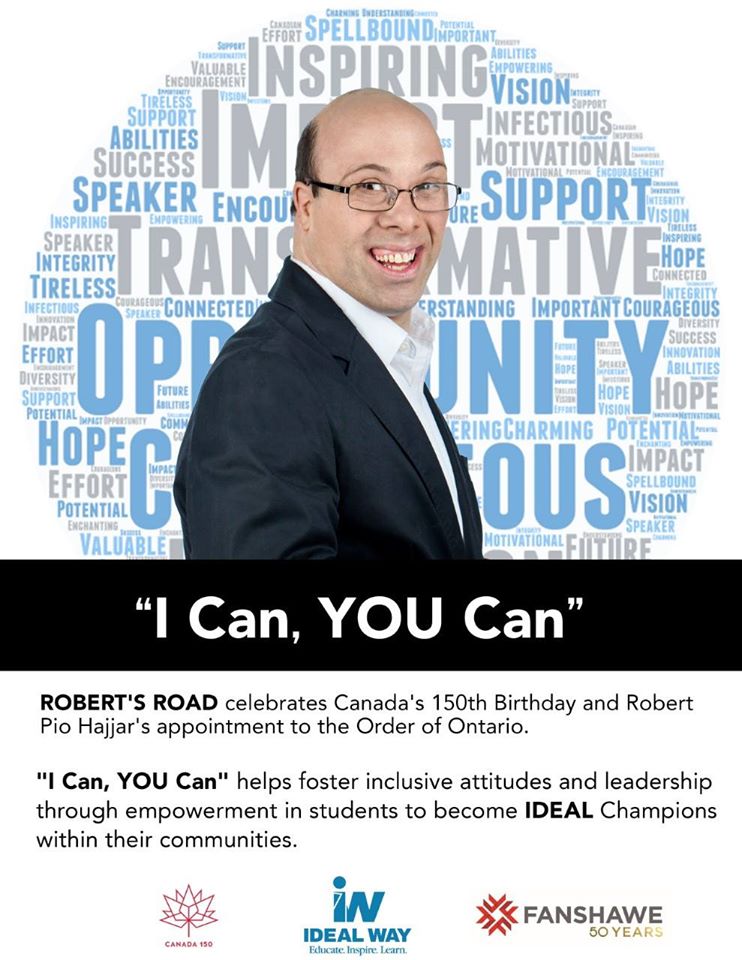 We want to share Robert's message with as many families (parents, children, grandparents), Professionals and Friends of DSAH. We want HAMILTON to hear from a Champion of POSSIBILITIES!
---
IMPORTANT INFORMATION TO PARTICIPATE IN THE PROCESS
Members in good standing (paid membership) can vote, nominate new board members and/or stand for election to any position in the Board of Directors-we have 4 positions currently vacant for the upcoming year: Secretary, Fundraising Director, 1 Self-Advocate and Programming Director. NOTE that you can nominate someone or yourself for ANY of the other positions described in our Constitution & By-Laws (click here) during the meeting.
You can pay for your membership fee of $25 for April 2017 to March 2018 at the AGM (cash or cheques ONLY).
If you are interested in putting your name forward for these vacant positions or if you wish to nominate yourself or others to ANY of the Board of Director positions, please contact Jennifer Crowson at jencrowson2(at)gmail.com or at (905) 531-6298 if you have any questions.
Please RSVP by MONDAY MAY 22nd so that we may plan accordingly.
We look forward to seeing many of you there!
Your DSAH Board of Directors