Eventinformationen
Veranstaltungsort
DB mindbox Berlin
Holzmarktstraße 6-9
inside S-Jannowitzbrücke, left side of Backwerk
10179 Berlin
Germany
Beschreibung
Data Science for Social Good Berlin is back with our fourth Datathon! It will take place on April 26 - 28 at DB mindbox Berlin.
This year, we are partnering with the nonprofit organizations "Start with a Friend", "facebook.tracking.exposed" and "Studieren Ohne Grenzen".
You can find out more about DSSG Berlin at http://dssg-berlin.org or reach out to contact@dssg-berlin.org for questions.
What is a Datathon?
A Datathon is an event that partners up curious, clever, quantitative data people (that's you!) with curious, clever, empathetic non profit people (you'll love them!) to take a stab at real analytical challenges that our partner non-profit organizations are facing. Over the weekend you'll have a chance to step away from your regular problem sets, contribute to a good cause, and meet other socially minded problem solvers.
Who should sign up?
Data scientists, data analysts, data engineers, data people of all walks of life. As long as you are eager to pick up new skills and work together with others on the challenges, we would love to have you there! We are a diverse and inclusive group. Please come, no matter your race, gender and sexual orientation. We support the http://berlincodeofconduct.org.
A note on tickets:
If you are participating "hands-on" during the entire weekend, please choose the "data diver" ticket option. This also includes access to the final presentations. You do not need to choose an additional ticket.
If you only wish to join us for the final presentations, please choose the "final presentations only" ticket option.
What do I need to dive?
Bring your own computer and any software that you might need! We provide the data, internet access, power, Git repositories, Wikis, AWS credits, etc.
Who's involved?

Start with a Friend connects refugees and locals in over 23 cities into tandems to enable them to exchange and learn from another.
Using the data from Start with a Friend about their tandems, we want to find out during the datathon what makes a tandem successful and how to enhance the matching process with analytical insights.

facebook.tracking.exposed wants to create more transparency about the personalization algorithms of the Facebook newsfeed using a browser add-on. This add-on collects data from volunteering users about their posts.
Using the data collected by the plug-in, we will help analyze how the filter mechanisms of Facebook work.


Studieren Ohne Grenzen awards scholarships to students in need from the world's conflict zones and aims to improve local education infrastructure.
Using survey data collected from the sholarships recipients, we will help SOG to better understand their needs and how they believe the program could be improved.
Schedule
Friday, April 26th
19:00 Check-in

19:30 Introductions
On Friday night you'll be introduced to the participating NPOs, learn about what they are doing and the problem they are facing. Afterwards you can mix and mingle to chat about the projects and maybe already find people you want to work with over the weekend.
Saturday, April 27th
9:00 Registration & Breakfast


9:30 Intro & Teaming

Open end
On Saturday you'll chose projects you want to work on and form teams. Our Data Ambassadors will give initial guidance on the data sets and will manage the projects throughout the day. A representative from each nonprofit organization will be available to help with questions and you'll have regular check-ins with them to discuss intermediate results.
Sunday, April 28th
09:00 Doors open & Breakfast

12:00 Final presentations begin

14:00 End
You will wrap up projects and prepare final presentations. You'll present prototypes or slides or… just whatever you came up with based on the data. The partner nonprofits will also have an opportunity to ask questions. Presentations will be short (~10min) so that every team can present.
Food & Drinks
We will provide an evening snack on Friday, breakfast, lunch and an evening snack on Saturday and breakfast on Sunday; with fruits, coffee and drinks available throughout. There will be vegetarian/vegan options available for all meals, but please let us know if you have any other dietary needs, restrictions, or food allergies. contact@dssg-berlin.org
Location
DB mindbox Berlin
Holzmarktstraße 6-9
10179 Berlin
inside of S-Bahnhof Jannowitzbrücke left side of Backwerk

Sponsors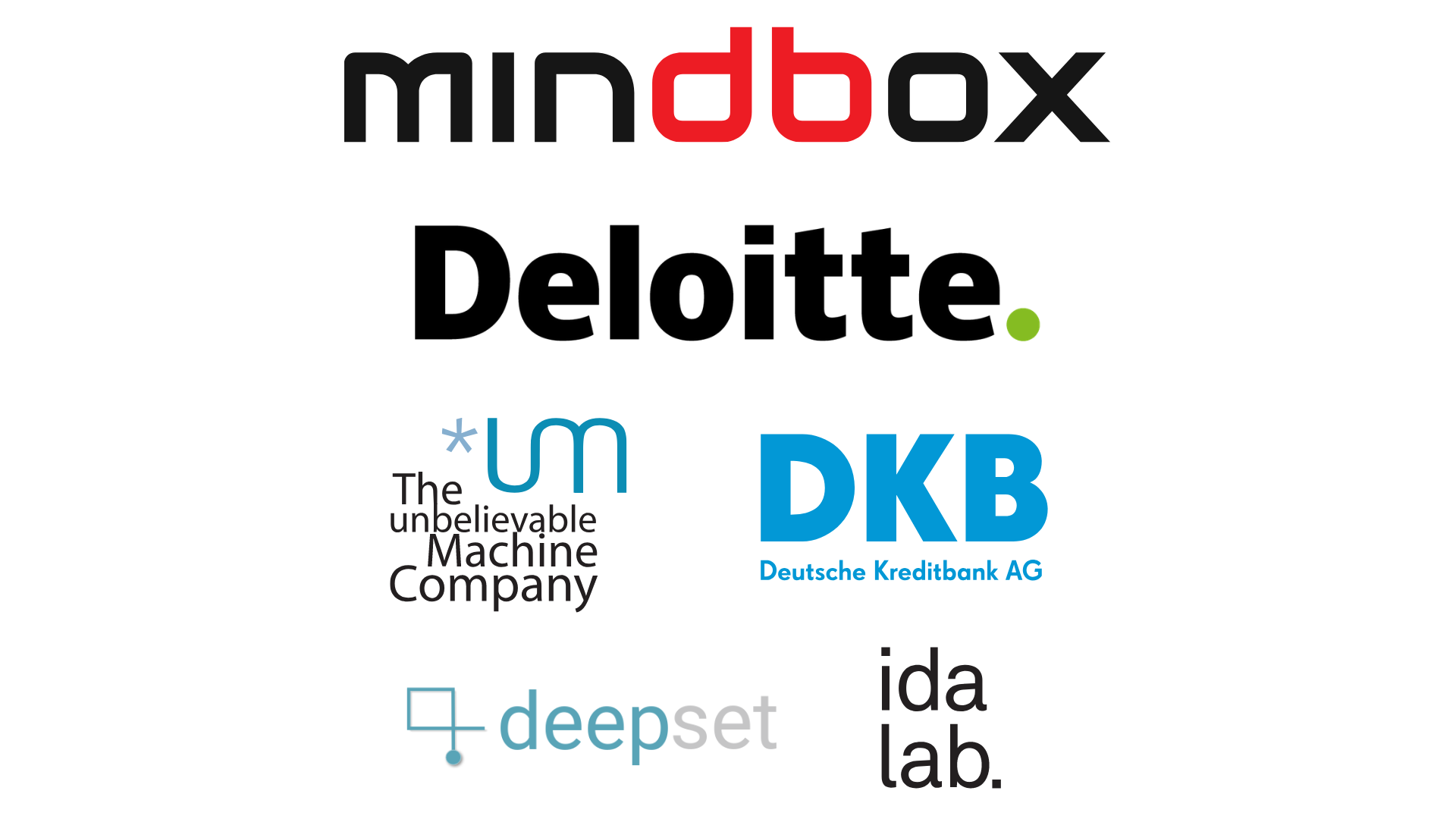 We are still looking for a few sponsors, if your company is interested, please get in touch at contact@dssg-berlin.org!
Datum und Uhrzeit
Veranstaltungsort
DB mindbox Berlin
Holzmarktstraße 6-9
inside S-Jannowitzbrücke, left side of Backwerk
10179 Berlin
Germany