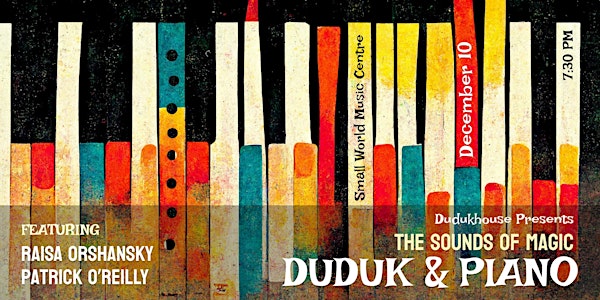 Duduk & Piano: The Sounds of Magic
The enchanting sounds of Armenian duduk and piano are back by popular demand on this beautiful Saturday evening at Small World Centre.
When and where
Location
Small World Music Centre 180 Shaw Street Toronto, ON M6J 2W5 Canada
Refund Policy
Contact the organizer to request a refund.
Eventbrite's fee is nonrefundable.
About this event
Café Duduk is a musical adventure that was inspired by a love for Armenian duduk music. Duduk player Sar Kamler and pianist Viktor Kott combine their talents to present enchanting sounds of duduk and piano in this romantic July evening. The evening will feature performances by special guests Raisa Orshannsky and Patrick O'Reilly.
The Duduk
The duduk (/du:ˈdu:k/ doo-DOOK; or "tsiranapogh" in Armenian meaning "apricot-made wind instrument"), is an ancient Armenian double reed woodwind instrument made of apricot wood. It is indigenous to Armenia, however variations of the Armenian duduk appear throughout the Caucasus and Middle East.
Having existed for around 1,200 years, this double-reed wind instrument is characterized by a warm, soft, slightly nasal timbre, with a rawness that draws parallels to the human voice. It is a stunning, soulful, and emotionally powerful instrument that speaks to everyone in some way, no matter what their race, color, or religious beliefs are.
The duduk has been on UNESCO's Representative List of Intangible Cultural Heritage of Humanity since 2008.
Rated 4.4 on Trustpilot
Here are some of the experiences attendees have shared.
Amazing performance! Virtuoso musicians and great repertoire! Nice authentic atmosphere at the venue ! Very interactive show with lots of interesting facts about Armenian musical culture , nice sound- and - lights touch, exceptional contribution of invited guest musicians! Great sense of humour from all the performers! Outstanding musicale!!!
Liubov G.
***
One of the best live performances we've ever attended! Everything from the talent to the song selection and the venue was perfect!
Marco M.
***
This was a phenomenal experience with amazing improvisations of Armenian and other cultural melodies and songs. Armen was spectacular at giving insight before every piece that has been played. 2 hours non-stop of magical and unforgettable musical night. Enjoyed it very much and can't wait for their next event to attend!
Abraham A.
***
About
Viktor Kott (Viktor Kotov) is a professional musician who is always on the move and looking for new ideas. Professionally trained as a pianist in Kharkov, Ukraine, Victor immigrated to Canada in 2003 where he also mastered a variety of other instruments, such as the duduk, melodica, Irish flute, and jaw harp (khomus). Viktor is an accomplished pianist and composer in addition to his many other talents. He recorded and produced two solo albums containing his original compositions, You & Me (2014) and Unconditional Love (2015).
A true believer that music has the capacity to heal the mind, body, and soul, Sar Kamler (Armen Matosyan) is a Toronto-based musician whose sound pivots around the duduk, a double-reeded woodwind instrument native to Armenia. It's through a deep understanding of the duduk that Sar now centres his music around the themes of love, believing that a lot of light can be brought into our world through his idyllic style of music.
Follow Café Duduk:
Official Website: http://www.cafeduduk.com
Instagram: https://www.instagram.com/cafe.duduk/
YouTube: https://www.youtube.com/channel/UCTGLGmyBkTFspikLteP3Pdw
Featuring Artists
Raisa Orshansky
Raisa Orshansky graduated from Minsk University of Culture and Arts (Belarus), faculty of Folk Instrument and Orchestra Conducting.
Since moving to Canada she worked in her profession: performing on tsimbaly (hammered dulcimer), composing, playing some percussion instruments within Queen's Own Rifles Band and Governor General's Horse Guards Band. From 2004 Orshansky performing with Vik Kott (Viktor Kotov) within Original Impressions DUO.
Orshansky is a member of SOCAN Canada and a PARMA recordings artist. In February 2019 her Symphonic Poem Spring Fantasy was recorded with Ostrava Philharmonic Orchestra in Czech Republic. In April 2019 her Sunrise Samba was chosen by Queen's Own Rifles Band for their Spring Concert.
Original Impressions DUO participated in many cultural events such as Sputnik Festival (2013, 2014), Series Of Jewish Music (2017). In 2021 they were invited to perform at International Science Conference, presenting Belarusian Music Culture. Markham Arts Council invited Original Impressions Duo to be a part of their projects in 2021 and 2022, Artist Unplugged and Music On the Street. The most recent their own project is Sol-De-Vi production including only their original compositions, in 2022 Raisa and Viktor recorded and produced Artist's Soul album.
Patrick O'Reilly (www.patrickoreillymusic.com) is a composer/guitarist and a community-driven fixture in the Toronto creative music scene. Patrick's open-minded approach embraces both beauty and brashness; he is co-curator of the Furniture Music and Ornate Presents concert/workshop series and operates the W/DRWN record label. His trio Wire Circus have released two albums showcasing Patrick's compositions alongside the pixilated/frenetic improvisation that is the culmination of their longstanding collaborative history. He also co-leads the international quartet Sonic Perfume who have released two albums together, and the trio WAPAMA who explore freedom of expression through rhythm, melody, and harmony.
A sought-after collaborator, he contributes to a diverse range of projects that have all added to the rich musical landscape of his own work, including indie-pop group Language Arts, afro-dub-tryp band D'bi & The 333, Robert Diack's modern jazz quartet, folk-leaning tunesmith Cassie Norton's band, Stefan Hegerat's Icterus, and Eastern-European Inspired Ensemble DoVira.
2022 will see Patrick supporting the release of The Remembrancer through performances that feature both his music and the compositions of Justin Haynes in both solo and group concerts. He will also be continuing his work on a large-scale composition project begun in isolation during 2020 called The Book of Imaginary Beings which takes its name, and a great deal of inspiration, from the Jorge Luis Borges book of the same name.
Patrick holds a bachelor's degree in Contemporary Music from Humber College, and a Master's in Musical Arts degree from the University of Toronto where he is currently teaching while completing a Doctor of Musical Arts Degree.