Join Dumpster Raccoon for their must-see screening of THE APPLE!
About this event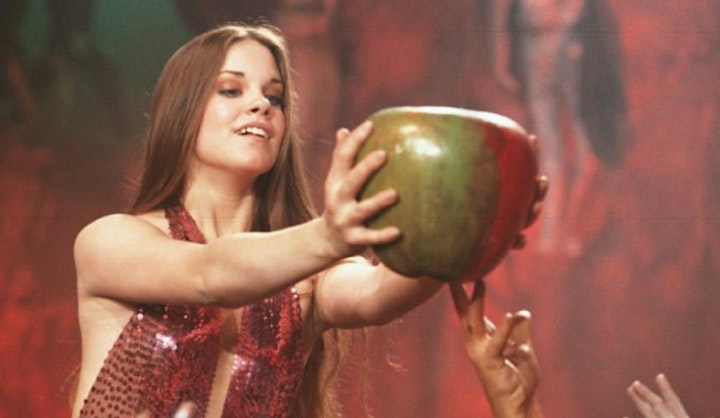 "The perfect cult film." – AUSTIN TRUNICK
"In relentless bad taste" – SLANT
"It isn't just the worst disco musical ever made; it might be the worst movie ever made, period."– PHILADELPHIA WEEKLY
"A gamy glitterdome of outrageous kitsch passing itself off as a futuristic fable…Everything feels like it was produced by Giorgio Moroder's insane brother." – DVD Verdict
See the glitzy disco musical so bad it caused a RIOT! At the 1980 Montreal World Film Festival premiere of THE APPLE, the audience was given vinyl records of the film's fast-paced disco soundtrack. By the end of the film, they had used those albums to tear the screen apart, resulting in thousands of dollars in damage.
You MUST SEE: THE APPLE!
In the far-flung future of 1994, Alphie and Bibi, two sweet kids from Moosejaw, Ontario, travel to the WORLDVISION SONG FESTIVAL to compete against the world's greatest musical talents.
Their gentle folk songs make people happy, but they're no match for the music label juggernaut BIM and its satanic CEO MISTER BOOGALOW, whose pulsing decadent disco tracks (and insidious BIM marks on the bodies of his fans) are taking over the world. Can they resist the siren song of devilish disco? Or will all the world fall to the mark of the beast…and the power ofBIM?!?
With a budget of $10 million dollars and extremely little talent, THE APPLE (1980) is a treasure of the cult film archive, landing at the exact wrong time for disco and smashing pulsing dancefloor beats with an incomprehensible blend of cocaine-addled Christian mysticism.
TASTELESS! INCOHERENT! TACKY! HORNY! CORNY! IT MUST BE SEEN TO BE BELIEVED!
With video pre-show, drag performance, and an introduction by Anthony Oliveira!
As part of the provincial government's vaccine certificate program, which was announced in September, everyone will be required to show that they received both doses of an approved COVID-19 vaccine at least 14 days earlier in order to enter the cinema for this event.
Everyone must bring either their paper vaccine receipt or PDF vaccine receipt available online, along with photo ID to prove that they have been fully immunized.
Regular admission applies. For INDIVIDUAL MEMBERSHIPS ($350) and FAMILY MEMBERSHIPS, please email us at info@revuecinema.ca to get a ticket!
Organizer of Dumpster Raccoon Cinema: THE APPLE (1980)
The recently renovated Revue Cinema is Toronto's premier not-for-profit community cinema. We offer great second-run Hollywood fare, insightful programming like our Silent Revue series — where classics from the silent era are accompanied on live piano — Food in Film, Designing the Movies, annual galas, retrospectives & numerous other community offerings. The Revue opened in 1912, making it the oldest operating cinema in Toronto. Support us by becoming a member & enjoy great perks throughout the entire year!