Description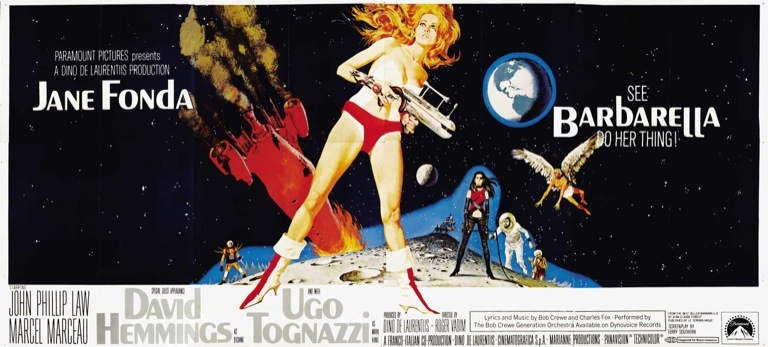 Anthony Oliveira's Dumpster Raccoon Film Series continues this month with more glittery trash! Join us on Saturday, August 17 for Roger Vadim's glorious BARBARELLA.
About the film
BARBARELLA
USA 1968 98min. PG
Directed by Roger Vadim
Starring Jane Fonda, John Philip Law, Anita Pallenberg
FASHION! FEMINISM! FONDA!

Brilliant scientist DURAN DURAN is missing! His positronic ray could DESTABILIZE THE GALAXY! It's up to intergalactic space agent BARBARELLA to traverse the cosmos, find Duran Duran, and change into AS MANY AMAZING OUTFITS AS POSSIBLE while flirting with FOUR OR FIVE DUDES OF VARYING HOTNESS, AN ANGEL, and an EXTREMELY EVIL QUEEN before the terrifying MATMOS DEVOURS US ALL!

Made in 1968 for reasons that were unclear to most of the people involved, BARBARELLA is the lavish technicolour masterpiece of French eroticist Roger Vadim and his wife and star Jane Fonda, whose Barbarella exhibits a frank, "innocent" insistence on her own sexual liberation and self-determination – wearing what she wants (the OUTFITS!), sleeping with whom she wants (regardless of gender), and finding forthright delight even in the doomsday machines her sadistic tormentors insist ought to be destroying her with pleasure! - ANTHONY OLIVEIRA
With costumes, an amazing pre-show, and drag performance by Erin Brockobic!!: don't miss BARBARELLA – AUGUST 17th at the REVUE!
About the series
In a recent interview with NOW Magazine, programmer Anthony Oliveira summed up the series: "Dumpster Raccoon is not just the name, it is my ethos," says Oliveira. "It's how I describe what I do when someone asks. I think my work as a writer or culture critic or whatever is that I compulsively forage through our culture trash to figure out what it is, how it works, why we discarded it, what it can teach us. Sharing pop culture has always been one of the main ways I express affection, and the series has grown out of that: 'I love you; here's some shiny garbage.'"