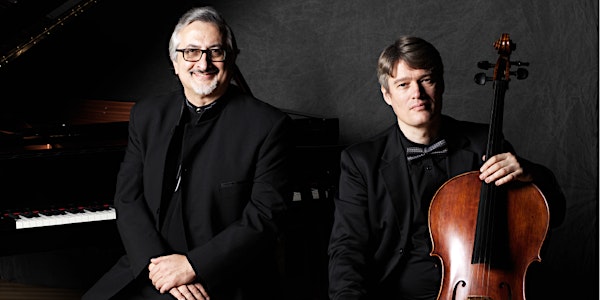 Duo Cello DeRosa : un concert pour l'âme | A Concert for the Soul
Location
Victoria Hall Community Centre
4626 Rue Sherbrooke Ouest
Westmount, QC H3Z 1G1
Canada
Performance musicale inspirée par les grands auteurs de la littérature | Musical performance inspired by the literary greats
About this event
À travers musique et extraits littéraires, le pianiste Enzo De Rosa interprétera ses compositions originales inspirées par les grands auteurs de la littérature, accompagné de Dimitri Babich au violoncelle.
De Shakespeare à Voltaire en passant par Anaïs Nin et Hemingway, ce projet musical émouvant présente une musique à mi-chemin entre le classique et la musique de films.
Sur base volontaire, les membres du public seront invités à lire des extraits littéraires entre les pièces musicales.
Duo Cello DeRosa
Enzo De Rosa, pianiste et compositeur
Dimitri Babich, violoncelliste
------------
Through music and literary excerpts, pianist Enzo De Rosa will perform his original compositions inspired by the literary greats, accompanied by Dimitri Babich on cello.
From Shakespeare and Voltaire to Anaïs Nin and Hemingway, this expressive musical project presents compositions halfway between classical and film music.
Members of the audience will be invited to read literary excerpts in between the musical performances.
Cello DeRosa Duo
Enzo De Rosa, pianist and composer
Dimitri Babich, cellist