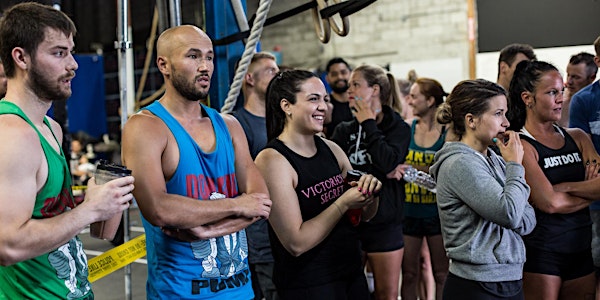 Durham Double Down
The Double Down is BACK! Our infamous local competition series continues.
Date and time
Sat, Jun 17, 2023 8:00 AM - 4:00 PM EDT
Location
CrossFit Oshawa 712 Wilson Road South Oshawa, ON L1H 8R3 Canada
Agenda
8:00 AM - 8:45 AM
Athlete Arrival + Warm-ups
8:45 AM - 8:55 AM
Athlete Brief
9:00 AM - 3:30 PM
Event 1 - Event 4
4:00 PM
Closing Ceremonies
About this event
CrossFit Oshawa presents the 5th annual same sex pairs competition. On Saturday June 17th @ 8:00 am - 4 pm. Some events will be released ahead of time, some will be unknown until right before you throw down. However, what you should know and expect is imaginative, classic, but progressive and unique programming. As well as post competition food & beer, and great prizes from local vendors.
The double down is one big division, like the open, teams will have the option on the spot whether to go RX'd or scaled in each and every workout. So you do not have to decide before hand whether to go RX'd or scaled. We will have options for every ability, the Durham Double Down is inclusive to every level. If you are a competitive CrossFitter seasoned to competition it will be fun and challenging, or if you are looking to sink your teeth into your first ever competition, it will be very inclusive toward your abilities.
Our unique competition style allows for us to keep the workouts almost completely unknown while remaining inclusive to every ability, meaning we do not have minimum standards.
Sign up now as spots are limited.