DUST at the Canadian Science Policy Conference

Wednesday, November 16, 2011 from 9:00 PM to 10:00 PM (EST)
Event Details
The Canadian Science Policy Conference and Subtle Technologies are proud to be partnering to present DUST, a live immersive high definition audiovisual show by renowned artist Herman Kolgen. 
CSPC registrants: please note that one ticket to DUST is included in your registration fee.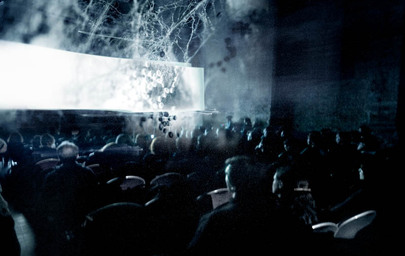 Inspired by the photography of Man Ray & Marcel Duchamp's "Élevage de poussière", DUST explores the changing state of matter. On the edge of the imperceptible, pigment particles are suspended on a magnetic field. Random fibrous networks take shape and then form composite objects, hypnotic in their complexity. Sound particles paired with luminous aggregates exist on a scale that cancels out all points of reference. Thus, at the turning point between the invisible and the visible, dust becomes intoxicating and the video surface a veritable accumulation of X-rays.
DUST explores the changing state of matter using dust as both subject and metaphor. Through the use of high speed video the artist Herman Kolgen allows the viewer to perceive and hear dust on an immense scale.
Following the show, there will be Q&A with the artist.
Read a recent review of DUST here.
About Herman Kolgen:
Recognized for his multimedia creations for over twenty years, Herman Kolgen is a multidisciplinary artist who lives and works in Montreal. A true audiocinetic sculptor, he draws his primary material from the intimate relationship between sound and image. Kolgen works to create objects that assume the form of installations, video and film works, performances and sound sculptures. Constantly exploring, he works at the junctures of different media, as well as elaborating a new technical language and singular aesthetic.
In addition to his participation in the Venice Biennale in 2006, Herman Kolgen is the recipient of numerous prestigious prizes and his work has been featured at Festivals and galleries around the world.
Subtle Technologies would like to thank our local partner for this event, artengine.

When & Where

Empire Rideau Centre Cinemas
50 Rideau Street
Ottawa, Ontario K1N 9J7
Canada

Wednesday, November 16, 2011 from 9:00 PM to 10:00 PM (EST)
Add to my calendar