Dusted featuring Brian Borcherdt will be playing the Trailside with one of Charlottetown's most exciting bands Absolute Losers.
About this event
DUSTED
It is true that Brian Borcherdt's greatest success came after he left Nova Scotia. However, it was his formative years as an East Coast teenager that influenced everything to come. His brightest accomplishment from that era was Dependent Music, not just the label that launched the careers of so many East Coast artists, but also the community around it, the DIY small town concerts that brought an important outlet to locals who felt otherwise cut off from the arts.
Even while Toronto was his home base, he continued touring back east as a solo artist, hitting those same rural halls and all ages concerts. His main gig, however, changed his path and pulled him further and further away. Unassuming at first, his experimental-noise-dance project Holy Fuck took off quickly. Amidst that initial buzz he landed a record deal with XL, hit the world's biggest festivals, like Glastonbury and Coachella, and gained the support from the likes of Radiohead, Iggy Pop, and the late Lou Reed. Their latest record, 2020's Deleter was one of their most critically well-received offerings, putting them well on top for what was to be another whirlwind year of touring and international festivals. As disappointing as it was to lose it all, Brian was oddly relieved to have more time in his new home of Canning, NS.
Brian always kept his solo venture alive and close to heart. While life became chaotic with Holy Fuck he found comfort in quiet, sombre reflection. Having long-grown disenchanted playing under his own name, he changed to the moniker Dusted- something more intangible and hazy, the perfect veil to slip behind. It was exactly the boost he needed. Immediately he signed with US indie giant, Polyvinyl. Filmmaker Jean-Marc Vallee became an ardent supporter, using songs from Dusted's first record Total Dust in his films and even featuring Dusted in an on-screen cameo performance in the critically acclaimed follow up to Dallas Buyer's Club, Wild. Holy Fuck turned down an arena tour supporting Smashing Pumpkins allowing Dusted to tour with the new, and still underground artist Perfume Genius.
Now, in 2021, Dusted emerges from a quiet yet busy year with a third album complete. August 18th will be Brian's first show supporting this record. In addition to performing solo he will be accompanied by Loel Campbell of Wintersleep on drums and Matt McQuaid of Holy Fuck on bass.
Attachments area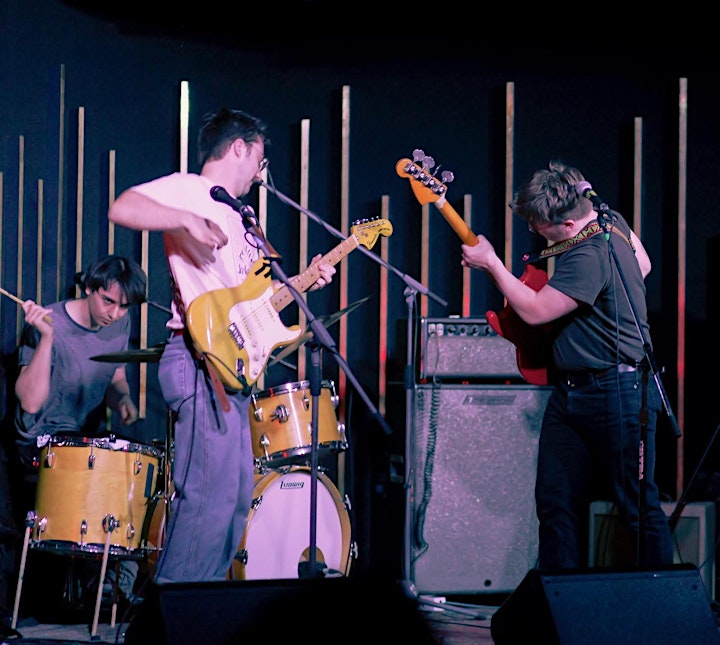 Absolute Losers
Absolute Losers is an indie/post-punk trio based in Charlottetown, PEI. The group leans into their thin instrumentation with wiry guitar work, intertwining bass and drum parts, and nonchalant vocals. Drawing inspiration from western Canada's music scene, Absolute Losers hopes to bring the tight, rhythmically driven sound to the East Coast.
Daniel Hartinger - Drums
Josh Langille - Guitar
Sam Langille - Bass, Vocals