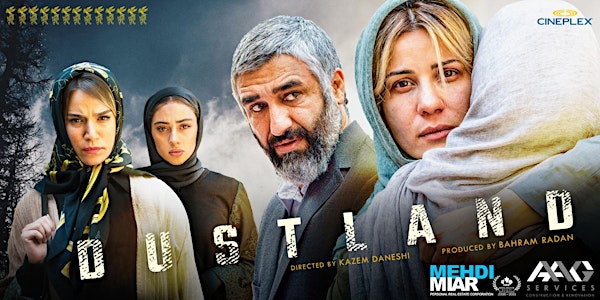 Dustland (Alafzaar)- فیلم سینمایی علفزار
Iranian Film Society present one the most appreciated drama movie of the year.
When and where
Location
Cineplex Odeon International Village Cinemas 88 West Pender Street #3rd floor Vancouver, BC V6B 6N9 Canada
Refund Policy
Contact the organizer to request a refund.
Eventbrite's fee is nonrefundable.
About this event
📢 نمایش فیلم «علف زار» برای اولین بار در کانادا
in Farsi With English Subtitles
"خانه خلاق رادرو" و "انجمن فیلم های ایرانی" تقدیم می کنند:
This event is sponsored by AAG SERVICES & Mehdi Miar Real Estate
🎞 اکران در سالن سینپلکس اودیون در دانتان ونکوور روز یکشنبه ۷ آگوست ۲۰۲۲
بهای بلیت در حالت عادی ۱۵ دلار
بلیت جلوی درب سالن ۲۰ دلار
🔺 وبسایت:
🌐 www.iranian.film
Dustland (Alafzar)
in Farsi With English Subtitles
Screening in Cineplex Odeon Downtown Vancouver
Sunday Aug 7th @12:30pm
Free Parking Available
درباره فیلم سینمایی علف‌ زار
فیلم علف زار در ژانر درام-اجتماعی و محصول سال 1400 است. کارگردانی و نویسندگی این اثر را کاظم دانشی و تهیه‌کنندگی آن را بهرام رادان بر عهده داشته است. این فیلم در چهلمین دوره‌ی جشنواره‌ی فیلم فجر نیز حضور داشت و در 13 بخش نامزد دریافت جایزه شد که در نهایت در چهار بخش بهترین فیلمنامه، بهترین صداگذاری، بهترین تدوین و بهترین نقش مکمل زن موفق به کسب سیمرغ شد. داستان این فیلم در مورد بازپرس دادگاه کیفری است که درگیر پرونده‌ای پیچیده شده است. پژمان جمشیدی، سارا بهرامی و ستاره پسیانی در این فیلم به ایفای نقش پرداخته‌اند. مدیر فیلمبرداری: هادی بهروز، چهره‌پرداز: مونا جعفری، تدوین: حمید نجفی‌راد، صدابردار: منصور شهبازی. خلاصه فیلم: «بعضی رازها بهتره فاش بشن، برخی هرگز… باید دفن بشن یه جایی دور از دسترس، برای همیشه.»