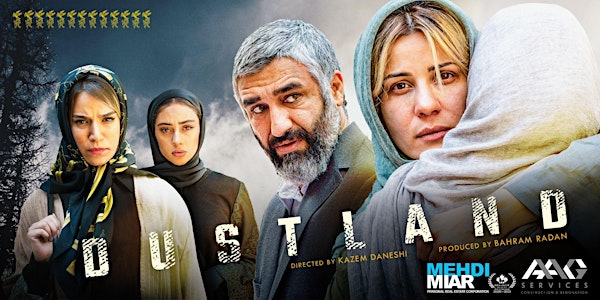 Dustland (Alafzaar)- فیلم سینمایی علفزار
Iranian Film Society present one the most appreciated drama movie of the year.
When and where
Location
Inlet Theatre 100 Newport Drive Port Moody, BC V3H 5C3 Canada
Refund Policy
Contact the organizer to request a refund.
Eventbrite's fee is nonrefundable.
About this event
به دلیل استقبال بی نظیر و درخواست هموطنان عزیز از نمایش فیلم علفزار در ونکورر , تصمیم به اکران مجدد این فیلم تاثیر گذار در سالن اینلت کوکیکتلام گرفتیم . به امید دیدار شما
📢 سری دوم نمایش فیلم علفزار در بریتیش کلمبیا
in Farsi With English Subtitles
"خانه خلاق رادرو" و "انجمن فیلم های ایرانی" تقدیم می کنند:
This event is sponsored by AAG SERVICES & Mehdi Miar Real Estate
🎞
فقط تعداد محدودی بلیط با تخفیف ویژه برای اولین کسانی که اقدام به تهیه بلیت می کنند، موجود می باشد.
بهای بلیت با تخفیف در حال حاضر ۱۰ دلار
بهای بلیت در حالت عادی ۱۵ دلار
بلیت جلوی درب سالن ۲۰ دلار
🔺 وبسایت:
🌐 www.iranian.film
Dustland (Alafzar)
in Farsi With English Subtitles
Screening in Inlet Theatre, 100 Newport Dr, Port Moody, BC V3H 5C3
Sunday Oct 16th @4pm
Sunday Oct 16th @6:30pm
Free Parking Available
درباره فیلم سینمایی علف‌ زار
فیلم علف زار در ژانر درام-اجتماعی و محصول سال 1400 است. کارگردانی و نویسندگی این اثر را کاظم دانشی و تهیه‌کنندگی آن را بهرام رادان بر عهده داشته است. این فیلم در چهلمین دوره‌ی جشنواره‌ی فیلم فجر نیز حضور داشت و در 13 بخش نامزد دریافت جایزه شد که در نهایت در چهار بخش بهترین فیلمنامه، بهترین صداگذاری، بهترین تدوین و بهترین نقش مکمل زن موفق به کسب سیمرغ شد. داستان این فیلم در مورد بازپرس دادگاه کیفری است که درگیر پرونده‌ای پیچیده شده است. پژمان جمشیدی، سارا بهرامی و ستاره پسیانی در این فیلم به ایفای نقش پرداخته‌اند. خلاصه فیلم: «بعضی رازها بهتره فاش بشن، برخی هرگز… باید دفن بشن یه جایی دور از دسترس، برای همیشه.»