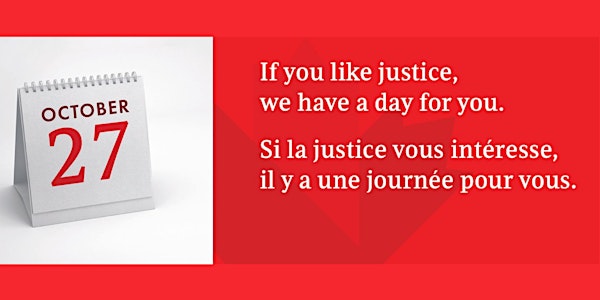 Duty Counsel Day - National Virtual Event
People shouldn't have to navigate the justice system alone. Good news – you don't
About this event
Duty Counsel Day | Oct 27
5-6 pm EST | 3-4 pm MST
Canadians benefit from outstanding social services. We're all familiar with our public health care, but few know about our legal services. We made a day to change that.
Duty Counsel are legal aid lawyers who give free, on-the-spot legal advice in family, criminal and immigration cases for people living in Canada.
On October 27, learn about Duty Counsel and tell your fellow Canadians. The power to navigate the justice system is in your hands.
Featuring:
Adrienne Clarkson, 26th Governor General of Canada
Karen Wilford, Chair, Association of Legal Aid Plans of Canada
Chief Justice Richard Wagner, Supreme Court of Canada
Hon. Patti Laboucane-Benson, Senator, Alberta
Q&A with duty counsel lawyers from across Canada
Art and musical performance
Special guest messages
______________________________________________________________________________________________________
Les gens ne devraient pas affronter seuls le système de justice. La bonne nouvelle : les avocats de service sont là pour les aider!
Le 27 octobre : la Journée des avocats de service! Organisée par les associations d'aide juridique du Canada, cette journée a pour objet de faire connaître les avocats de service — des avocats qui font du travail d'aide juridique en fournissant sur place des conseils juridiques gratuits dans des affaires familiales, criminelles et d'immigration pour les personnes vivant au Canada.
Venez nous rejoindre et invitez vos amis. La capacité de progresser dans le système de justice est entre vos mains.
En vedette:
Adrienne Clarkson, 26e gouverneure générale du Canada
Karen Wilford, présidente, l'Association des régimes d'aide juridique du Canada
Juge en chef Richard Wagner, Cour suprême du Canada
L'honorable Patti Laboucane-Benson, sénatrice, Alberta
Discussion avec des avocats de service de partout au Canada
Spectacle artistique et musical