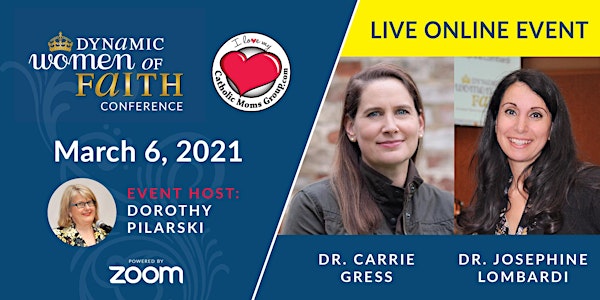 Dynamic Women of Faith Conference 2021
Annual DWF conference in the Archdiocese of Toronto for Catholic Women. Keynote speakers Dr. Carrie Gress and Dr. Josephine Lombardi.
About this event
The Dynamic Women of Faith conference will be delivered online exclusively to our registrants on the same day and at the same time.
All participants will get clear instruction on how to join us before the event. The app is simple to use!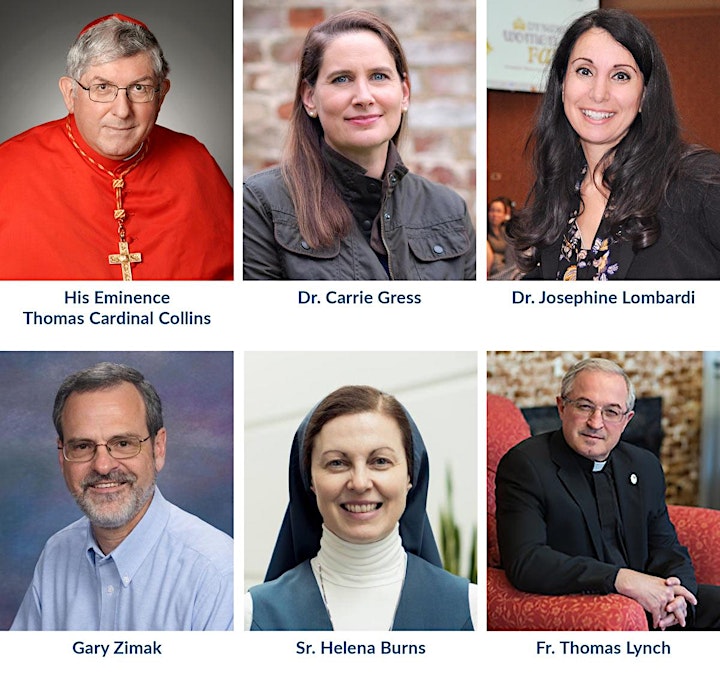 His Eminence Thomas Cardinal Collins will be joining us for opening comments and an opening prayer.
Dr. Carrie Gress, Dr. Josephine Lombardi, Gary Zimak, Sisters of Life, Sister Helena Burns, and Fr. Thomas Lynch — All Confirmed for Virtual Conference!
This years conference promises to be the best ever!
Register for this LIVE Online Event as a part of your Lenten journey. Make this Lent the best ever!
It all begins with your YES!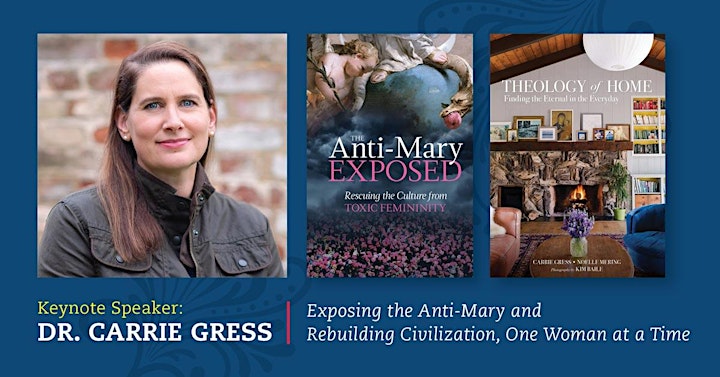 Dr. Carrie Gress | Exposing the Anti-Mary and Rebuilding Civilization, One Woman at a Time
Carrie Gress has a doctorate in philosophy from the Catholic University of America. She is the editor at the online women's magazine Theology of Home. Carrie has written for numerous publications, including Aleteia, Catholic Vote, Catholic World Report, National Review, The Catholic Thing, The Federalist, The National Catholic Register, The Stream, and The Washington Examiner. She is a frequent guest on Ave Maria Radio, Catholic Answers, EWTN Radio, and Relevant Radio, and has appeared on Fox, BBC, CBC,EWTN and Shalom World television. Carrie has lived and worked professionally in Washington, D.C. and Rome, Italy and her work has been translated into nine languages.She is the author of Nudging Conversions, Ultimate Makeover, The Marian Option, and Marian Consecration for Children, The Anti-Mary Exposed, and Theology of Home. She co-authored City of Saints; A Pilgrim's Guide to JohnPaul II's Krakow with George Weigel. Her latest book, Theology of Home II, was released in October 2020.
To learn more about Dr. Gress visit her website at www.carriegress.com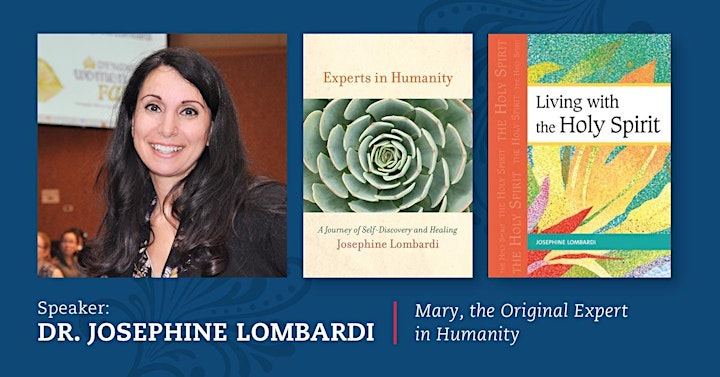 Dr. Josephine Lombardi | Mary, the Original Expert in Humanity
Dr. Lombardi is an award-winning author who has worked as a parish minister, university campus minister, high school chaplaincy leader, teacher educator through O.E.C.T.A., professor of Religious Education, Brock University, retreat facilitator, faith formation consultant, and program coordinator in the Diocese of Hamilton. Presently, she is Associate Professor of Pastoral and Systematic Theology, Professor of Field Education, and Director of Lay Formation for St. Augustine's Seminary in Scarborough, Ontario. She has done media work in radio and television and has been an advisor to the Canadian Conference of Catholic Bishops in the area of doctrine and Catholic-Muslim relations. Her books On Earth as it is in Heaven and Experts inHumanity have been featured on Salt and Light TV. Experts in Humanity was awarded first place in the category of Family Life by the Catholic Press Association of the United States and Canada in 2017. She is the Series Theologian for the new Religious Education resource for grades 1 through 8, "Growing in Faith, Growing in Christ" for Catholic School Boards in Ontario, Alberta and Saskatchewan.
To learn more about Dr. Lombardi, visit her website at www.josephinelombardi.com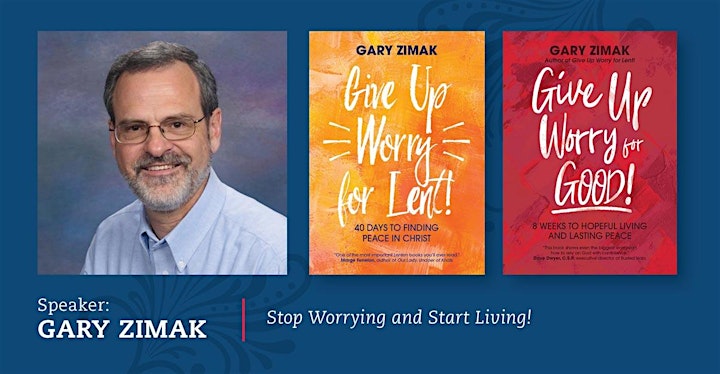 Gary Zimak | Stop Worrying and Start Living!
Gary Zimak is the bestselling author of several books, including Give Up Worry For Lent!; Let Go of Anger and Stress!; Stop Worrying and Start Living; From Fear to Faith; A Worrier's Guide to the Bible; Listen to Your Blessed Mother; Find a Real Friend in Jesus; and Faith, Hope, and Clarity.
He is the host of The Gary Zimak Show and previously served as director of parish services at Mary, Mother of the Redeemer Catholic Church in North Wales, Pennsylvania, and as the host of Spirit in the Morning on Holy Spirit Radio in Philadelphia. He is a frequent speaker and retreat leader at Catholic parishes and conferences across the country.
His work has appeared in Catholic Digest, the National Catholic Register, Catholic Exchange, Catholic Philly, and Catholic Answers Magazine. Zimak has appeared on numerous television and radio programs, including EWTN's Bookmark and Women of Grace, The Jennifer Fulwiler Show, Catholic Connection, Morning Air, and the Son Rise Morning Show.
Zimak earned a bachelor of science degree in business administration from Drexel University. He lives in Mount Laurel, New Jersey, with his wife. They have two children.
Dorothy Pilarski | Your Host for the Dynamic Women of Faith Conference
Dorothy Pilarski is a Catholic wife, mother and author. She is the founder of CatholicMomsGroup.com, the annual Dynamic Women of Faith Conference and Calling All Girls events. Dorothy has worked with over 45 parishes in helping launch Catholic Moms Groups. In response to the pandemic her team has been hosting dozens of virtual Catholic Moms Group meetups. Midday Moms has attracted moms from across the globe. Dorothy's writing has been featured in the Catholic Register, she is the author of two Catholic books and several Catholic publications. Dorothy was a radio host for both Radio Maria and Radio Teopoli. Dorothy helped create a TV program and she facilitates discussions between women in a series produced by Salt & Light Media. Dorothy has more than 20 years of experience as a consultant with international experience, often leading projects with stellar results. Dorothy delivered customer service programs for Fortune500 executives at the Schulich Executive Education Centre for over 10 years and was rated as one of the schools top instructors. With a background in Marketing, Public Relations, Volunteer Management and Adult Education, Dorothy makes a great addition to any project whether it's in the corporate, non profit or Faith community.
To learn more about Dorothy visit her website at www.dorothypilarski.com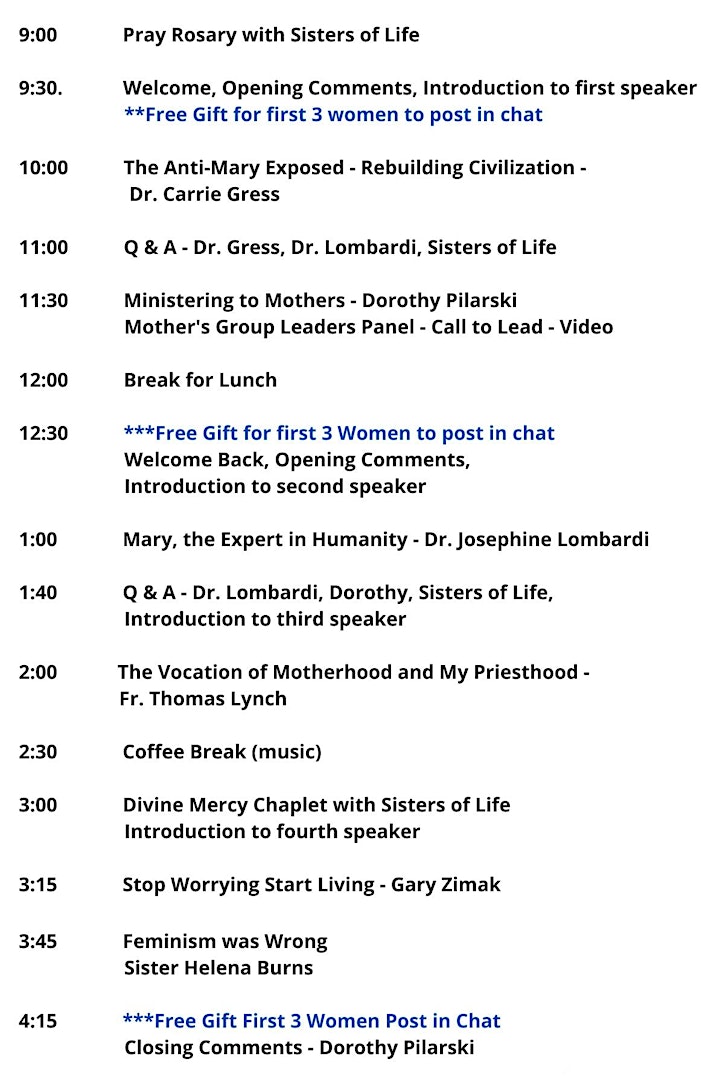 --
BONUSES for DWF Conference Attendees!
1. 30% Discount Code for Novalis Books
2. A Mass will be offered for participants after the event
3. Draws for special prizes throughout the day!
--
For more information about us visit www.dynamicwomenfaith.com. Speakers may change if one becomes unavailable. Registrations can be transferred but not refunded.
--