Description
You're invited to our December Monthly DWA Event at our Vancouver location.
"Dynamic Women™ Year End Mingle"
The time has come to close off 2017 and share what you have accomplished in all areas of life. The Dynamic Women™ in Action community would like to do that with you! You have time to learn other's strategies and implement them in December or strategize for next year, hear of their successes and ask questions along with looking for collaborations. Who knows you might connect with someone who becomes a big player in your 2018!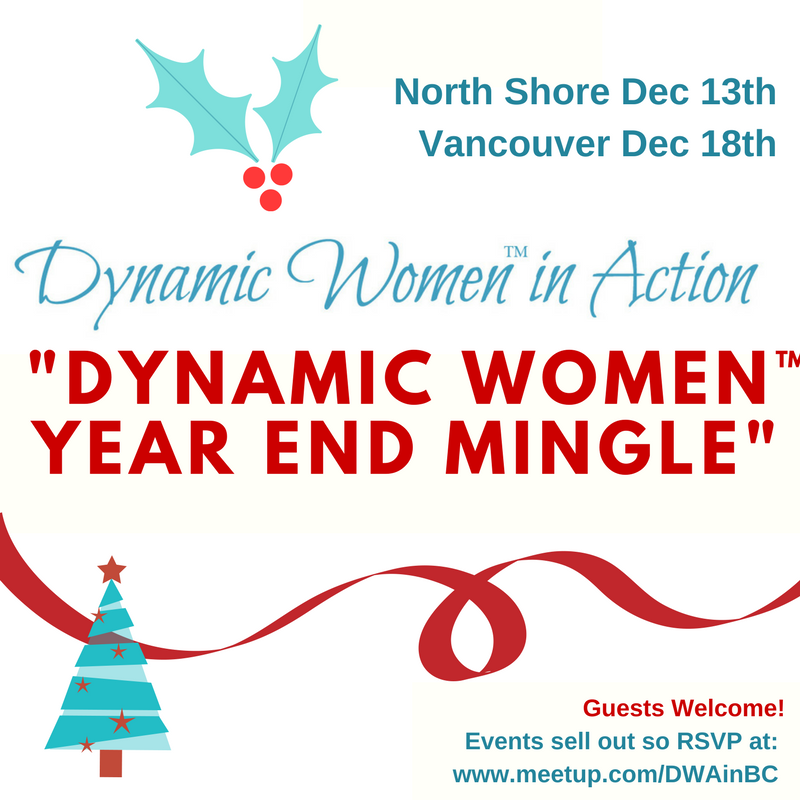 RSVP now.
Future members and guests are $31.50 and Annual and Lifetime Members are $21. Or members bring a guest and save.
See you there!
Diane Rolston
DWA Founder and Certified Professional Coach
____________________________________________________
Calling all Women who are Dynamic! I created Dynamic Women in Action® to connect with other women who are creating an impact in their lives, businesses and communities (or those who wish they could do it more!)
Dynamic Women in Action® events are unique because you get Coaching in Action© from a Certified Professional Coach who leads you through engaging activities to get clearer about what makes you great, things that can help you succeed and the obstacles holding you back.. We attract women who are authentic, supportive and believe in personal and professional development.
We believe in building strong relationships that support business and personal growth. Through our events and community, DWA® provides a great space for women to come and be DYNAMIC, feel connected and get coaching that is a catalyst for change in their lives and businesses
You should join if any of these are true about you:
• you are dynamic (or really hope you could be soon)
• you want to make REAL relationships with other women
• you're sick of having people sell to you in the first 30 seconds of meeting them
• you don't schedule time for yourself (yes that's a bad habit)
• you need to chat with other people who GET what it's like to be a business professional, mompreneur, entrepreneur or small business owner
• you like knowing more about what makes you and others tick
• you need some inspiration, tools, tips, support, motivation
• you're a little curious about what this could do for you, your business and/or your life
Our promise:
We, the Leadership Team, commit to helping you, our members and guests, walk away with the following:
1. New motivation so you can have GREATER EASE AND ENERGY in your business.
2. Great ideas, which will INSPIRE BREAKTHROUGHS and take you and your business to the next level.
3. Sharing with others who are on their own business journey, so you know others "get it" and you'll BE INSPIRED by their stories and ideas.
4. Coaching in Action© where you 'll discuss and discover tangible tools, a solution or even an "AHA" to put into action.
5. GENUINE CONNECTIONS experienced. Rather than superficial conversations so you can be yourself and "ditch your pitch".
6. Strong relationships with other like-minded women who are more open to getting to know YOU and when we like and trust each other A LOT OF BUSINESS happens naturally!
Come as you are...and join us at our next event!
xo
Diane Rolston
Certified Professional Coach
Unleashing Dynamic Women into Action
____________________________________________________
What happens at an event?
• we introduce ourselves
• we get to know each other by participating in GROUP DISCUSSIONS and small group or partner chats
• we BRAINSTORM, inspire, share and MASTERMIND
• through the night you will receive COACHING IN ACTION© and learn something that you can either bring into your life, business or both!
What to bring:
• Please come with a journal and business cards to exchange.
• Bring a friend, acquaintance or invite someone you've always wanted to connect with.
• Come early (7:15pm) to mingle, so we can start promptly at 7:45pm.
• More details will come later in an email to attendees so please join our Community on Meetup at this link http://www.meetup.com/DWAinBC/ and allow DWA to send you emails through Meetup.
____________________________________________________
Terms & Conditions:
Event disclaimers and limitation of liability: Your participation in any public event, private event or activity listing is at your sole and exclusive risk. The host of any event may refuse admittance, may charge an admission fee, or ask you to leave an event at any time for any reason. By joining Dynamic Women in Action you agree and understand that in connection with your participation in any event or activity, you may be exposed to a variety of hazards and risks, foreseen or unforeseen, which may or may not be inherent in those activities and events. These inherent risks include, but are not limited to, the dangers of serious personal injury, property damage, and death (injuries and damages) from exposure to the hazards of public or private outings and activities and Dynamic Women in Action has not tried to contradict or minimize your understanding of these risks. By joining Dynamic Women in Action, you agree and understand that injuries and damages can occur by natural causes or by the acts of other persons or third parities, either as a result of negligence or because of other reasons. You are personally responsible for all costs and/or risks associated with any public or private event or activity. Notwithstanding anything to the contrary herein, to the fullest extent allowed by law, you agree to waive, discharge claims, release Dynamic Women in Action from all liability and indemnify and hold harmless Dynamic Women in Action, its organizers, hosts, subsidiaries, affiliates, officers, agents, volunteers and other partners and employees, from any and all liability on account of, or in any way resulting from injuries and damages in any way connected with any events or activities. You agree and understand and intend that this assumption of risk and release be binding upon you and your heirs, executors, agents, administrators and assigns, and includes any minors accompanying user at the events.
Tickets are non refundable and non-transferrable.