Description
[Français ci-dessous]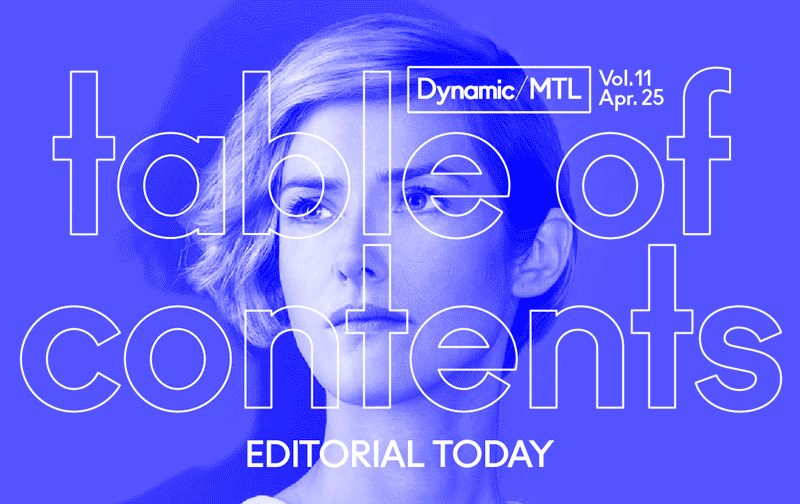 Table of Contents : Editoral Today

Join us on April 25th for the 11th edition of Dynamic/MTL, which features Caroline Issa the CEO of Tank Group, who has been sought out by brands like Norsdtrom and Hugo Boss (to name a few) for her editorial expertise. She will be joined by Caroline Lavergne, the editor-in-chief at C2, a global conference at the crossroads of commerce and creativity. Our final panelist is Catherine Métayer the editor-in-chief of BESIDE, and cofounder of the curatorial project Collectif Blanc.
We'll learn how these editorial leaders in their respective fields navigate a cross-platform world, and operate at the intersection of content and commerce. The panel will discuss the future of publishing and editorial in the age of shifting formats.
------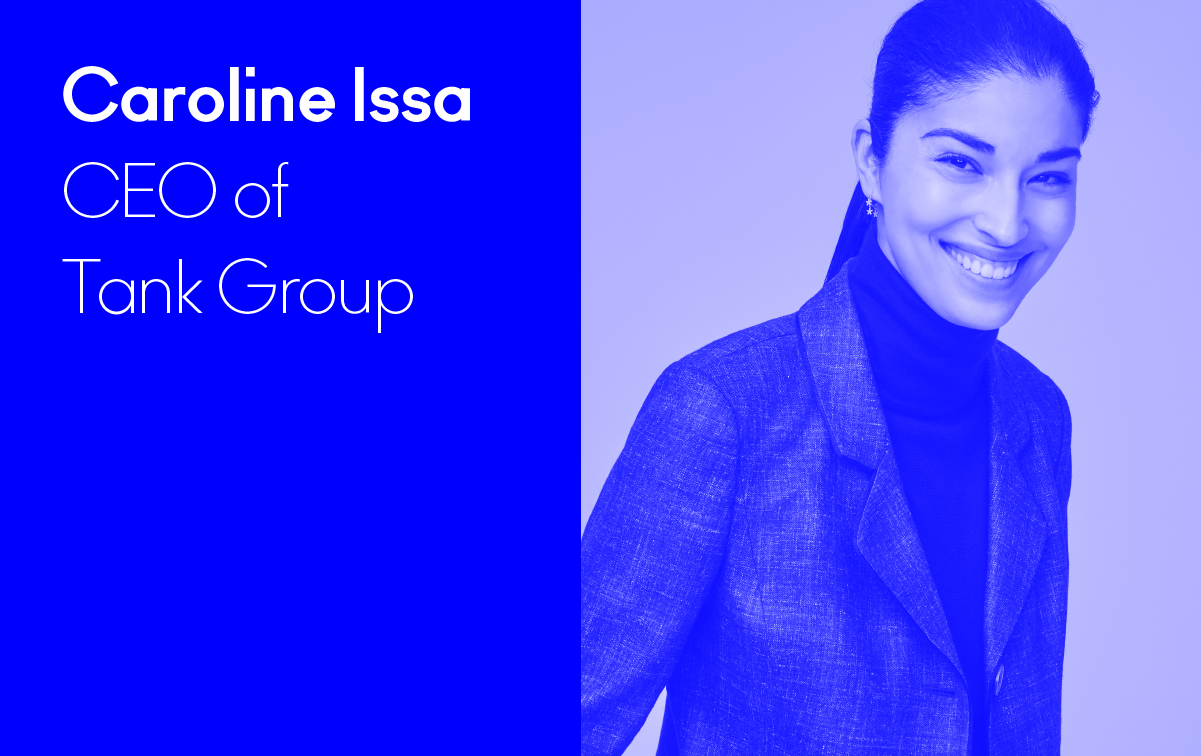 Caroline Issa
CEO of Tank Group

Caroline Issa is the CEO of the Tank Group, consisting of Tank Magazine, www.BecauseLondon.com and Tank Form, its creative agency. Armed with a business degree from the Wharton School at the University of Pennsylvania, she spent the beginning of her career as a management consultant, working with brands such as Nordstrom, Dr. Pepper/7UP and Boots. She moved to London and joined Tank fifteen years ago, developing its publishing arm and consultancy work. Now acting as Fashion Director for Tank and Because, she also has a bi-weekly column for the Daily Telegraph UK's Luxury magazine and has consulted as a creative consultant for brands such as Tod's, Hugo Boss, Swarovski, Birkenstock and Lane Crawford. Nordstrom approached her to launch a collection co-branded Nordstrom Signature and Caroline Issa which saw four collections a year dropping into their stores and website from 2015-2016. She has participated on numerous fashion prize juries from the Hyères Fashion Festival to the British Fashion Council's Fashion Forward award panel. She is currently the External Examiner for Central Saint Martin's MA Fashion Promotion and Journalism courses.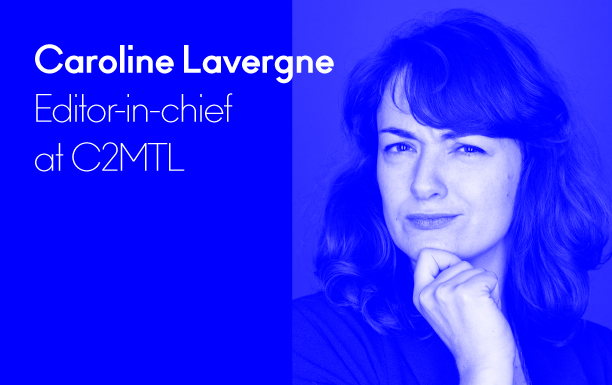 Caroline Lavergne
Editor-in-chief at C2
Other than being a proud Montrealer, Caroline is a communications consultant, editor, and content creator. For the past decade, she has been working in close collaboration with entrepreneurs and their troops to help build and promote inspiring projects using the right words and images. After years of semi-serious dating, she has recently committed to embark on a wild adventure with the wonderful C2 team. As Editor-in-chief of the Montreal-based international brand, she crafts the story of this unique conference. She's behind the C2 Minutes, a 250-page intellectual and emotional memento of 3-days of talks, hands-on sessions, labs, artistic performances, which her team delivers less than 2 months after the closing ceremony. She also draws a lot.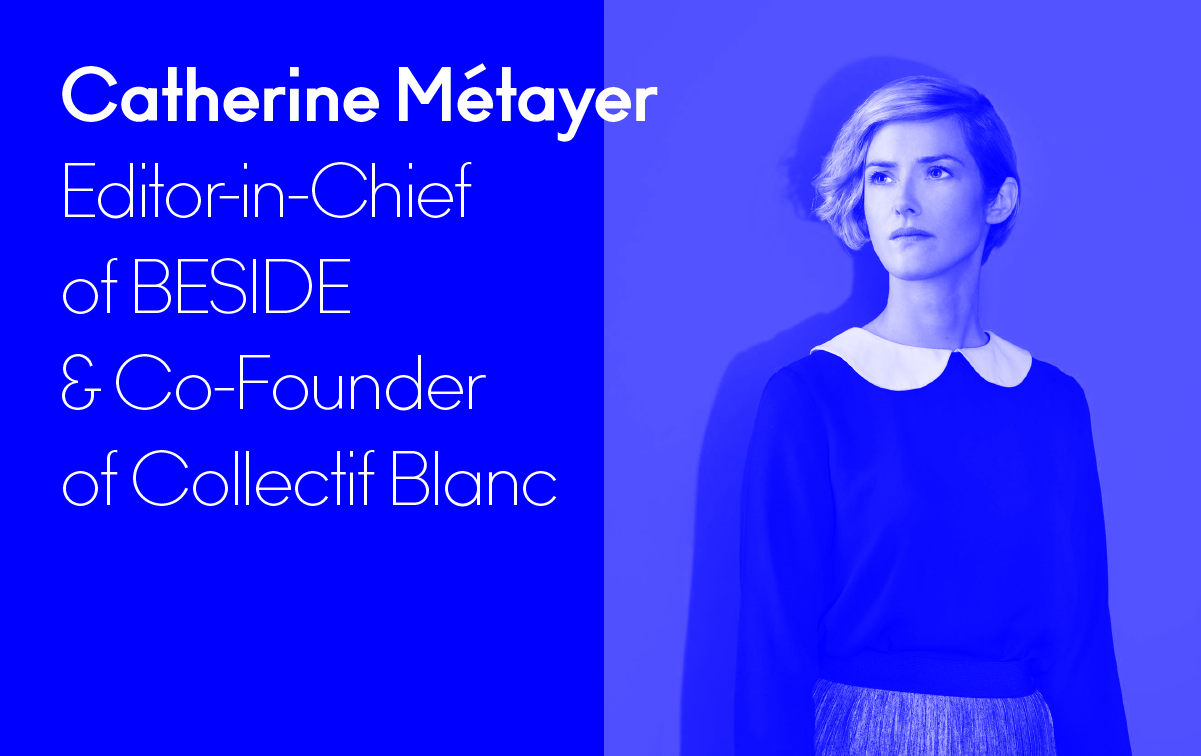 Catherine Métayer
Editor in Chief at BESIDE Magazine and Co-founder at Blanc Collective
Catherine Métayer is the Editor-in-Chief of BESIDE, a Montreal-based print magazine fostering the new and flourishing community of outdoor enthusiasts across North America. She also recently became the Editorial Director of its online editorial platform, BESIDE Media House. At the same time, Catherine is very fond of design and contemporary art. In 2014, she cofounded the curatorial project Collectif Blanc, promoting print publishing and design with pop-up exhibitions and a daily blog. Catherine holds an MA in publishing from the University of the Arts London, with a focus on new publishing business models.


_________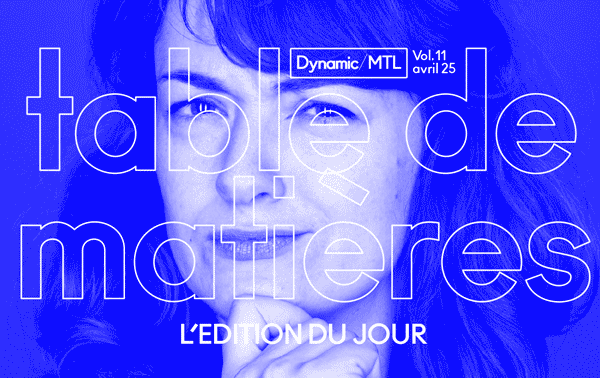 Table de matières : L'Edition du Jour

Joignez-vous à nous le 25 avril pour notre 11e édition de Dynamic/MTL où nous accueillerons Caroline Issa, PDG du Groupe Tank. Reconnue pour son expertise rédactionnelle, elle a su attirer des grandes marques telles que Nordstrom et Hugo Boss (pour n'en citer que quelques-uns). Elle sera accompagnée de Caroline Lavergne, rédactrice en chef à C2, une conférence de renommée internationale regroupant le commerce et la créativité. Notre troisième panéliste est Catherine Métayer, rédactrice en chef de BESIDE, et fondatrice du projet d'exposition Collectif Blanc.
Nous apprendrons comment ces leaders dans leur domaine respectif réussissent à naviguer un univers multiplateforme, et à opérer à l'intersection entre le contenu et le commerce. Ce panel discutera avec nous du futur des publications et de l'éditorial dans cette ère qui apporte de grands changements pour les formats éditoriaux.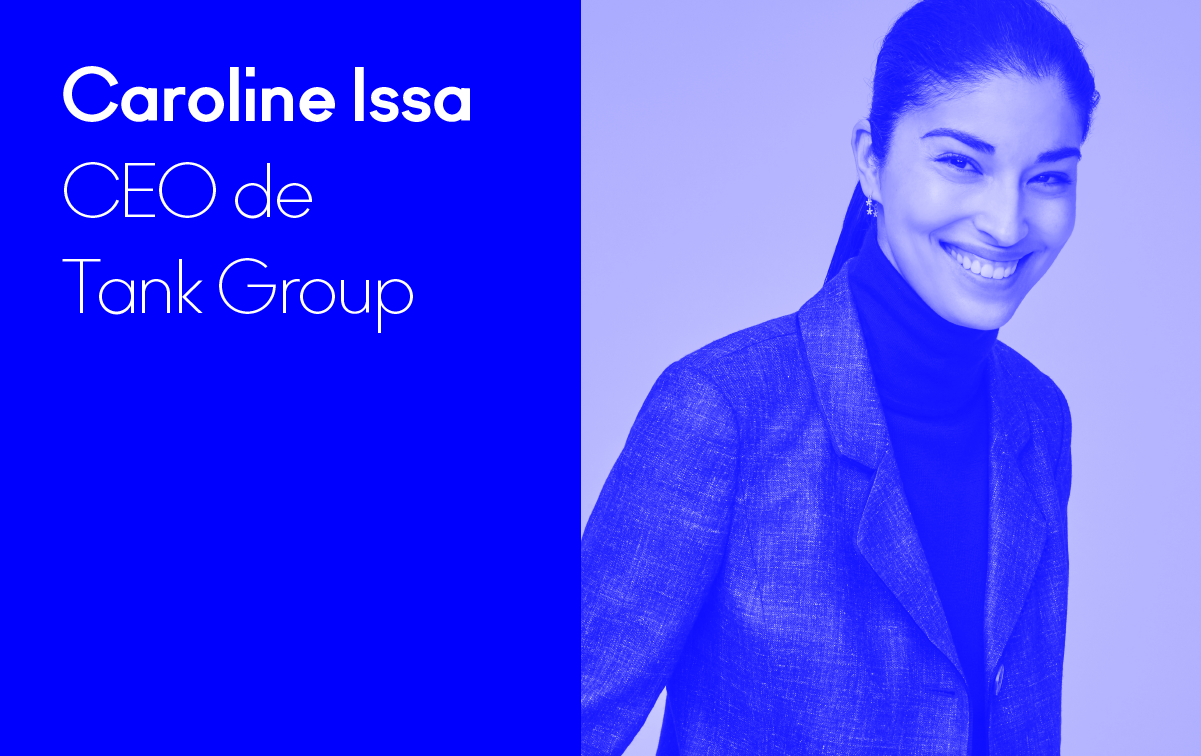 Caroline Issa
CEO de Tank Group
Caroline Issa est PDG du groupe Tank, qui regroupe Tank Magazine, www.BecauseLondon.com et Tank Form, son agence créative. Détentrice d'un business degree de la Warton School de l'Université de Pennsylvanie, elle a commencé sa carrière en tant que consultante en management, travaillant avec des marques telles que Nordstrom, Dr. Pepper/7UP et Boots. Elle a ensuite rejoint les rangs de Tank à Londres et y a dévelopé les secteurs de publications et conseils. Actuellement Fashion Director chez Tank et Because, elle prête aussi régulièrement sa plume au Luxury Magazine du Daily Telegraph UK, en plus d'être consultante créative pour des marques comme Tod's, Hugo Boss, Swarovski, Birkenstock et Lane Crawford. Nordstrom l'a également approchée pour une collaboration Nordstrom Signature et Caroline Issa, et depuis 2015-2016 cette collaboration à donné quatre collections par année. Tout au long de sa carrière, elle a également été juge à de nombreux évènements de mode, allant du Hyères Fashion Festival au British Fashion Council's Fashion Forward. Elle est présentemment examinateur externe pour la Central Saint Martin's MA Fashion ainsi que pour des cours de journalisme.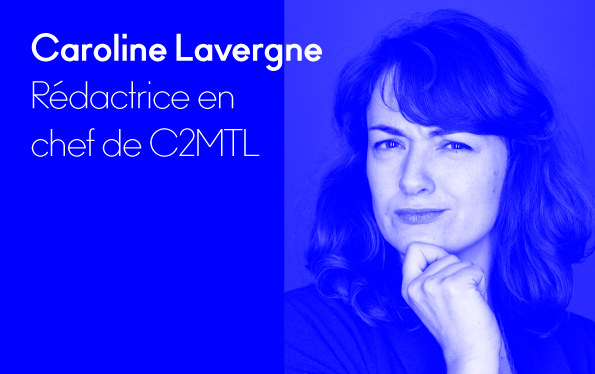 Caroline Lavergne
Rédactrice en chef de C2MTL

Consultante en communications stratégiques et créatrice de contenu fièrement basée à Montréal, Caroline travaille depuis 10 ans avec des entrepreneurs et leurs troupes pour concevoir et promouvoir des projets inspirants, en utilisant les bons mots et les bonnes images. Après des années de concubinage, elle s'est récemment embarquée dans une grande aventure à temps plein avec la merveilleuse équipe de C2. En tant que rédactrice en chef de la marque montréalaise à portée internationale, elle raconte l'histoire de ces conférences uniques, avant, pendant et après chaque événement. Elle est par ailleurs la maman des Notes de C2, un memento intellectuel et émotionnel résumant en 250 pages ces trois jours de présentations sur scène, ateliers, labs et performances artistiques, le tout livré en moins de deux mois après la soirée de clôture (en version anglaise et française). Elle dessine aussi beaucoup.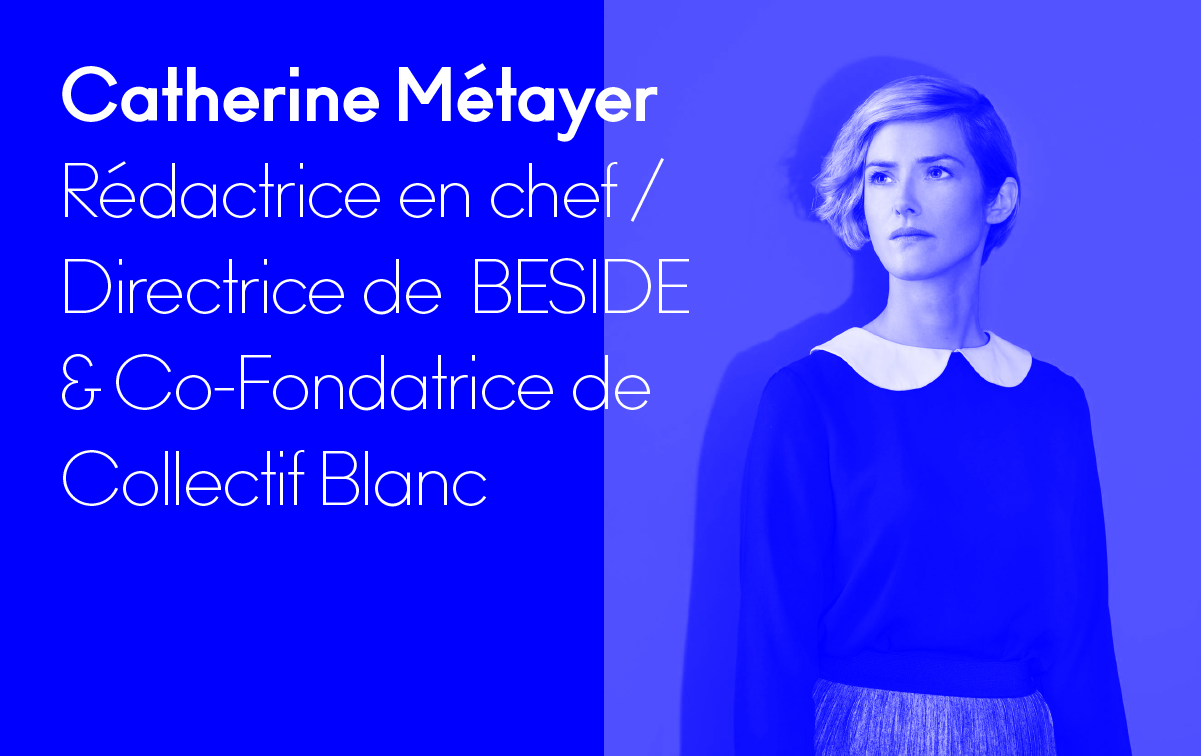 Catherine Métayer
Rédactrice en chef de BESIDE & Co-Fondatrice de Collectif Blanc

Catherine Métayer est rédactrice en chef du magazine montréalais imprimé, BESIDE, qui se consacre à la nouvelle philosophie du plein air en Amérique du Nord. Elle aussi nouvellement directrice éditoriale de sa plateforme éditoriale en ligne, BESIDE Media House. Parallèlement, Catherine s'intéresse aux milieux du design et de l'art. En 2014, elle a cofondé le projet de commissariat des nouvelles formes d'édition imprimée, Collectif Blanc, qui s'articule autour d'expositions et d'un blogue quotidien. Catherine est aussi détentrice d'une maitrise en édition de la University of the Arts London, avec une spécialisation sur les nouveaux modèles d'affaires.