Description
My E-book is a short practical tool meant to help you improve your relationships. It contains practical examples that demonstrate how you can apply the theory and techniques that I discuss, into your everyday life. Below is a preview from my E-BOOK.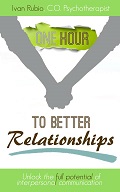 !Unlock the full potential of interpersonal communication and improve your Relationships!
The following is a preview from my E-BOOK:
Relationships and Assertiveness:
Is there such a thing as too much assertiveness? We would assume that being assertive in a relationship is a good thing, right? You might find the answer surprising......