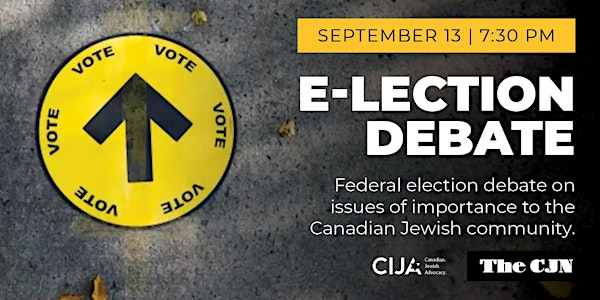 E-lection Debate | Hosted by CIJA and the CJN
E-lection Debate hosted by CIJA and the CJN
About this event
Join us for a federal election debate on issues of importance to the Canadian Jewish community on Monday September 13th at 7:30 p.m. ET with Ellin Bessner, host of The CJN Daily podcast, and Avi Finegold, host of Bonjour Chai, the CJN weekly current affairs podcast, and representatives from Canada's political parties, including:
— Hal Berman - New Democratic Party of Canada
— Marco Mendicino - Liberal Party of Canada
— Michael Chong - Conservative Party of Canada
Note: All federal parties were invited to participate in this debate.
The debate will be followed by a post-debate analysis with CJN and CIJA staff, including:
— Rivka Campbell, Host of The CJN's podcast, "Rivkush"
— David Cooper, Vice President, Government Relations, CIJA
— Josh Lieblein, Columnist for The CJN
We invite you to pose questions - in English, French, Hebrew, or Russian - to the candidates here. Please note that your question may appear on the live debate show.
Email events@cija.ca with any questions.