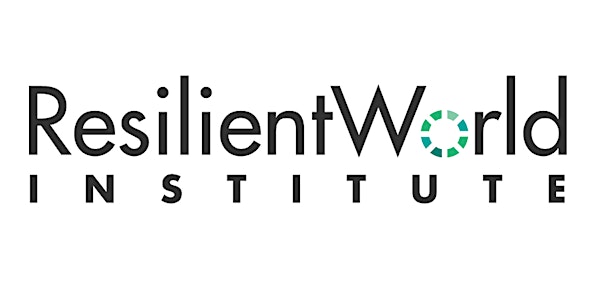 E108-07 Fundamentals of Renewable Energy Technologies Used in Ontario
When and where
Location
One Hub - RWI Training Site 205 Torbay Road Unit 4 Markham, ON L3R 3W4 Canada
Refund Policy
Refunds up to 7 days before event
Description
Resilient World Institute (RWI) E108 Renewable Energy Training
Understanding the technology solutions needed for a sustainable future
Trainer: Steven Law, P. Eng.
Course Description:
This course will provide participants with an overview of renewable energy and energy storage technologies. Applications will include power generation, combined heat and power, and thermal heating and cooling. Real world case studies will be used to describe how the technologies are deployed in a practical way. Relevant government regulations, including Ontario's new Environmental Activity Sector Registry will be discussed with considerations for Licensed Engineering Practitioners. Off-grid applications will be reviewed for remote northern communities and mining sites. No laptop is required for this course. Notebook, pen/pencil and calculator are recommended. Photo shooting is not allowed during training.
Course Outline:
Introduction to renewable energy fundamentals – including units of measure and electric grid basics
Overview of renewable energy in Ontario – understanding where we are and how we got here
Government policies, regulations and guidelines – including REA, EASR and net metering
Renewable energy technology overview – including wind turbines, solar (PV and thermal), bioenergy, ground and air source heat pumps, energy from waste and microhydro
Energy storage technology overview – including pumped hydro, batteries, hydrogen, flywheels, compressed air and thermal heating/cooling
Q & A
Prerequisites:
No prerequisites for Renewable Energy
Who Should Attend:

Government officials (municipal and regional)
Major energy users (commercial, industrial, institutional)
Consulting engineers / Energy and sustainability consultants
Developers (buildings, energy projects)
Energy managers
Renewable energy technology OEMs
Investment analysts in the sustainability / renewable energy sector
GRANT AVAILABILITY
If you are employed, your employer could receive a grant to cover up to 5/6 of the costs of your training.
Please call 416-855-2680 or email training@rwinstitute.ca for details.
Please arrive before 9:00 am at our Training Centre:
One Hub - RWI Training Site
205 Torbay Road Unit 4
Markham, ON L3R 3W4
You will be provided with all course materials (a binder) at the beginning of the training session
Full day training includes lunch and refreshments as well as free parking
Please contact us if you wish to change the name of the person on your registration, update your registration information, notify us about any dietary restrictions or other needs if you didn't so when you registered: 416-855-2680 or training@rwinstitute.ca
Cancellation & Refund Policy:
http://rwinstitute.ca/course-information/cancellations-refunds/