Community Historical-Cultural Show - Ho Feng-Shan, Righteous Among the Nations Audience are encouraged to dress In Viennese or Shanghainese
About this event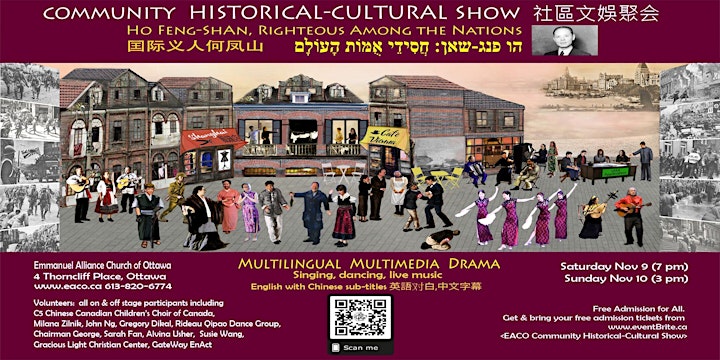 Community Historical-Cultural Show
2019 Nov 9 Saturday 7 p.m. & Nov 10 Sunday 3 p.m.
Audience are encouraged to dress In Viennese or Shanghainese style, or any nationality or ethnicity, commonly worn in the 1935-1945 era.
The Show will present the drama "Ho Feng-Shan, Righteous Among the Nations" in English with subtitles in Chinese. With humanity as the main theme, the drama is based on the true story of Dr. Ho Feng-Shan, the Chinese consulate in pre-WWII Vienna. He issued about 2,000 visas to help Jews escape to Shanghai from Nazi Germany. The Show includes Chinese and Jewish cultural performances and a somber play full of surprises. Families of all cultures are welcome.
We cordially invite you and your friends to come to the Show. Please get your tickets in October at www.eventbrite.ca
1) Search for EACO or the date on the website www.eventbrite.ca
2) Fill in your name and email address, and register (maximum of 6 tickets per family);
3) Print the tickets (PDF format) from the reply email;
4) Bring your tickets to the Historical-Cultural Show.
Previous Shows: http://gatewayenact.com or https://www.facebook.com/GateWayEnActHUMANITY
社區文娱聚会
十一月九、十日 (週六晚七时, 及週日下午三时)
主恩宣道会举办舞臺剧「国际义人何凤山」, 以「仁义道德」为主题, 英语对白, 配上中文字幕, 演绎中国总领事何凤山, 在第二次世界大战前, 从德军拯救犹太人, 在维也纳发签證给犹太人逃往上海 。聚会有精彩中国及犹太文化表演和一个沈肃却充满惊奇的话剧; 老少咸宜。 诚意邀请您和您的亲友來观赏, 欢迎中西家庭, 请凭免费门票入场。十月开始随时订票在 www.eventbrite.ca ;
1) 请在这个网站 www.eventbrite.ca 搜寻 EACO或日期就可找到这个节目 ,选日期及门票数目 (每家只限六张)。
2) 填名及电邮地址, 然後按登记。
3) 就电邮收到 (PDF format) 的票。
4) 请自己印票及带票入场。
以往聚会: http://gatewayenact.com or https://www.facebook.com/GateWayEnActHUMANITY