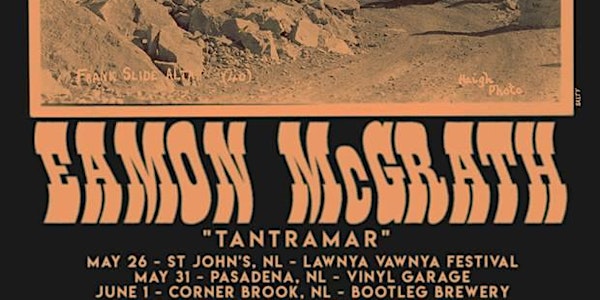 Eamon McGrath - Tantramar album release @ The Vinyl Garage feat. Mark Bragg
When and where
Location
The Vinyl Garage The Vinyl Garage, Pasadena Newfoundland Pasadena, Newfoundland and Labrador A0L1K0 Canada
Refund Policy
Refunds up to 7 days before event
Description
With over 300 songs written and recorded, album of the year credits, and multiple continent-spanning tours, Eamon McGrath has developed a body of work that could rival that of any artist 15 years his senior. This is the house that punk rock built: a fierce DIY attitude and constantly-changing style has guided McGrath across the globe on countless tours, stories from which have been cultivated in innumerable journal entries and song lyrics. He is based in Toronto, Ontario.
Over 100,000 kilometres of highway, railroad and sky lays behind him as McGrath continues to blaze an impassioned trail of music that finds a sound and voice somewhere between punk rock, country, folk and rock and roll. Taking him to locations as geographically diverse as Reykjavik, Palma de Majorca, Warsaw, and everywhere in between, McGrath and his guitar represent a new dawn of singer-songwriting that's injected with the raw, fierce energy of punk rock: not in the sense of an acoustic performer hollering at the top of his lungs to simulate the energy of a full band, but instead something more rooted in a passionate commitment to your craft and a blind and zealous determination to your vision, wrapped in a sonic texture as rough as the road itself.

WWW.EAMONMCGRATH.CA

MARK BRAGG:
"His new work is a marked departure, but don't think for a second that Mark Bragg has mellowed out.The musician who hails from St. John's is now a Corner Brook resident after moving there last September.Anyone who knows his music or has seen Bragg perform would be used to a style that oozes with an intense, unapologetic energy.
Now, here comes "Winter," his latest album set for release March 30. It is a compilation of relatively softer fare for Bragg, replete with mostly piano and bass-rooted balladic tracks that explore more subtle themes like love and loss.
He has one song, "El Toreo," available for free on his website now. WWW.MARKBRAGG.COM
ABOUT THE VENUE:
The Vinyl Garage is private pool hall and concert space located in Pasadena Newfoundland. The owners and hosts are long time music lovers and have traveled far and wide to have rock and roll experiences, more of which are captured by the hundreds of autographed and curated pieces of Rock Memoribilia proudly displayed in the Garage. The hosts are dedicated to your experience at the house shows and will tantilize your taste buds with delicious food and snacks throughout the night. Feel free to bring your own alcoholic beverages. Everyone who has attended a show at The Vinyl Garage, usually returns and thats why tickets are so exclusive for these events! Don't wait, get yours today! Only 30 available.