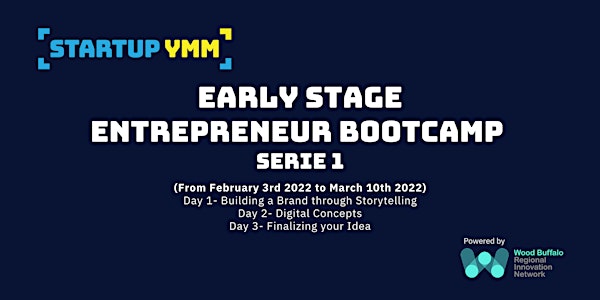 Early Stage Entrepreneur Bootcamp- Cohort 1
From Start to Grow new entrepreneurs gain knowledge and expertise in developing and evaluating your own business opportunity.
Refund Policy
Contact the organizer to request a refund.
Eventbrite's fee is nonrefundable.
About this event
You've prototyped your idea – now what?
In the Early Stage Entrepreneur Bootcamp from Start to Grow new entrepreneurs gain knowledge and expertise in developing and evaluating your own business opportunity in a range of environments.
There are many aspects to starting a business and becoming and entrepreneur from coming up with ideas, evaluating them, planning a business start-up, launching and then running a business.
Your idea becomes your story, and through storytelling you capture your audience, which develops into leads and revenue.
This course is focused on developing your business idea, developing a brand, telling the story of your business idea through marketing endeavours and creating measurable goals that reflect positive return on investment (ROI).
Day 1 (February 3rd 2022 , 2:00PM-5:00PM): Building a Brand through Storytelling
How to successfully market your business to the right audience through storytelling.
Establish your identity – who you are and what you offer.
SWOT analysis – identify your strengths, weakness, opportunities and threats and build it into your story.
Target your desired unmet customer.
Creating a unique selling proposition.
Establish a presence on social media, on platforms that matter.
Basics of Content Marketing – learn how to prepare a solid long-term content strategy and framework.
Day 2 (February 17th 2022 , 2:00PM-5:00PM): Digital Concepts
Create digital ads that capture leads/brand awareness.
Design graphics that capture audiences and provide value. ( Canva)
Understand digital campaigns, digital analytics, SEO, affiliate marketing, PPC, Social Media Optimization and general social marketing.
Getting your business set up on Google.
Marketing Campaigns; creating, analyzing and their value.
Understanding leads, conversions & conversion points.
Intersection – where is your target customer? How can you reach them?
Analysis of research to hit your targets where they want to be reached.
Day 3 (March 3rd 2022 , 2:00PM-5:00PM): Finalizing your Idea
Define what your business needs are & how to scale by adding a successful team.
Learn about management styles that will enhance productivity.
Finish a marketing, social and business plan for your new idea with measurable/attainable goals. (SMART Goals).
Build and practice your elevator pitch.
Finalize strategy on attracting your first customer.
Receive guidance through the course, from initial idea to final pitch in a small, supportive, risk-free environment.
This course is delivered over 6 weeks. At the end of each of the three sessions entrepreneurs will be given tasks to complete prior to the next session.
Instructor will have office hours available for 1:1 development on a first come first serve basis.
Space is Limited . Register Today!
-------------------------------------------------------------------------------------------------
Personal information is collected under the authority of Section 33(c) of the Freedom of Information and Protection of Privacy Act (Alberta). Your personal information will only be used to register you for the event and contact you regarding any updates about the event. Should you have any questions about the collection of this information, please contact Executive Liaison to the CEO and Board of Directors, 9909 – Franklin Avenue, Fort McMurray, Alberta T9H 2K4, or call 780-788-1581
Eventbrite is a third-party system hosted in the U.S.A. and may be subject to U.S. laws. For information on Eventbrite's privacy policy please visit
https://www.eventbrite.ca/support/articles/en_US/Troubleshooting/eventbrite-privacy-policy?lg=en_CA