EarlyON Alliston Outdoor Stay Play and Learn
EVERY ADULT & CHILD MUST HAVE A TICKET TO ATTEND. You must preregister & complete prescreening 1-2 hrs prior to arrival.
About this event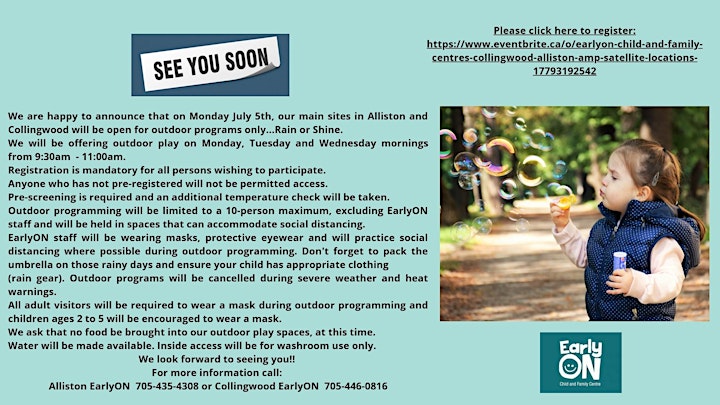 Please book all family members attending, including infants and complete self screen for all attending 1 -2 hours prior to your arrival.
Please read our EarlyON Child and Family Centre Alliston and Collingwood Parent Handbook Covid 19 prior to visiting.
To support the enhanced health and safety measures, we are limiting family visits to one session per week, per family. This will allow other families a chance to visit our in-person activities. Thank you for your understanding in this matter.
Entry will be through the side gate into the backyard play area and you will be screened at the check in there.
Indoor play is not permitted. Washroom access will be available. Outdoor programs will be cancelled during severe weather and heat warnings.
If this is your first time registering, you need to cancel your visit or you have questions, please call the centre for assistance. (705) 435-4308
We are looking forward to seeing you.
Organizer of EarlyON Alliston Outdoor Stay Play and Learn