EarlyON Alliston Stay, Play and Learn
EVERY ADULT & CHILD MUST HAVE A TICKET TO ATTEND. You must preregister & complete prescreening 1-2 hrs prior to arrival.
About this event
Please book all family members attending, including infants and complete self screen for all attending 1 -2 hours prior to your arrival.
Please fill in the following registration form if you have not registered at an EarlyON program prior to this or if you have not attended an in-person program before or are new to the EarlyON ~ still not sure? Please take the time to fill it out and we'll make sure all of your information is recorded and up-to-date.
Please read our EarlyON Child and Family Centre Alliston and Collingwood Parent Handbook COVID 19 prior to visiting.
Please cancel your tickets on Eventbrite if you can't make it, or call if you need assistance with your cancellation. If you have any questions, please call the centre at 705-435-4308.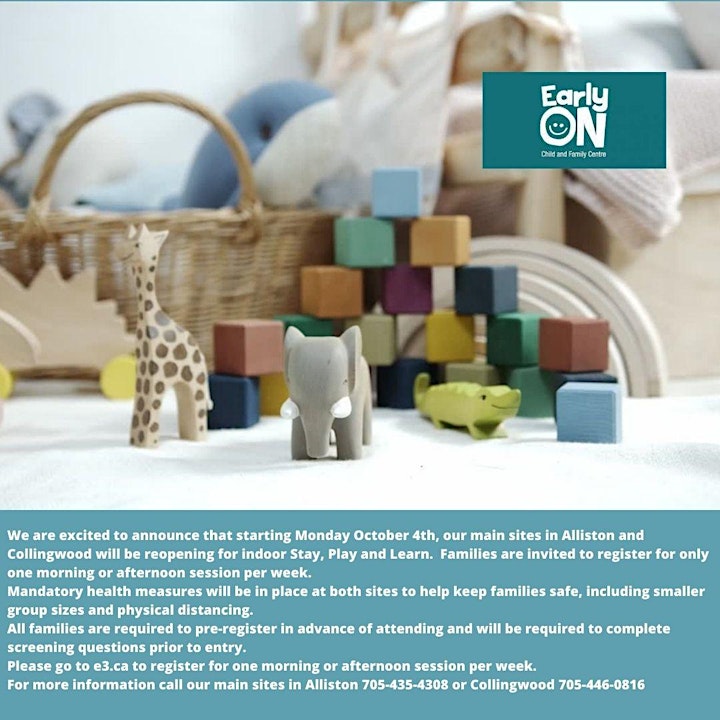 Organizer of EarlyON Alliston Stay, Play and Learn