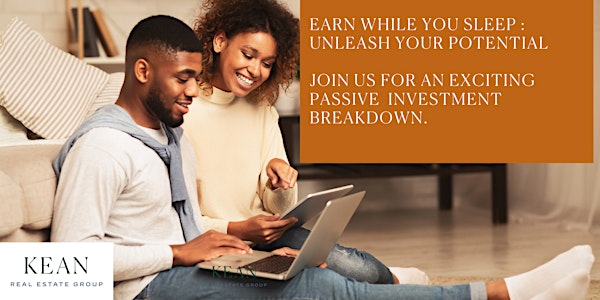 Multiple dates
EARN WHILE YOU SLEEP : DISCOVER PASSIVE INVESTMENTS THROUGH REAL ESTATE
EARN WHILE YOU SLEEP : EXCITING REAL ESTATE INVESTMENT OPPORTUNTIES
By KEAN Real Estate Group
Date and time
Thu, Mar 23, 2023 4:00 PM - Thu, Apr 20, 2023 5:00 PM PDT
About this event
It is a fact that when you are financially literate you have the skills and knowledge to make informed decisions. 4 in 10 Canadians report that money is a daily concern, and a third of low- income Canadians report worrying about money almost constantly. ( ABC Literacy)
As real estate investors and educators we recognize that many persons are not aware of passive investments and how they work. We will be presenting on DIFFERENT OPPORTUNTIES.
Come to hear the full breakdown of the deal and the different ways you can get involved.
Who should come?
You don't have the minimum investment but could join with friends or family
You have equity in your home and want to earn some money
You want to invest but don't want to do the heavy lifting
Curious about how passive investments really work
On March 23rd we will be presenting an exciting opportunity from John and Kamila with a portfolio spanning from Alberta, Mexico, Jamaica and Dominica worth over $15 million.
John and Kamilah Lindo located in Edmonton are full time family oriented investors.
We will be sharing their land development project in Calgary Alberta which will be done in(4-6) phases over 3-5 years. This development will comprise of about 260 units. There will be townhomes, seniors living, apartment building and condos. There will also be a small area for commercial shop spaces.
This will be an excellent project to develop on prime land with excellent view andlocation on the hill. This land is located in the middle of the town near to everything around.
First Phase Financing
15% per annum, Promissory Note, CASH ONLY (1-3 yrs)
Minimum Investment - $25,000 CASH ONLY
Interest can be paid monthly, quarterly or at the end.
Limited Partnership structure will be available in the next phase.
About the organizer
Kean Real Estate Group Inc provides coaching & mentoring through One on One sessions, Courses on property investing called 'Secrets to Success in Real Estate' and our Free Live Events on Strategies to Build Wealth. We connect people with the knowledge and resources they need to get started and be successful. Get ongoing access to updates, resources and market information to grow their portfolio required to develop and automate your business.