Description
Overview
In this fast-paced world, it becomes even more important to reconnect with our own rhythm and the rhythm of the earth.
Join us for our Earth Pulse, to be held the weekend of August 2nd-4th at the Rosseau Sanctuary: 50 acres forest, meadow, and stream in the Muskokas, ready to help you connect body, mind, and soul.

Coordinated by Dan Fox and Melanie Ollenberg, this summer celebration offers an incredible weekend in the elements with consciously currated experiences with special guests and delicious vegetarian cuisine: drumming, sacred song sharing, sweatlodge ceremony, nightly bonfires, eco-healing tours, divination, permaculture, sacred circles, and torchlit labyrinth walks in our 90 foot chartres labyrinth.
The weekend offers all participants the opportunity to tailor their experience. While some may prefer the deeper healing experience of the sweatlodge, some may enjoy getting their hands in the earth in a permaculture workshop, and others may prefer a more introverted getaway with palmistry readings and labyrinth walks. Through it all, participants will be treated with culinary delights by vegetarian chef Melissa Rose, and sacred drumming and song sharing with soundhealing practitioner and shamanic coach, Rufus Glasco.

Register early to reserve your preferred accommodation!
Flow
Friday
1-3pm - arrivals
4pm - opening water ceremony: honouring our water with sacred medicine song sharing at our artesian well (Dan Fox and Melanie Ollenberg)

5:30-7pm - supper (served by Vegetarian Chef Melissa Rose)

7:30pm - community fire lighting and opening circle (Joe Tortolo & Melanie Ollenberg)
8-10pm - drumming circle and medicine song sharing (Rufus Glasco)
Saturday
8:00-9:30am - breakfast (served by Melissa Rose), followed by silent personal meditation / practice in ceremonial room
10-11:30am - opening circle followed by guided tour of the land with sacred song sharing and land teachings (Dan Fox & Melanie Ollenberg)

12:00-1:30pm - lunch (served by Melissa Rose)

1:30-3:00pm - Sweatlodge preparations (with Jodie Cara Lindley) OR Permaculture Workshop (with Dan Fox)

3:00-5:30pm - Sweatlodge fire begins (guests welcome to enjoy the fire or take personal time to prepare). Those not partaking in the sweatlodge enjoy personal time on the land.
5:30-6:30pm - light supper (served by Melissa Rose)
7:00-10:00pm - Sweatlodge ceremony (with Jodie Cara Lindley) OR Palmistry Readings (with Melanie Ollenberg)

9:00-11:00pm - light snacks (served by Melissa Rose) and torchlit labyrinth walk

Sunday
8:00-9:30pm - breakfast (served by Melissa Rose) and silent personal meditation / practice in ceremonial room
10:00-12:00pm - Sweatlodge meeting and closing of the sweatlodge (with Jodie Cara Lindley). For those who did not partake in the Sweatlodge, this time is used to clean the Main Lodge up, pack cars, and enjoy the land.

12:00-1:00pm - lunch (served by Melissa Rose) and closing circle

2:00-5:00pm - afternoon at the beach: Guests are invited to take a trip to Rosseau to enjoy the beach, some local ice cream, or even an evening dinner at the local restauraunt.

**Note: All workshops are optional, with opportunties for participants to take that time as personal time on the land.
Accommodation
The Rosseau Sanctuary is committed to creating a self-sustaining, eco-conscious community hub where healing occurs through deep connection with ouselves, the earth and eachother. We have a few options available for you, either in the Main Lodge, a private cabin, or you could bring your own tent to sleep under the stars! If you would prefer to sleep in our ceremonial room, bring your mat and sleeping bag for a further reduced rate.
Note that fees for accommodations are in addition to the weekend registration fee of $325.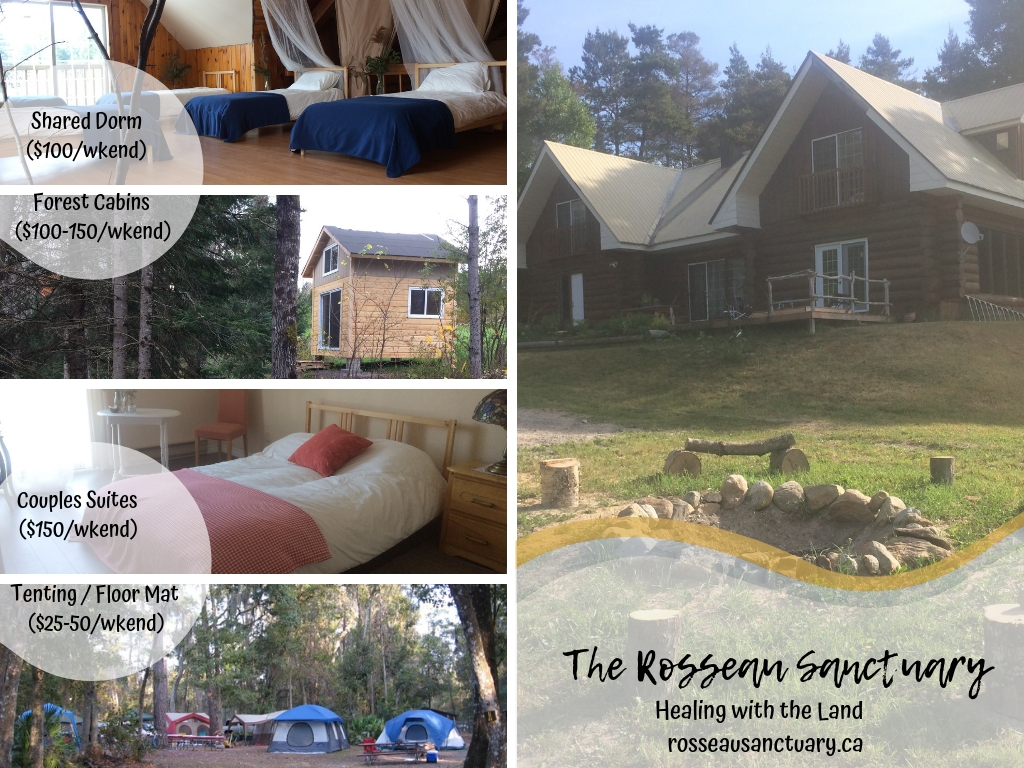 Registration
Please register by July 20th. Following receipt of your weekend registration, we will follow-up with you to reserve your preferred accommodations (to be paid cash onsite on the weekend). For further inquiries, please email rosseau.sanctuary@gmail.com.

About Your Facilitators
Rufus Glassco
Rufus Glassco is a trilingual Drum Circle Facilitator who specializes in drumming for health and wellness. He is also a Sound Healing Practitioner and a Shamanic Coach, and helps both individuals and groups to relax, and come into greater resonance and harmony. Rufus' experience as a singer-songwriter and multi-instrumental percussionist has blossomed into new directions lately, and he now facilitates sacred singing classes and is studying to be a community singing facilitator. He passionately believes that everyone has rhythm, and longs for real connection with others. Participants in his workshops learn that drumming and singing are easy to do and so much fun to learn in a group setting. Together they experience how they can create something greater than they could do on their own, by supporting and encouraging each other, and really listening to each other as they co-create music, and community.
Melanie Ollenberg
Melanie learned early that "home" and "community" were what you made them. Like many of us, early struggles with health became training grounds for navigating the health system, listening to the body's messages, and understanding resilience.

Having received her degree in Health Science with a Major in Addictions Counselling, Melanie worked for over 15 years within the health system, on the front lines, in program design, and community-based research. Some highlights have included coordinating a national benchmarking study, collaborating with native communities to implement traditional healing processes, and facilitating community health initiatives for a range of non-profit organizations across Canada. At the same time, Melanie grew her private practice as a Reiki Master, Palmist, and ceremonial facilitator. When she became a mother 13 years ago, Melanie drew her focus to family and also to helping alternative, complementary and shamanic healing practitioners thrive in their practice though collaborative economy principles, and to supporting deeper earth connection. She Co-Founded Toronto's first coworking hub for self-development practitoiners in 2015 (Inner Arts Collective), and the Rosseau Sanctuary, an eco-healing community 2.5 hrs north of Toronto (The Rosseau Sanctuary) in 2017. Melanie continues to run the Inner Arts Colelctive, practice and teach Reiki and Palmistry (Kore Changes), and facilitate earth-connecting experiences at the Rosseau Sanctuary.

Jodie Cara Lindley

Jodie is an RMT and Holistic Healer with over 18 years of experience providing one-on-one healing and group facilitation. She integrates holistic, ancient, and traditional healing practices into various therapeutic modalities. Jodie has specialized training in Registered Massage Therapy, CranioSacral Therapy, SomatoEmotional Release, Reiki, Traditional healing (Shamanic Healing), Coaching, Light Therapy, Astrology, and Sweat Lodge Facilitation.​
About the Sweatlodge:
The sweat lodge is a ceremony and process of purification. This purification works on the four levels of our being: physical, mental, emotional and spiritual. At its heart it is a process of deep surrender and emptying out that gives us the opportunity for healing, and to be received by the Mother Earth.
This lodge does not follow a specific native/indigenous tradition but encompasses all traditions, and at its heart is guided by Spirit and the Mother Earth herself.

It is a spiritual death and rebirth process. We surrender to Mother Earth, the elements and nature, and open to the compassionate love that is there waiting for us. To participate in a sweat lodge is transformational, and can reconnect us deeper to ourselves, to nature and to Spirit.
Your Chef
Melissa Rose
My name is Melissa Rose Iannitti and I am a Professional Chef that loves food with all it has to offer for the mind, body and soul! Food has always been an important part of my life for many reasons. Growing up in a big Italian family, spending summers on my grandparents farm and physically and spiritually seeing a huge difference with my connection to food! That old saying " you are what you eat" is a very true statement! I have been a chef for about 8 years and I mainly cater towards vegan and vegetarian cooking and use the flavours of the ingredients to help create food that is pleasing to the eye, tasty and great for your body! I am very ambitious and I work hard to get my message across to showcase the ingredients and make them shine! I always knew since I was a little girl I wanted to be something special and I truly believe I have become that and not only do I shine but my energy shines through my food ! Hope to see you soon and I look forward to having you taste my food !