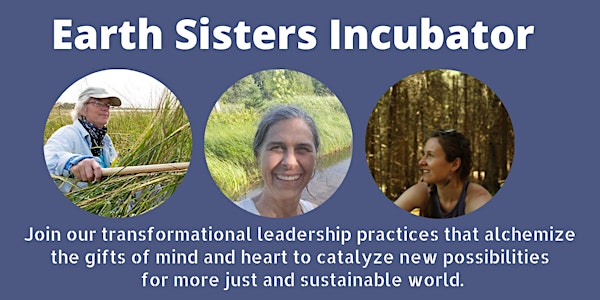 Earth Sisters Incubator
Join our feminine leaders incubator -a co-learning space to turn your passion into action that contributes to positive change in the world.
About this event
Are you sensing an impulse to make the world a more just and sustainable place to live, although you may feel powerless or not know exactly what it might look like?
You are not alone!
We are a group of women currently studying Theory U, an Awareness-Based Social Change methodology developed by a team from MIT. Our intention is to prototype an incubator space dedicated to women who are called in service to Earth, who seek to bring their passion into action, and who long for a collective space to support this impulse.
🍀 JOIN US!
Get out of your head and into your body to reconnect and nourish your inner capacities, embrace a generative solution-oriented mindset and shift into a creative flow that contributes to positive change in the world.
At the end of the workshop series, you will have more clarity about the part you can play and feel more confident and inspired to take active steps forward!
🍀 We commit to ZERO negativity. There is absolutely no room for anything other than solution-focused, clear, respectful, growth-oriented, open communication.
Join us to practice the art of social and environmental innovation, no previous experience is needed!
****
Specifically, we would like to invite you into the process of co-creating this incubator space alongside us as an extended team member with the freedom to be as involved as you can and feel called to contribute.
As an extended team member, we invite you to join us throughout 4 different phases of the process. We invite your presence, experience, and input:
1. Co-Sensing I: Half-day workshop (approximately 4 hours) via Zoom to co-create a 3D model of this incubator space
· Objective: Establish a shared understanding of how each of us experiences our own agency as women when it comes to leading change/working in teams/giving form to our ideas
2. Presencing: Half-day workshop (approximately 4 hours) via Zoom to experience a sense-making process called 4D mapping
· Objective: Shift from an external to an internal perspective of this incubator space model, generating new shared perspective and language for what is emerging through the collective
3. Crystallizing and Prototyping: Half-day workshop (approximately 4 hours) via Zoom to bring together the learning from our 4D mapping and sensing activities to crystallize and evolve this prototype idea
· Objective: Design and explore our prototype idea by taking concrete actions that allow us to generate feedback from relevant participants through an iterative process
A little bit about our group…
Who we are…
We are a group of women who are on a mission to contribute their heart and care for Earth. We seek to cultivate and inform new ways of leading and being that can more effectively address the complex nature of our current challenges. We feel called to create a space for like-minded women to connect, learn and grow together, and support our collective capacity to turn passion into action in a way that aligns head and heart in service to the earth/collective/heart/feminine.
What informs us…
We recognize that midwifing change is a process. We inform this process by building an incubator space that nourishes women's inner capacities within a collective framework to bring form to their heart's desires and deeper callings.
Our approach…
We invite you to explore a collaborative process grounded in systems change and transformational leadership practices that alchemize the gifts of mind and heart to catalyze new possibilities.
The possibility we see…
We leave behind traditional structures of action that are driven by a mindset rooted in power and control and informed primarily by hierarchy and intellect. Instead, we seek to give birth to qualities of being and leading that are anchored in embodiment and heart to midwife the groups' collective intelligence to inform the emerging future we seek to co-create.
Our process…
Our process is rooted in the awareness that personal and collective transformation must go hand in hand because a change in ways of doing requires a change at the level of who we are being. It is informed by feminine qualities of leadership that are heart-centered and modeled around collaborative learning principles that support a transformational field.
---- ABOUT ORGANIZERS ---
Annette Drewes, Ph.D. – Trained as an ecologist and educator, Annette was shaped by the lakes and streams of her youth in southern Minnesota. Caddis flies and mayflies can make her squeal with excitement. Annette's curiosity for the natural world led her to introduce hundreds of youth and adults to the many life forms, plant and animal, found in the woods, waters, prairies and peatlands of Minnesota. In 2008 she received her doctorate from the University of Wisconsin – Madison studying the connections between wild rice, lakes and people. Annette continues to explore new ways of listening and being on this earth, sharing her experiences through writing and in her work with the Nature Conservancy collaborating with tribal communities in Minnesota.
Kathryn Gonzalez, M.S. - Kathryn's journey has been informed by a deep desire to understand and nurture the relationship between people and the land, and to inform the systems we create and the ways we walk on the Earth, individually and collectively. Like many, this journey has taken twists and turns that inform her current focus, which centers on the inner dimension of sustainability and is anchored in awareness-based social change practices. Kathryn completed her Masters' degree in Forestry where she studied the Human Dimension of Forest Resources. From there she began a career as a Kundalini yoga instructor, blending contemplative practices and embodied awareness that informs change at the personal, collective and systemic levels. Transformation has been at the heart of her path of inquiry and she currently serves as a transformational coach to inform inner leadership practices that re-imagine our relationship with Self, others and the Earth.
Monika Barcikowska, Ph.D. - Monika combines her experience as an environmental scientist, facilitator of feminine empowerment, and coach for international women in transition and changemakers with her curiosity and passion for creating positive change in the world.
After graduating with a PhD degree in Environmental Science, Monika continued her research at Princeton Environmental Institute. In 2016 Monika joined New York-based Environmental Defense Fund, where she had spent several years working collaboratively with other scientists, economists and policy experts in advancing policy-relevant climate science. In 2020 Monika graduated from the Institute for Women-Centered Coaching, Training & Leadership.
Today she is implementing Women's Empowerment Principles, Theory U & Nature Connectedness to Unlock Women's Sustainability Leadership Potential!