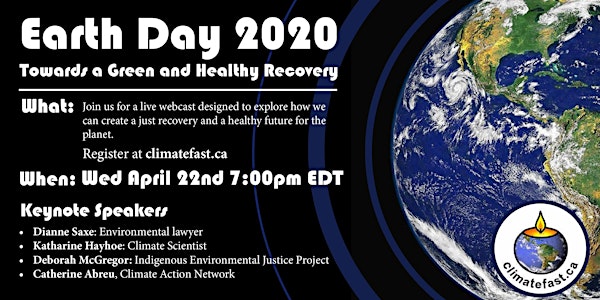 EarthDay 2020: Towards a Green and Healthy Recovery
50th anniversary of Earth Day! Towards a Green and Healthy Recovery
About this event
TUNE IN FOR AN AMAZING WEBCAST! FEATURED SPEAKERS!
WEBCAST WILL BE ON YOUTUBE LIVE! Register NOW!
THIS IS THE YOUTUBE LINK!!!
https://youtu.be/L2droCHmZTI
MC Allie Rougeot, Toronto Co-ordinator Fridays for Future ClimateStrike
Lyn Adamson, Co-Chair
Katharine Hayhoe, Climate Scientist and Professor Texas Tech University
Deborah McGregor, Associate Professor, York University, Environmental Studies and Co-organizer, Indigenous Environmental Justice Project
Dianne Saxe, Environmental lawyer, former Environmental Commissioner of Ontario
Catherine Abreu, Executive Director, Climate Action Network (CAN-RAC)
Dr. Toni Sappong, family physician, speaking on climate and health
Jennifer Henry, Executive Director of KAIROS and Willard Metzger of Citizens for Public Justice - releasing faith group statement For the Love of Creation
ALSO
Lily Phan, National Farmers Union-Ontario
Isaac Crosby, Evergreen Brickworks
Amara Possian, 350.org
Lella Blumer, For our Kids
Sarah Kamau, Africa Climate Action Initiative (ACAI)
Rommel Bellosillo, Greenpeace
Katie Krelove, Wilderness Committee
Angela Bischoff, Ontario Clean Air Alliance
Cassie Norton, Musician
and more!
April 22, 2020 marks the 50th anniversary of Earth Day. In the 50 years since the first Earth Day in 1970, there have been some victories in the struggle to protect our planet. But today, we face a grave threat to the Earth's ecosystems from global heating, biodiversity loss, and habitat destruction.
Now, more than ever, the Earth needs us to step up and act. We need the courage to raise our voices, to heed the insights from traditional cultures and to advocate for strategies informed by science.
We must speak knowledgeably and powerfully for the policies that will provide a just recovery so that all life on this planet can flourish for generations to come. What will the next 50 years bring?
Our response to the COVID emergency demonstrates that the world can effectively deal with the climate emergency! Join us for a live webcast designed to explore how we can create a Just Recovery and a healthy future for the planet.
Come and be inspired to take action in a renewed climate movement!
CONNECT WITH CLIMATEFAST FOR OUR NEWSLETTER! Get involved! www.climatefast.ca