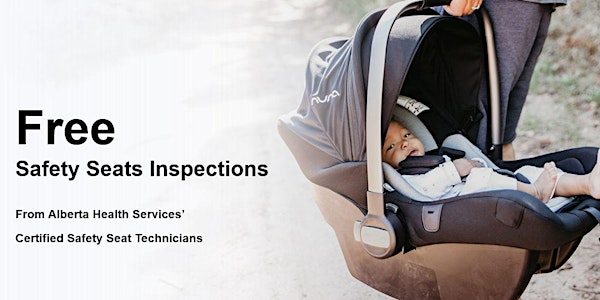 East Edmonton Health Centre - Free Child Safety Seat inspections
AHS's Certified Child Safety Seat Technicians are here to help you keep your child safe while travelling in a vehicle.
When and where
Location
East Edmonton Health Centre 7910 112 Avenue Northwest Edmonton, AB T5B 0C2 Canada
About this event
Local residents can attend free child car seat inspection clinics with certified Child Safety Seat Technicians, presented by Alberta Health Services (AHS), to confirm their children are travelling safely.
Clinics will be held throughout Edmonton Zone from May through September, 2022.
____________________________________________________________________
• Tuesday May 30 - Millwoods (9:30-12:00) / Bonnie Doon (1:00-3:30PM)
• Monday June 20 - Northeast (9:30-12:00) / West Jasper Place (1:00-3:30PM)
• Friday July 22 - Northgate (9:30-12:00) / Woodcroft (1:00-3:30PM)
• Monday August 22 – Leduc/Devon (9:30-12:00) / Beaumont/Thorsby (1:00-3:30PM)
• Friday September 23 - Twin Brooks & East Edmonton (9:30-12:00) / Rutherford & WestView Health Centre (1:00-3:30PM)
_____________________________________________________________________
In Alberta, all children weighing less than 18 kilograms (40 pounds) or under six years of age must be secured in an appropriate child safety seat that is properly installed in the vehicle. Proper use of a child safety seat has been shown to reduce the likelihood of a child being injured or killed in a motor vehicle accident by as much as 75 per cent.
For more information on child safety seats go to the Alberta Health Services website: https://myhealth.alberta.ca/Alberta/Pages/alberta-child-safety-seat-guidelines.aspx
Alberta Health Services is the provincial health authority responsible for planning and delivering health supports and services for more than four million adults and children living in Alberta. Its mission is to provide a patient-focused, quality health system that is accessible and sustainable for all Albertans.