Description
Sorry! This class is cancelled because all SD71 schools are closed for another snow day, due to extreme road conditions. All tickets holders will be contacted by email and may have a refund or apply their ticket to the next class. A rescheduled date will be announced asap.
East Indian Cuisine Workshop: A vegetarian twist on an old favourite!
Face your fear of foreign spices and join Kim Nanuan for a workshop that explores the flavours of East Indian cuisine. In this multicultural cooking class, we say "Goodbye!" to butter chicken and "Hello" to lentils in this made 'from scratch' twist on an old favourite. Learn to make vegetarian butter lentils and potatoes using a variety of Indian spices and enjoy a feast along with Naan bread and a surprise sweet treat. You'll never need to buy bottled butter sauce again!

ABOUT OUR FACILITATOR: Kim Nanuan is passionate about both cooking and creating a sense of community for newcomers to our beautiful Valley. She has volunteered to assist LUSH Valley with the planning and presentation of our Multicultural workshops for over two years, enabling us to integrate this program with new immigrants. Kim loves the multicultural cooking program because she says, it is a wonderful opportunity for sharing the beauty of culture (and yummy food) from around the world, including her flavour favourite -- vegetarian East Indian cuisine.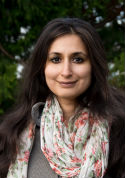 We'd like you to know:
This class is part of our multi-cultural series that is funded through a special grant. Its purpose is to provide both newcomers to the Comox Valley and long-time residents an opportunity to get together to make and share a meal in a spirit of community.
A special thank you to volunteer Kim Nanuan for coordinating this workshop series!
This workshop is for people aged 12+, if accompanied by an adult.
Space is limited, so please register early to avoid disappointment!
Refunds, 24-hours or more before the event, will be subject to a $5.00 Eventbrite administration fee. Tickets are transferable.
WHAT TO BRING:

Containers to take home leftovers.
Questions? Please email admin@lushvalley.org or call us at 250-331-0152.
SAVE A TREE! There is no need to print your tickets. Once registered, your name will be on our roster.
---
We gratefully acknowledge and extend thanks to the Eureka Support Society for the privilege of using their teaching kitchen and their support of this healthy food programs.
LUSH Valley respectfully acknowledges that we are standing on the Unceded traditional territory of the K'òmoks First Nation.