Eastern Regional Employment Ontario Conference

Monday, April 24, 2017 at 7:00 AM

-

Tuesday, April 25, 2017 at 2:30 PM (EDT)
Event Details
Conference Accommodation Options
*Participants are required for booking their own accommodations
**All meals are provided at the Pinestone Resort
Pinestone Conference Centre and Resort
*Due to an overwhelming response, there are very limited accommodations still available at this location
4252 County Road #21
Haliburton, ON K0M 1S0
(705) 457-1800
reservations@pinestone-resort.com
Room Options:
Resort Room: $99/night
One Bedroom Chalet: $119.00/night
Two Bedroom Chalet: $199.00/night
**For early check-in on Sunday, please check directly the Pinestone Resort
Bonnieview Inn
Located 15 minutes (13 km) from the Pinestone Resort & Conference Centre
2713 Kashagawigamog Lake Rd
Haliburton, ON K0M 1S0
(800) 461-0347
Room Options:
All Units (Single or Double Occupancy): $110.00/night
Lakeview Inn
Located 5 minutes (4km) from the Pinestone Resort & Conference Centre
4951 County Road 21
Haliburton, ON K0M 1S0
(705) 457-1027
Room Options:
Standard Room, Single Occupancy: $103.00/night
Standard Room, Double Occupancy: $118.00/night
Group Unit (1 king Bed, 2 Single Bed): $193.00/night
Loft Efficiency Unit (2 Queen Bed, 1 Pull-Out Sofa bed): $218.00/night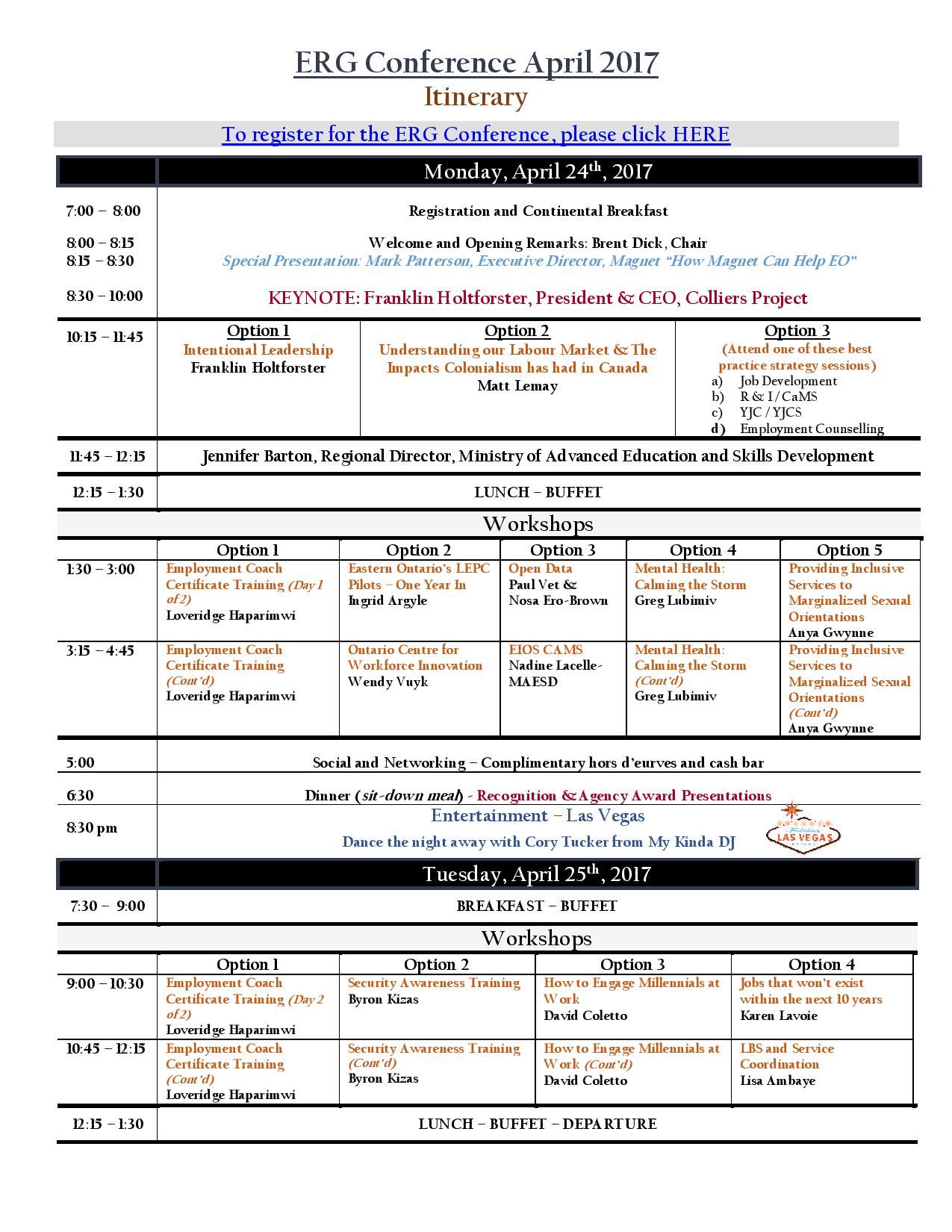 Intentional Leadership
Franklin Holtforster, President & CEO, Colliers Project
Franklin Holtforster knows it isn't about him.  It's about the audience. It's about getting listeners from here to there - changing their mind and providing them with a new perspective. All while evidencing the key skills of leadership. During his Intentional Leadership workshop, Franklin will speak to attendees about: 
Characteristics of an Effective Leader

Inspiring and Motivating

The Power of Public Speaking

Your Personal Value Proposition

Taking the Fear out of Meeting and Greeting

Intentional Project Leadership
Participants walk away inspired and motivated by this results-based, best-in-class approach workshop.
Learn More About How Magnet Can Help EO
Mark Patterson, Executive Director, Magnet
Understanding Eastern Ontario's labour market trends is critical to ensuring long term regional prosperity. The lack of available and accessible locally relevant and timely labour market information has been a core challenge. There are many organizations across Eastern Ontario working towards similar goals. Yet, the lack of consistent information to inform organizational and individual decisions present consistent barriers to collective action. The Magnet Network offers solutions to many of these challenges. From data to tools and resources, Magnet can support Employment Ontario Service providers. Recent advancements in the Magnet platform empower service providers like never before…
Matt Lemay, Coordinator, Labour Market GroupUnderstanding our Local Labour Market and the Impacts that Colonialism has had in Canada
This presentation will be delivered in two parts. The first will focus on understanding local trends and opportunities within our regional labour markets. The second part will focus on what impacts colonialism has had and continues to have on Indigenous youth which happens to be the fastest growing segment of the Canadian population.
Best Practice Strategy Sessions
Participants can choose to attend 1 of 4 sessions - Job Development, R&I/CaMS, YJC/YJCS or Employment Counselling. Each group will share information, learn about new ideas and resources and will discuss common challenges.   Each session will be moderated by experienced staff from within the Employment Services network.  Participants will receive a post-session report, following the conference, which will highlight their respective session's discussions.
Employment Coach Certificate Training
Loveridge Haparimwi, President & Principal Consultant, UNICAS Consulting
This training is for staff in employment services to learn the principles of coaching. Participants will learn methodologies to coach clients to achieve successful outcomes, how to move from counselling and consulting to coaching and how to reduce stress in managing caseloads. In this session participants will acquire practical skills to:
Coach clients using a successful client coaching model;

Build a coaching culture within their organizations;

Be more efficient, effective and accountable in their work; and

Reduce stress in serving clients.
Eastern Ontario's LEPC Pilots – One Year In
Ingrid Argyle, LEPC Program Manager, Ottawa Employment Hub
Join the Ottawa and Peterborough LEPCs for an update on their Strategic Deliverables over the past year, how they are working with community partners and the Ontario Centre for Workforce Innovation, and what's next for Ontario's LEPCs as the Ministry rolls out its response to the Highly Skilled Workforce report.
Joe Celestini from the Peterborough LEPC and Wendy Vuyk, Eastern Region OCWI Coordinator, will co-present during this panel session.
Ontario Centre for Workforce Innovation
Wendy Vuyk, Eastern Regional Coordinator, Ontario Centre for Workforce Innovation 
The Ontario Centre for Workforce Innovation has launched several exciting initiatives to help create a more skilled, resilient and productive workforce in Ontario through evidence-based research and cross-sector collaboration. The Centre's partnerships and connections with employment and literacy service providers, workforce development boards, Local Employment Planning Councils, employers and other stakeholders have led to innovative initiatives to support workforce development in Ontario.  As a single, coordinated access point for research on employment and training approaches for the Employment Ontario network, we are pleased to report on our results to date, and the development of user-friendly, actionable information, tools, resources and training we have underway.  In the spirit of knowledge transfer and exchange, this workshop will provide an overview of the results of our interviews with over 130 employment and literacy and basic skills service providers and we will share details of the many pilot projects we have supported as well as upcoming funding opportunities.
Open by Default: Ontario's Open Data Initiative
Nosa Ero-Brown, Manager of Policy and Partnerships, Open Government Office, Ontario Treasury Board
Paul Vet, Open Government Office, Ontario Treasury Board
Overview: This 90-minute interactive session will provide an introduction to the Open Government initiative, with a specific focus on the Open Data Directive.  You will hear about the actions the province is taking to make the government's data more open, transparent, and accessible for the people of Ontario, particularly through the adoption of the International Open Data Charter.  The presenters will also share how the public – including academia, start-ups and researchers - is engaging with the data. Finally the session will include a discussion on where the Open Government initiative, in general, is headed in its new role as a subnational representative in the Open Government Partnership.
The EOIS External Reference Group – an Introduction and an update on activities underway
Nadine Lacelle, ETC, Service Delivery Coordinator/Manager
The Employment Ontario Information System (EOIS) plays an important role in the administration of Employment Ontario programs and services. The data collected in EOIS supports the ministry's ability to make evidence-based decisions and demonstrate accountability for program and service expenditures. Also, transactional activities automated through EOIS applications impact ministry, service provider and training delivery agent business process efficiency and client experience.
Engaging system users throughout all phases of the system development lifecycle (planning, design, testing, implementation, and support) provides an opportunity to continue to identify and act on opportunities to better leverage our IT infrastructure as something that enables our ability to meet client needs and fulfill our mandate. With this in mind, I am excited that the EOIS External Reference Group provides a forum to better understand your perspectives and leverage your knowledge and feedback to improve EOIS.  Areas of focus include: 
Reducing the volume of required inputs and more automation

Enhancing navigation and printing functions

Improving report functionality

Developing specialized support for EOIS
Calming the Storm: Understanding and Supporting Individuals Challenged by Anxiety and Depression
Greg Lubimiv, B.S.W., M.S.W., CACPT-S, Executive Director, Phoenix Centre for Children and Families
Anxiety is the most prevalent mental illness being faced by children, youth and adults across the world.  Depression is not too far behind in how many it effects.  All of us have anxious moments or times that we feel "depressed", but for many, anxiety and/or depression becomes an obstacle to health, development and wellbeing.  Often, those who are experiencing anxiety/depression have their condition heightened by the well-intended, but often unhelpful responses of family members, friends or service providers.
This presentation will help participants have a better understanding of what anxiety is and what is happening (and not happening) in the brain. Greg will also provide participants with practical resources, tools and activities which can be used to help clients attain their goals.
Objectives:
To have a better understanding of the causes and symptoms of anxiety and depression.

To understand how the brain science related to anxiety and depression

To have knowledge and ability to use simple screening tools for these conditions.

To have knowledge of what to say and how to adapt interactions to better accommodate clients with anxiety and depression.

To have access to tools, activities and resources, which can be shared with clients to assist them.

To know when a referral should be made for clinical support/treatment
"The Moment you walk in the Door": Providing Inclusive Services to Marginalized Sexual Orientations, Gender Identities and Intersex People
Anya Gwynne, Writer, Performance Artist, Troublemaker, Peterborough, ON
The Rainbow Youth Program at PARN works to create safer spaces and promote inclusive services for lesbian, gay, bisexual, transgender, 2-spirit, queer and questioning (LGBTQ)youth and young adults in the counties of Peterborough, Northumberland, Haliburton and the City of Kawartha Lakes.
For over 12 years, the Rainbow Youth Program at PARN has been providing educational workshops for students, educators and a broad range of service providers. Our goal is to increase knowledge about LGBTQ identities, raise awareness about the impacts of homonegativity and transphobia, and offer some insight into best practices when working with people from the LGBTQ population. These workshops are based on an interactive learning approach, creating a positive environment for participants to ask questions and connect this information specifically to the services they are providing.
In this workshop "The Moment you walk in the Door": Providing Inclusive Services to Marginalized Sexual Orientations, Gender Identities and Intersex People. We will look at the unique factors and social context that homonegativity exists in and explore terminology and the role language plays in creating inclusivity. We will look specifically at human rights as they apply to employment, resources for educating employers and encouraging job retention, local supports and strategies for creating inclusive spaces in the workplace. Our goal is to provide practical steps for service providers to feel more confident and comfortable to provide services that are client centered and exceed best practice standards for working with LGBTQ populations.
 "30% of LGBTQ employees in Canada report experiencing discrimination in the workplace compared to only 3% of non-LGBTQ employees."
Canadian Centre for Diversity and Inclusion, 2015
Security Awareness Training
Byron Kizas, President and CEO of Paros Security Ltd.
Workshop Objectives: Provide participants within formation and tools on how to recognize and  mitigate potential risks that they may encounter on a daily basis.
What it means to be "security minded"
●    Being aware of your surroundings & creating a safe work environment
●    Importance of proper access control
●    Identifying dangers and risks
●    Protecting your identity
●    Social media
Defining suspicious activity
●    Understanding what normal activity is in your workplace
●    How, when and who to report to
Signs of anxiety and the various stages of aggression
●    Understanding why people get anxious
●    How anxiety may sometimes lead to aggression
●    How to look for signs of the different stages of anxiety and aggression
●    How to deescalate situations involving aggressive people
Knowing when to trust your "sixth sense"
●    The science behind intuition
●    How to use our observations to explain why we feel unsafe
●    How to use your sixth sense to save your life
Emergency Situations
●    Examples of emergency scenarios
●    Tips on how to stay safe in emergency situations
MentalReadiness
●    Jeff Cooper's colour coded chart of mental readiness
How to Engage Millennials at Work: Understanding Where They are Coming from and What it Means for Management
David Coletto, CEO Abacus Data 
By 2025, a majority of working-aged Canadians will be from the Millennial generation (those born between 1980 and 2000). As Millennials become a larger part of the workforce, their values, approach to work, and experiences are disrupting workplaces in all sectors of the economy causing inter-generational conflict that lowers productivity and weakens organizational culture.
Watch David's video at:  Canadian Millennials
Jobs That Won't Exist Within the Next Ten Years
Karen Lavoie, YSB Employer & Career Consultant
As Employment consultants / coaches it is imperative that we provide insight useful for our job seekers AND understand our Employers and the skills and knowledge trends for success. There are multitudes of information and research out there, business news galore and opinions and speculation on the job market.  This workshop analysis a lot of this information and provides you with concrete insight to use in your daily work … but also the ability to find the "RIGHT" information and provide guidance for our clients… both the job seeker and the employer.  
LBS and Service Coordination
Lisa Ambaye, Executive Director, Ottawa Community Coalition for Literacy
Doug Noyes, Executive Director, Literacy Link Eastern Ontario
Do you have questions about how Literacy and Basic Skills can increase the employability of your clients? This session will provide an overview of LBS Services and real-life examples of how upgrading can assist clients achieve their employment goals.  An exploration of occupation-specific and e-channel resources will provide you with information about what tools are out there to assist you and your clients.
When & Where

Pinestone Resort Conference Centre and Golf CourseA
4252 Haliburton County Road 21
Haliburton, ON K0M 1S0
Canada

Monday, April 24, 2017 at 7:00 AM

-

Tuesday, April 25, 2017 at 2:30 PM (EDT)
Add to my calendar