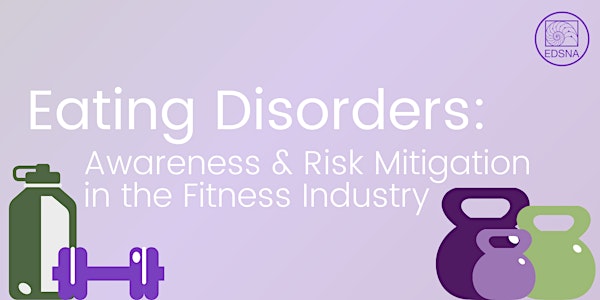 Eating Disorders: Awareness and risk mitigation in the fitness industry
Event Information
Refund policy
Contact the organizer to request a refund.
Eventbrite's fee is nonrefundable.
Disordered eating & body image is overrepresented in the fitness community. Learn how to best support clients in this accredited workshop.
About this event
Disordered eating and body image concerns often present themselves in gyms, athletic and/or competitive environments, and in aesthetic-focused sports and activities. Unfortunately, many coaches, trainers, and instructors aren't sure how to approach the folks they see exhibiting concerning behaviours; fewer still might recognize those concerning behaviours in themselves.
Join a team of professionals in this accredited course as they discuss eating disorders, disordered eating, diets, and exercise. Learn more about how to support clients and yourself in whatever active environment you work in.
Attendees will earn Continuing Education Credits (CEC) for attending both sessions. See FAQ section, below, for more information about accrediting bodies.
This event is offered as part of Eating Disorders Awareness Week 2022.
What is Eating Disorders Awareness Week?
Eating Disorders Awareness Week (EDAW) is a nationally-recognized week, which serves to foster awareness of eating disorders and offer support to those affected (directly and indirectly). In Canada, it is from February 1st -7th. EDSNA is one of the hosts for EDAW in Alberta, planning activities, awareness events, and educational seminars throughout the week.
Topics & Speakers
Speakers include:
a Recreational Therapist from the University of Alberta Eating Disorder Program
a registered Psychologist
a registered Dietitian
a gym owner
EDSNA's Executive Director
Topic List
February 5th: Day One (9am - 2pm MST)
The basics of eating disorders, including myths and diagnostic criteria
The spectrum of disordered eating: healthy to eating disorders
Physiological complications and RED-S
Risk factors and warning signs
The role of a Dietitian - diets, what to do instead of dieting, and managing specialized diets in fitness
Dysfunctional exercise, including signs and symptoms
February 6th: Day Two (9am - 2pm MST)
Social media: issues and opportunities. Includes 'fitspo' and the role of influencers.
Language to approach a client you're concerned about and how to have those 'tough conversations'
Creating an inclusive environment & International Olympic Committee recommendations
How you can model a positive relationship with exercise, and your role in supporting clients in recovery
Managing special circumstances and considerations, including clients who want to lose weight and weight class sports
Basic validation tools for clients and yourself
Each day will also include a break and time for questions. Full course content schedule will be sent upon registration.
Participants will also recieve a course pack with handouts and additional resources.
FAQ
I don't live in Alberta but I'm interested in attending- is that ok?
Yes! This program is open to fitness professionals across Canada
Who are the 'fitness professionals' that can take this workshop?
Anyone who works with athletes, in fitness facilities, leads athletic activities, or will perform any of these duties in the future, will find this workshop useful. This might include, but definitely isn't limited to:
Personal trainers
Gym owners or personnel
Coaches and assistant coaches
Dance instructors
Studio owners
Yoga teachers
Spin, HIIT, and group fitness instructors
Bodybuilding and Olympic lifting trainers
Gym teachers
Kinesiology students
Physiotherapists
Dietitians
Nutritionists
If you aren't sure if this workshop is for you, send us an email: info@edsna.ca
Can I just attend the first day or the second day of this training program and still get my credits?
No, unfortunately. Participants must attend both sessions to earn their credits.
Who are your accrediting bodies?
This 2-day workshop is accredited by:
Alberta Fitness Leadership Certification Association (AFLCA)
We are also in the process of obtaining accreditation from:
Canadian Society for Exercise Physiology (CSEP)
National Academy of Sports Medicine (NASM)
This will be updated as accreditation is approved.
How many credits can I earn from attending this course?
Participants will earn 8.0 CEC's from the AFLCA for attending.
I think I took something like this with EDSNA in 2018- would this workshop still be useful for me?
Glad you came back! While there will be some overlap with our 2018 presentation, this workshop has been updated with new information, new diagnostic criteria, and new insight from the professionals facilitating these sessions. We think it's still worth attending!
Help! My question wasn't answered here!
Oof we tried. Send us an email and we can help: info@edsna.ca
Date and time
Location
Refund policy
Contact the organizer to request a refund.
Eventbrite's fee is nonrefundable.