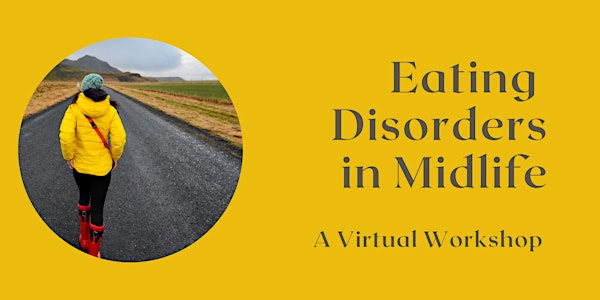 Eating Disorders in Midlife
ED's can and do impact people of all ages, and that includes those of us who are 40, 50, 60 and up. Let's talk!
Refund Policy
Contact the organizer to request a refund.
Eventbrite's fee is nonrefundable.
About this event
It is estimated that at least 13 percent of women over age 50 are living with an eating disorder. In fact, research shows that though rates of anorexia plateau around age 26, rates of bulimia don't peak until around age 47, and rates of binge-eating disorder don't hit their highest level until the 70s. Yet social stigma prevents us from seeking help, or even from talking about it!
Join us as we bust some myths, talk about what may be different for those of us who experience EDs as mature adults, offer some suggestions for support, and start the conversation!
We will talk about:
• Potential age-related triggers of a midlife ED, including life transitions (career, family, etc.), physical changes (hormones anyone?) and social expectations (hello, youth culture).
• How support and treatment may look different for those in mid life, or for those who may have been living with an ED for a long time
• An Eating Disorder Free life IS possible! The first stop on our recovery journey is to talk about it. So let's start.
Debra Wells-Hopey, (She/Her), Program Manager Eating Disorders NS: Debra Wells-Hopey is an adult educator and eating disorder advocate who lives in Dartmouth, NS. She is the program manager with Eating Disorders Nova Scotia and has first-person experience with living with an ED. She has two adult children, is finishing her PhD, and has considered moving to the Cotswolds to open a bookstore while solving the village crimes.
Doris Ward, (She/Her), Body Confidence Coach: Doris Ward is a Body Confidence Coach who lives on beautiful PEI. She has experienced her own healing through mindfulness and balance, stress management, and a rejection of diet culture. It took Doris until her mid life to fully accept that food and movement are for living and enjoying, not restricting and punishing. Doris is in the midst of becoming a certified peer mentor with Eating Disorders Nova Scotia.
All our workshops are open to anyone living in Canada. For more information about the services and supports we offer, visit www.eatingdisordersns.ca