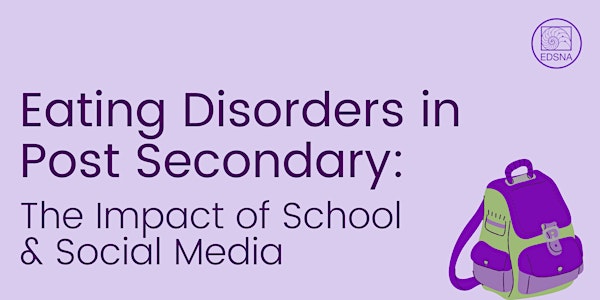 Eating Disorders in Post Secondary: The Impact of School and Social Media
Being a student is tough; it can be tougher in recovery. Learn coping tips, challenge student norms & manage The Social Media Algorithm
About this event
Being a post-secondary student is tough, and there can be additional considerations when you're also managing recovery from an eating disorder/disordered eating.
As many as 47% of post-secondary students are at high risk of developing an eating disorder or disordered eating while they're in post-secondary. Between the course load, personal and professional expectations, and social media, the pressure can be intense for many. There are also additional responsibilities if students have accessed treatment and are managing recovery as well. Quite frankly, it can all feel like a lot-- even doing laundry can feel overwhelming sometimes.
Join registered psychologist Dr. Angela Grace, social media influencers, a nutritionist, and EDSNA in this webinar to discuss these issues, and learn some practical strategies to support yourself and those around you. Topics of discussion include:
Sifting through social media- managing The Algorithm and engaging mindfully
Challenging the perfectionism that can be encouraged in school, and being critical of university norms around food, bodies, and lifestyle
Developing trust in yourself, connecting with your own needs, and empowering yourself to question what you're hearing
Coping strategies - practical support and grounding tips when 'it all feels like a lot'
Reconnecting with help
Disclaimer:
Please note, due to the subject matter only folks 18+ are able to attend. Attendees do not need to be post-secondary students, or have had an eating disorder/disordered eating to attend- it is open to anyone!
This workshop is not a substitute for more comprehensive support, treatment, and/or oversight by a healthcare professional.
FAQ
I don't live in Alberta- can I still join?
Yes! This webinar is open to anyone 18+ across Canada.
I have not had an eating disorder/disordered eating - will this be relevant to me?
While eating disorder recovery will be discussed, the information shared in this workshop will be relevant to anyone who uses social media; are currently students, were students or supports students; and/or would value learning a little more about reconnecting with themselves and their body.
What do I do if I can't make a donation right now but still wish to attend?
Not a problem- there is an option to skip the donation section on the ticketing page.
Where did you get your stats from?
We consulted:
Fitzsimmons-Craft, E. E., Karam, A. M., Monterubio, G. E., Taylor, C. B., & Wilfley, D. E. (2019). Screening for Eating Disorders on College Campuses: a Review of the Recent Literature. Current psychiatry reports, 21(10), 101. https://doi.org/10.1007/s11920-019-1093-1
Dyck, T., Reist, D.(2011). Disordered Eating and Unhealthy Substance Use Among College Students: a Summary of the Recent Literature. University of Victoria Libraries. Retrieved 5 January 2022. Originally prepared for the BC Partners for Mental Health and Addictions Information
Help! My question wasn't answered here!
Oof sorry about that- email us at info@edsna.ca so we can help.