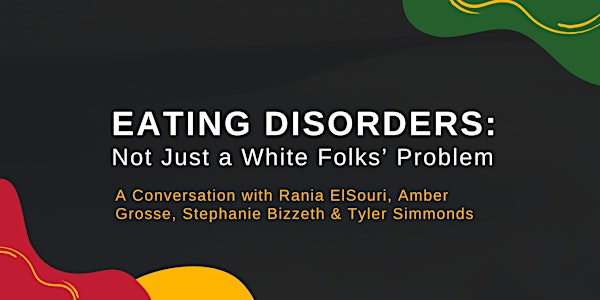 Eating Disorders: Not Just a White Folks' Problem ****POSTPONED
A Conversation with Rania ElSouri, Amber Grosse, Stephanie Bizzeth & Tyler Simmonds
When and where
Location
2285 Gottingen St 2285 Gottingen Street Halifax, NS B3K Canada
About this event
We invite you to a conversation about eating disorders and the Black community.
Eating disorders are often seen as an illness that impacts young, white, female, middle-class girls, however, Black, Indigenous, and people of color have similar, if not higher rates of eating disorders. In fact, Black teenagers are 50% more likely than white teenagers to experience bulimia. Read more here and here.
Folks from the Black community are less likely to seek support, and are less likely to have services offered to them. For example, Black individuals with eating and weight concerns were significantly less likely than white people to have been asked by a doctor about eating disorder symptoms, despite similar rates of eating disorder symptoms. Read more here.
How do we create space for conversations about our relationship with food, eating, and our bodies? How do we find the words to talk about this, and to get support when we need it?
Join the conversation on July 5th at the North End Library.