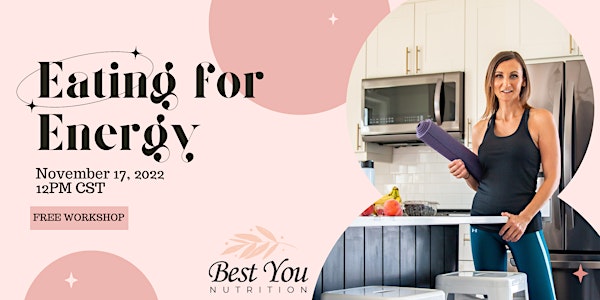 Eating for Energy
Join me online Thursday, November 17 at 12pm CST for a FREE Workshop, Eating for Energy!
About this event
This one-hour online workshop will teach you how to best utilize food to maximize your energy. Whether you need more energy for running marathons, running after kids, or just feeling like you're always running from one thing to the next, this free workshop is for you. I will teach you science-backed information about how the body works with food and stabilizing our insulin levels to ensure we get through the day with energy and gusto. I will also teach you which foods are best for optimal energy, so you can leave this session with a grocery list in hand and a game plan for your health and nutrition goals.
As an Integrative Nutrition Health Coach, my goal is to turn on the spark inside you to find a love for nutrition and health that you have never found before. This isn't about a fad diet, a quick fix, a magic pill, or a shake. This is about long-term, sustainable change that brings you to a place of health and happiness that you have not felt before.
This workshop will take place on Zoom. A link for the session will be emailed to you the week of the Workshop. A full set of notes will also be sent to you after you attend the Zoom call. You will be added to the BYN monthly newsletter upon sign-up for this event!