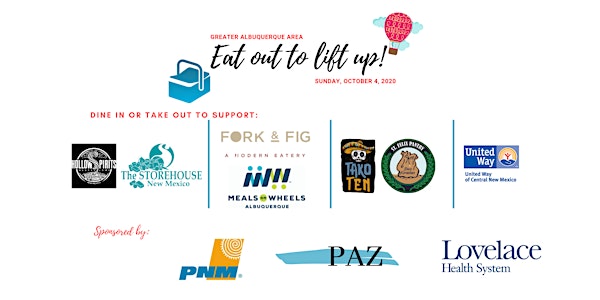 Sales Have Ended
Ticket sales have ended
Thank you for supporting local businesses and non-profits in the greater Albuquerque area. #EatOutToLiftUp
Supporting small business and non-profits in a really fun way through take out or intimate elevated dine-in experience.
About this event
We, as a community, have not experienced a year like 2020. Business is not as usual and many have had to close while others have come up with creative ways to survive, thrive and support others. Non-profits working in the field of food security have supported individuals and families in record numbers over the past 6 months.
Three (3) restaurant partners have agreed to open up their doors creatively for an event not seen before in Albuquerque on Sunday, October 4, 2020. Working with incredible chefs and their corresponding restaurants, a volunteer team is putting together a community-wide event to support small business and local non-profit organizations working in the space of food security. Sponsors cover the costs of the event so all proceeds from ticket sales can go directly to our non-profit partners. Here's the lineup:
Chef Dominic Valenzuela, Tako Ten is partnering with St. Felix Pantry
Chef Tristin Rogers, Hollow Spirits is partnering with The Storehouse
Chef Josh Kennon, Fork and Fig/Jealous Fork & Matt Simmonds, Broken Trail Distillery are partnering with Meals on Wheels Albuquerque
United Way of Central NM will provide fiscal and administrative support while their program Mission: Families will be a beneficiary
The challenge is to see whom can sell the most elevated picnic meals either through pick up or reserved seats at the restaurant. There are three event times:
11:00am to 1:00pm
3:00pm to 5:00pm
6:00pm to 8:00pm
Reserved seating at the restaurants will be an elevated dining experience with fun perks and a community based, small business raffle.
Tickets range from $35.00 to $200.
TAKE OUT – FORK & FIG $35.00
1st Course – Mama's Salad | Greens | Croutons | Red Onion | Cucumber | Heirloom Tomato | Creamy Dill Dressing
Main & Side – Dad's Picanah Skewer | Sous Vide Sirloin Flap | Belgium Endive | Heirloom Tomato | Sweet Corn | Asparagus
Dessert – Nana's Bread Puddin' | Bread Pudding | Crème Anglaise | Fresh Fruit
DINE-IN – FORK & FIG | BROKEN TRAIL $75.00 - Everything from basic menu+
Starter – Need INFO
Specialty Cocktail – Noni's "No No" Juice | Vodka | Ginger Beer | Cranberry Bitters | Fresh Lime Juice | Sparkling Water
TAKE OUT – HOLLOW SPIRITS $35.00
Main & Side - Cold Smoke Pulled chicken sandwich Crispy in-house coleslaw | Tangy BBQ Sauce | Cold Smoked & Braised Pulled Chicken | Parmesan Truffle Chips
Dessert - Grilled Watermelon | Dill & Maldon| Wild Berry Reduction| Cilantro
DINE-IN – HOLLOW SPIRITS $75.00 - Everything from basic menu +
Starter - Small Cheese and Fruit Tray
Specialty Cocktail - Lavender Moon
TAKE OUT – TAKO TEN $35.00
1st Course - Green curry | pistachio | pumpkin seed | fried avocado
Main & Side - Vietnamese Sticky Beef Short Rib | pickled root vegetable | herbs | peanut | ginger fried rice OR Red Curry | roasted red potato | chile I cilantro yogurt I ginger fried rice | pickled onion
Dessert - Crispy Sesame Mochi Cake | Nutella | mascarpone | fresh berries
SUNDAY FUNDAY All Access Pass per Person - $200 - if you are a foodie, have a big heart or just want to have a Sunday Funday, this is for you. You choose a restaurant for each of the meal times and enjoy the day with all the goodies noted in the dine-in per person ticket price.
The restaurant that has the most in sales that day will be deemed the winner with bragging rights...so the community can support their favorite restaurant option, creative menu or favorite non-profit...#EatOutToLiftUp