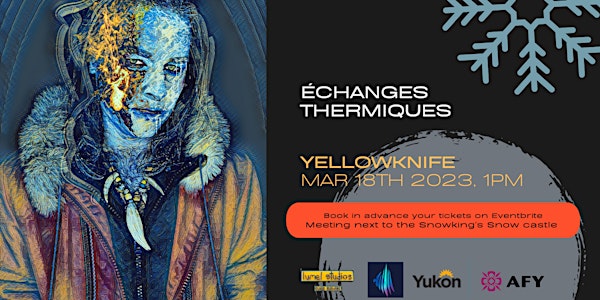 Échanges Thermiques - Art performance YELLOWKNIFE
Participative outdoor art performance by Annie Maheux and Christophe Ballet with food tasting on the themes of hot and cold.
When and where
Date and time
Sat, Mar 18, 2023 1:00 PM - 3:00 PM MDT
Location
Snowking's Winter Festival Snowcastle entrance Yellowknife, NT X0E Canada
About this event
ENGLISH BELOW
13H À 15H
Événement gratuit. Une performance d'art EAT ART participative qui explore le contraste Chaud/Froid au cœur de l'hiver yukonnais. Que ressent-on lorsqu'on déguste une soupe chaude après une marche glaciale à l'extérieur? Comment pousser ce sentiment plus loin? Dégustation de plats multisensoriels sur Slave lake durant les festivités du festival Snowking festival de mars. Bilingue.
Réservation obligatoire sur Eventbrite.
1-3PM
Free event. This participative performance explores the contrast of hot & cold food in the Yukon cold, winter scenery. What does it feel like to drink hot soup after a cold walk outside? How can we push this soothing feeling further? This is what Eat Artist Annie Maheux will put forward in her performance on the shores of Slave Lake during this month of March's festivities Snowking Festival. Limited seats, book early.
Pre-booking online on Eventbrite is required to participate.