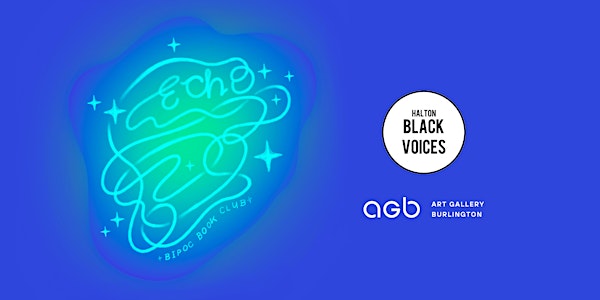 ECHO: Global Majority Reading Group
Echo is a book-club centering the voices of Global Majority community members.
When and where
Location
Art Gallery of Burlington 1333 Lakeshore Rd Burlington, ON L7S 1A9 Canada
About this event
ECHO: Global Majority Reading Group
Hosted by Halton Black Voices and Art Gallery of Burlington
Fall reading: Session 1 - Sunday, October 16, 1:00-3:00 PM
Location: AGB, 1333 Lakeshore Rd, Burlington
Session 2, 3, and 4 are flexible, scheduling based on group needs
Tentative dates: Oct 30, Nov 13 and Nov 27
What we're reading: All About Love: New Visions by bell hooks
Hosted by Halton Black Voices' Founder, Gennile Thomas and Art Gallery of Burlington's Curatorial Assistant, Jasmine Mander, ECHO is a book club centering the voices of Global Majority community members*.
The book club provides a safe space for everyone to participate, learn, and practice vulnerability while engaging in conversations about race and society. This season the book club has four sessions dedicated to All About Love: New Visions by bell hooks. Meeting bi-weekly the readings are 120 minutes in length, alternating between in-person at the AGB and virtual through zoom. Sessions two, three, and four are flexible and scheduled around group availability. There is a maximum of ten participants to allow for meaningful discussion. Participants should be available for all the sessions.
ECHO promotes reading as a communal act to inspire conversation and ideas to reverberate and grow. Books are available for pick-up during the first session at the AGB. Readers of all levels are welcome and encouraged to share their thoughts, interpretations, and experiences. ECHO is a free program with limited spaces so please register in advance to reserve your spot.
bell hooks' All About Love: New Visions offers radical new ways to think about love by showing its interconnectedness in our private and public lives. In eleven concise chapters, hooks explains how our everyday notions of what it means to give and receive love often fail us, and how these ideals are established in early childhood. She offers a rethinking of self-love (without narcissism) that will bring peace and compassion to our personal and professional lives, and asserts the place of love to end struggles between individuals, in communities, and among societies. Moving from the cultural to the intimate, hooks notes the ties between love and loss and challenges the prevailing notion that romantic love is the most important love of all.
About the Facilitators:
Gennile Thomas is the Founder of Halton Black Voices, a new grassroots collective built to bring youth, families and individuals together. The collective creates safe spaces in the Halton region for all Black people including the 2SLGBTQQIA community to establish new connections. HBV aims to build stronger communities by raising awareness, educating, and empowering Black community members of all ages. The organization connects with allies for reciprocal educational opportunities, with the intention of creating spaces of mutual understanding and respect.
Our struggle for equity is bound together with the struggles of Indigenous communities of the land where many of our ancestors were transported and enslaved. Indigenous liberation is a prerequisite for Black liberation, so the work of Halton Black Voices will be closely tied to our Indigenous community members in Halton.
Jasmine Mander is a Niagara-based emerging curator. She is a graduate from the University of Waterloo where she studied Fine Arts and Business. She has worked for various art organizations such as the University of Waterloo Art Gallery, the McMaster Museum of Art, the Hamilton Artists Inc. and currently as the Curatorial Assistant at the AGB. Jasmine's most recent exhibitions include Noni Kaur's Nazar na lage/Knock on Wood, Yen Linh Thai's Mother Tongue, and Incoming! a project that worked to directly address the needs of refugee, newcomer, and immigrant artists in the Hamilton region.
Additional Information:
*Global Majority refers to people who represent over 80% of the world's population (Black, Asian, Brown, Indigenous, and dual-heritage).
ECHO is generously supported by Halton Region Community Investment Fund. Logo design by Tee Kundu.
For more information, contact Jasmine Mander, Curatorial Assistant at jasmine@agb.life