Connect with clinical experts supporting the delivery of best-practice care for pediatric patients with serious illness & medical complexity
About this event
Learning Objective: Participants will gain knowledge through access to specialty clinical experts, an inter-professional network, and a practice community to support the delivery of best-practice care to optimize comfort for pediatric patients with a serious illness and medical complexity.
Serious illness is defined as a condition that carries a high-risk of mortality in childhood that negatively impacts a child' daily function, quality of life, or excessively stresses their parents / caregivers (Ariadne Labs. Inc., (2012).
Session Details:
All sessions will take place virtually via Zoom from 10:00 - 11:00 am.
Registration is required for EACH session you wish to attend.
Limited spaces available. Registration for each session will close once capacity is reached.
A recorded presentation will be sent to all session registrants one week prior to the scheduled ECHO session.
Please watch the presentation prior to attending the session and review any articles or documents.
ECHO Session Dates and Learning Objectives:
April 22: Dr. Hal Siden, Serious illness and medical complexity in pediatrics: Population, Prevalence and Practice
May 20: Dr. Tim Oberlander, Complex Pain and Medical Complexity: Approaches to Therapeutic Failure
June 17: Mary Coleman, MSW, RSW, Moment by moment: Families navigating the uncertainty of their child's serious illness
July 15: Dr. Peter Louie, Medical Complexity: Symptoms and Body Systems Impact
August 19: Camara van Breemen, MN, NP(F), Imminent Dying: Location, Care, and Competencies
September 15: Dr. Ram Mishaal: Medical Complexity: Dystonia and Tone Management - from trigger to treatment
October 21: Dr. Natasha Datoo, Pediatric Serious Illness Conversations
November 18: Andrea Warnick, RN, MA, RP, A Web of Grief: The Experience of Grief and Loss for Families When a Child is Seriously Ill
About Project ECHO: Project ECHO (Extension for Community Healthcare Outcomes) is an innovative educational program designed to create virtual communities of learners by bringing together healthcare providers and subject matter experts using videoconference technology, brief lecture presentations, and case-based learning, fostering an "all learn, all teach" approach. Participants are engaged in the bi-directional virtual knowledge network by sharing clinical challenges and learning from experts and peers.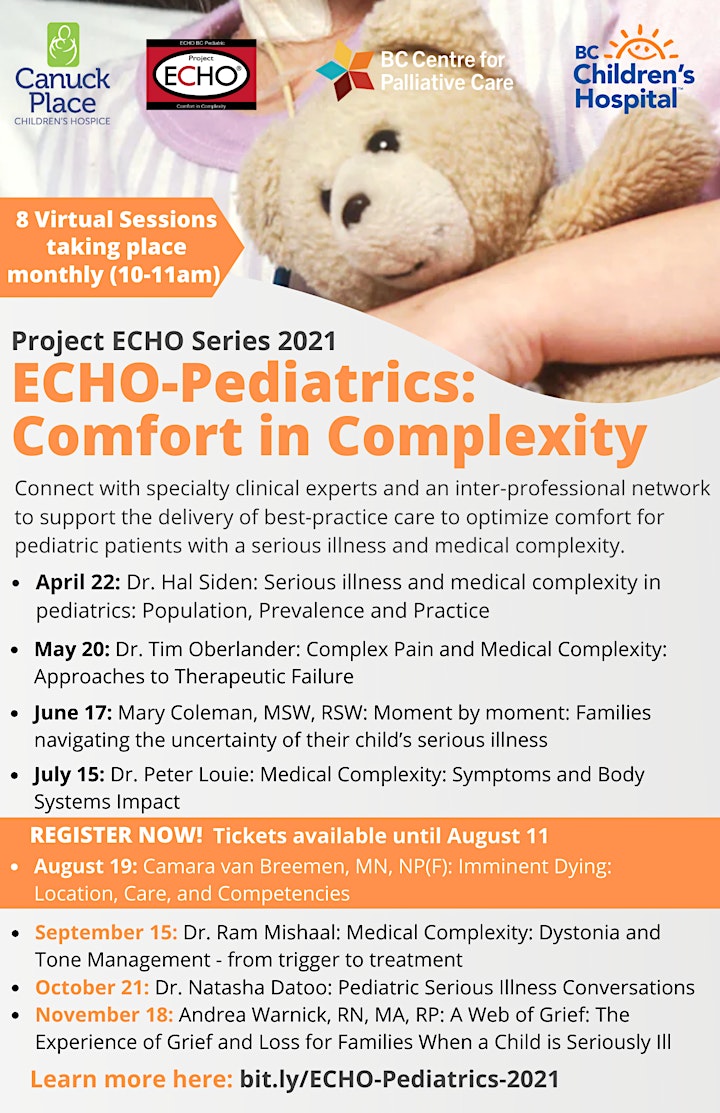 Disclosure Statement:
Throughout the ECHO series registration, participation, questions/answers, chat comments, and poll response data for some sessions will be recorded. Your individual data will be kept confidential. This data may be used for reports, communications, quality assurance, evaluation, research, and to inform new initiatives. The ECHO Institute based in New Mexico, US requires some session participation information for their aggregate reporting purposes. The information shared with them will be limited to first name, last initial and name of health organization.
This Project ECHO Series is a collaborative educational event made possible by Canuck Place Children's Hospice, B.C. Children's Hospital and BC Centre for Palliative Care.