Event Information
Refund Policy
Refunds up to 7 days before event
Description
REGISTRATION DEADLINE EXTENDED: we encourage registration or RSVP by Thursday the 21st to help with catering. We will be taking all registrants including day of the gathering! Lunch will not be guaranteed for last minute registrations.

Day 1 (Friday Sept. 22nd)- Glengarry Inn - 150 Willow St., Truro, NS B2N 4Z6
Day 2 (Saturday Sept. 23rd)- Douglas St. Recreation Centre- 36 Douglas St, Truro, NS B2N 2E7
A CARPOOLING/RIDESHARE BOARD IS AVAILABLE UPON REGISTRATION :)
All tickets include snacks and lunch costs. There are 3 types of tickets, each individual needs just ONE ticket*:
1) NSEN Member $20/day (COMMITMENT ONLY- current membership not required. Including individuals or member OR staff of any member organisation- see list below): volunteer option (%50 discount).
2) Non-member $60/day (individual or organisation): volunteer option (%50 discount)**
3) Government Employee $150/day (municipal, provincial, or federal)
And select when you will be attending: Friday Only, Saturday Only, OR Two Days
* If you are SPEAKING OR VOLUNTEERING we will issue you a discount code to use during registration. Check ticket info and email nsenvironmentalnetwork@gmail.com. Speakers will have discount for day of speaking but will need to purchase regular priced ticket for additional non-speaking day (2 tickets if attending two days).
** If you are STUDENT OR LOW INCOME and the ticket price is a barrier you can have tickets for $15 a day or $25 for two days. please email us at nsenvironmentalnetwork@gmail.com and we can provide a discount code. WE ARE ALSO LOOKING FOR SPONSORS FOR LOW INCOME TICKETS, please email us if interested.
Refund policy: Refunds are possible up until 7 days before the event.
Travel/Accomodations subsidies: We have a small pot of funds to help people in need with covering some expenses. If costs are a barrier please contact us and we may be able to help out.
--
We are delighted to share that the Nova Scotia Environmental Network (NSEN) is hosting a 2-day gathering "Eco Connects NS" on September 22 & 23 in Truro. The Friday (22nd) event will be at the Glengarry Inn and Saturday (23rd) event will be at the Douglas Street Recreation Centre. Since the inaugural gathering in 1991, new and complex challenges such as climate change have increased our need to work together towards positive change. This is an opportunity for environmental leaders from diverse sectors across the province to come together, celebrate what's been done, and identify the shared priorities for our future conservation efforts.
At Eco Connects NS, we aim to build capacity for environmental conservation across Nova Scotia. We are inviting leaders from non-profit organizations, First Nations organizations, provincial/ municipal/ federal government, researchers, youth, and the general public to join the conversations and festivities. Silver Donald Cameron and Elder Albert Marshall will be joining us as speakers on Friday.
See schedule below (updated September 16th).
NSEN is more relevant and important than ever before as a supporter and convener of environmental leaders. We are welcoming you to join the reinvigoration efforts for the NSEN by joining as a member, which comes with discounts of up to $30 for event registration. Membership includes a monthly EcoConnects newsletter, workshop and event discounts, Caucuses (Water and Environmental Education are active), and more. Membership forms for Individuals ($10-20), Organizations ($40-150), and Associate members ($100) are available here: https://nsenvironmentalnetwork.com/how-to-join/how-to-join
We hope to see you there!
Sincerely,
Co-organizers Amy Buckland-Nicks and Kelly Schnare
nsenvironmentalnetwork@gmail.com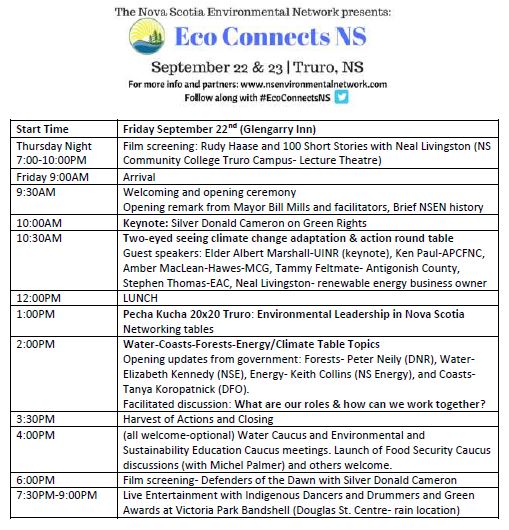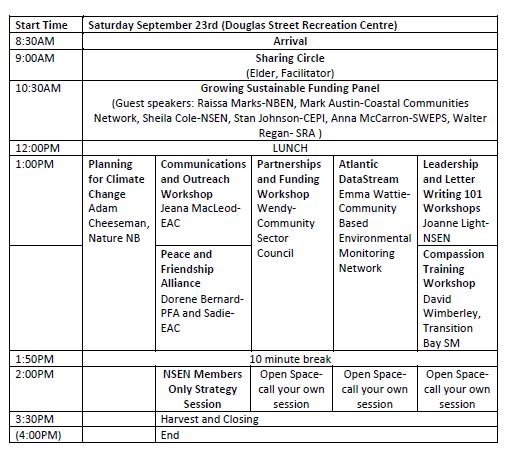 Current list of NSEN member organisations:
Groups:
Council of Canadians - South Shore
Clean Annapolis River Project Society
Canadians for a Safe Learning Environment
Ducks Unlimited
Environmental Health Association of Nova Scotia
Environmental Law Society of Nova Scotia
Green Party of Nova Scotia
Halifax North West Trails Association
Hike Nova Scotia
Kairos Halifax
Margaree Environmental Association
Nature Nova Scotia (Federation of NS Naturalists)
Nature Trust
LUSH
Sacred Heart School - Environment Students Club
Solar Nova Scotia
Thinkwell Shift (Green Schools)
Young Naturalists Club
Individuals:

Geoff McCain
Jackie Easby
Joanne Light
Melissa Watson Elmer
Michel Palmer
Sue Adams
Silver Donald Cameron

Date and Time
Location
Refund Policy
Refunds up to 7 days before event