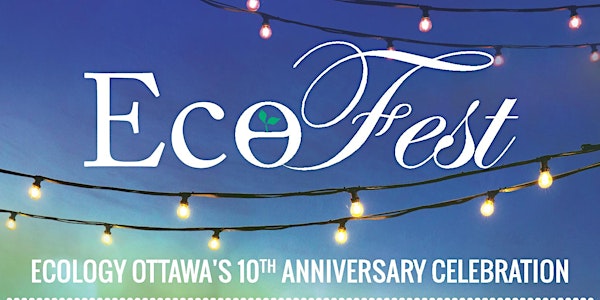 EcoFest - Ecology Ottawa's 10th Anniversary Celebration
When and where
Location
Aberdeen Pavilion 1000 Exhibition Way Ottawa, ON K1S 5J3 Canada
Refund Policy
Refunds up to 1 day before event
Description
TICKET SALE ENDS AT 5PM. A LIMITED NUMBER WILL BE AVAILABLE AT THE DOOR FOR $40
Thanks to our Gold Sponsors: The Table, Beaus and IESO
On October 12th 2017, at the Aberdeen Pavilion in Lansdowne Park, Ecology Ottawa will be celebrating our 10th anniversary by hosting EcoFest – Ottawa's biggest gathering of the environmental community, and TICKETS ARE ON SALE NOW FOR ONLY $35! There will also be a limited number of tickets available on the door for $40.

Come celebrate with us! Hear from inspiring speakers, enjoy vegetarian/vegan food from local restaurants, sip on beer from Ottawa's finest craft breweries, watch live art installations, bid on exciting auction prizes, network with like-minded Ottawa residents and explore all the innovative green businesses, organizations and initiatives Ottawa has to offer.
Our keynote speaker will be Olivia Chow, previous Toronto councillor and mayoral candidate and current distinguished professor at Ryerson University on community organizing. We look forward to learning more about her experience serving Toronto's municipal politics and her expertise in community engagement, and how to apply it to the Ottawa context.
Different from previous annual dinner, this year's EcoFest is not a sit-down dinner. There will be food and drink booths serving a variety of vegetarian or vegan small plates, beer, wine and other drinks, all for $5. Your ticket includes 3 food/drink tokens, and more are available for purchase at the venue. Guests are welcome to mingle, check out the booths, get food or drinks, and come inside the speaker area to listen to the speeches throughout the evening.
Tickets are only $35, which includes tokens for food and drinks and gives you a free ride to and from the event on OC Transpo buses. Stay tuned for announcements on speakers, vendors, prizes, and all the fun we are cooking up at ecologyottawa.ca/eco-fest.
If you purchase 10 tickets or more, tickets are only $32 each, and your name will be entered into a draw for a silent auction item.
Don't miss Ottawa's biggest gathering of the environmental community.
For more information, go to: ecologyottawa.ca/eco-fest or call: 613 860 5353. Feel free to contact us if you have any issue purchasing a ticket, or prefer to buy one by cash, cheque, Paypal, or other methods.
-----------------------------------------------------
Le 12 octobre 2017 au Pavillon Aberdeen de Lansdowne Park, Ecologie Ottawa s'apprête à célébrer son 10e anniversaire en accueillant l'EcoFest – le plus grand rassemblement de la communauté environnementale d'Ottawa -, et LES TICKETS SONT EN VENTE A PRESENT POUR SEULEMENT 35$ !
Notre speaker d'honneur n'est autre qu'Olivia Chow et nous sommes impatients d'en apprendre davantage sur son expérience au service de la politique municipale de Toronto, ainsi que sur son expertise en community engagement, et surtout sur la manière dont elle pourrait s'appliquer à l'exemple d'Ottawa.
A la différence des diners annuels précédents, l'EcoFest n'est pas un dîner où vous serez attablés. Il y aura des stands de restauration et de boisson qui vous serviront une large variété d'assiettes végétariennes ou vegan, du vin mais aussi d'autres boissons, toutes à 5$. Votre ticket comprendra 3 jetons restauration/boisson, et plus encore pourront être achetés sur le lieu de l'évènement. Vous serez invités à vous mélanger les uns aux autres, à flâner entre les stands, à aller vous procurer restauration et boisson, et à vous installer dans la zone spécialement dédiée aux speakers pour y écouter des discours tout au long de la soirée.
Les tickets sont à 35$, ce qui comprend des jetons pour vous restaurer autant que pour vous procurer un verre, et il comprend également votre trajet gratuit en bus avec OCTranspo pour vous rendre sur le lieu de l'évènement mais aussi pour en revenir. Restez à l'écoute sur notre site internet ecologyottawa.ca/eco-fest de nos annonces à venir concernant les speakers, les vendeurs, les prix, et plus généralement l'animation que nous vous concoctons pour l'occasion.
Ne manquez pas le plus grand rassemblement de la communauté environnementale d'Ottawa !