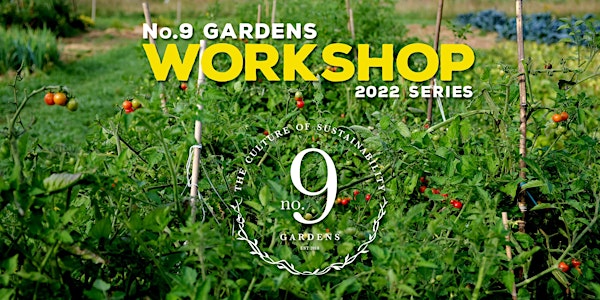 Ecological Gardening: Intro to Edible Ecosystem Design
A standalone workshop for growers of any level with any amount of space. Learn the basics of designing edible ecosystems for landscapes.
When and where
Location
1516 Summers Rd 1516 Summers Road Rideau Lakes, ON K0E 1N0 Canada
Refund Policy
Contact the organizer to request a refund.
Eventbrite's fee is nonrefundable.
About this event
Ecological Gardening: Intro to Edible Ecosystem Design
Organizer: No.9 Gardens
Date: Saturday, September 17, 2022 at 2:00 pm - 4:00 pm
Facilitator: Trent Rhode, Certified Permaculture Designer and Teacher
Summary: Join Trent Rhode of Living Landscapes for this standalone workshop for growers of any level with any amount of space. Learn the basics of designing edible ecosystems for landscaping, farms, homesteads, and mixed orchards. The art and science of creating edible ecosystems is as old or older than human civilization and involves designing and planting based on ecological principles present in natural ecosystems. Edible ecosystems are low maintenance and space efficient and provide a diverse set of yields throughout the seasons. In this workshop you'll be introduced to the natural processes that are enlisted to create edible ecosystems, and how to apply natural ecosystem observation to designing our gardens and landscapes based on patterns and plant communities found in nature.
Workshops will run if a minimum of 6 participants register and will have a maximum of 20 participants. Come early to drink refreshments and our fresh garden produce can be purchased upon request. Please bring a reusable water bottle (if you have one), a hat, and comfortable footwear for the gardens. You are welcome to hike the public Hawkridge Nature Conservancy Trail as well. Please bring a mask if required for government regulations.
Refund Policy: We will issue refunds up to 72 hours prior to the workshop. Once that time has passed we are unable to process refunds. This policy allows enough time for our facilitators to plan accordingly as the number of participants determines whether the workshop will run. Thank you for your understanding.
Location: The address is 1516 Summers Road, Rideau Lakes, ON, which is about a 40 minute drive North of Kingston on Hwy 15.
Eco-Art Tours: Starting August 6, every weekend we will offer tours of land art installations from artists. See our website for more details.
About No.9 Gardens: Your registration directly supports our programs and helps us fulfill our mission of empowering youth and the general public to lead a revolution in building resilient communities. No.9 Gardens is focused on educating people about the importance of a strong, local, resilient food system. We work with volunteers to grow fresh nutritious produce for those most in need.
No.9 Gardens is situated on many traditional territories including Haudenosaunee (Ho-den-o-show-nee), Anishinaabe (Ah-nish-in-ah-bay), Mississauga, Algonquin, and the Wendake-Nionwentsïo nations. We are grateful to be able to offer the public these lands to live, learn, and play on.
40 acres of quintessential Ontario wilderness in eastern Ontario known as the Frontenac Arch Natural Area: this is the canvas on which we are creating Canada's first centre for promoting sustainability and indigenous dialogue. No.9 Gardens is located alongside the Hawkridge Trail, 200 acres of protected UNESCO World Biosphere Reserve and the spectacular natural beauty of Eastern Ontario.
How do we do this? By providing enjoyable, lived experiences outdoors in the natural environment that encourages creativity, greater respect and reciprocity with the land, and a more sustainable lifestyle. Learn about our programs and offerings through our website below:
Website: https://www.no9gardens.ca/workshops
Video: https://vimeo.com/484267815
Airbnb Rentals: https://www.airbnb.ca/users/show/400032260?fbclid=IwAR0Eybyf2Y6H7qASKJk3pa9AW3x8gd4UEWNE43xdU7ZDiLBd6HZdI9EPCng
Become a volunteer: Email info@no9.ca