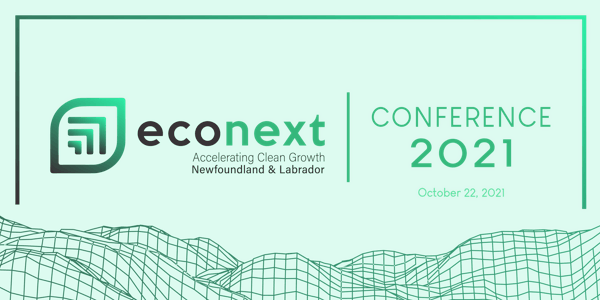 econext 2021 conference
Accelerating Clean Growth in Newfoundland and Labrador
When and where
Location
Sheraton Hotel Newfoundland 115 Cavendish Square St. John's, NL A1C 3K2 Canada
Refund Policy
Contact the organizer to request a refund.
Eventbrite's fee is nonrefundable.
About this event
ONLY ONLINE TICKETS AVAILABLE AS OF OCTOBER 21
Join us on October 22, 2021 to explore the vast opportunities that net zero, the energy transition, and finding value from waste are presenting Newfoundland and Labrador.
This is the best opportunity of the year to network with your clean technology and environmental services colleagues in industry, government, and academia.
The conference will feature panel discussions focusing on the following four subjects:
Conference Agenda:
The conference will feature four panel discussions:
Cleantech Sector Growth in Newfoundland and Labrador
Our province's technology sector is booming, and among the success stories are businesses that are developing their own products and services that improve our relationship with the environment. In this session you will hear from a cleantech CEO who has seen their company experience rapid growth on an international scale – and from one of province's foremost experts on how we are supporting our tech entrepreneurs and setting them up for success.
Keynote Speaker – Joshua Green, CEO – Mysa
Michelle Simms, President & CEO – Genesis
Philip Cave, Key Account Specialist – takeCHARGE
Technology, Net Zero, and the Environment
Global discussions around net zero have accelerated greatly since the onset of the pandemic. The pursuit of net zero will present industries key to Newfoundland and Labrador's economy with significant challenges, but also with substantial opportunities for the development and application of new technologies. In this session you will hear from leaders in oceans, mining, and oil and gas on what all of this means for their industries and the action that they are seeing taking place.
Moderator – Deidre Puddister, Env. & Compliance Manager – Anaconda Mining
Hon. Bernard Davis, Minister – Environment and Climate Change
Jim Keating, CEO – Oil & Gas Corporation of NL
Kendra MacDonald, CEO – Canada's Ocean Supercluster
Allan Cramm, VP Innovation – Novamera Inc.
Geni Peters, Labour Market Information Manager – ECO Canada
Value from Waste and the Opportunity for Innovation
Newfoundland and Labrador faces obstacles in dealing effectively with its waste streams – at household and industry scales. Our population is small and waste is generated in rural and remote areas. Economies of scale are difficult to achieve, and the environmental impact of transporting waste outside of the province can be substantial. In this session you will hear about why conditions for waste management innovation are ripe in this province, and where the best opportunities for investigation may be.
Moderator – Sarah Halliday, Bus. Dev. Manager – Heave Away Waste Management
Charles Bown, CEO – Multi-Materials Stewardship Board (MMSB)
Don Drew, Operation Manager – Newco Metal & Auto Recycling
Ben Wiper, Co-Founder and CEO – 3F Waste Recovery
Our Energy Future – Electricity, Renewables, and Hydrogen
The momentum that hydrogen and other clean fuels are gaining globally as solutions to achieve deep emissions reductions present Newfoundland and Labrador with exciting opportunities for the development of its vast cache of renewable energy resources. Using clean energy for the production of clean fuels gives the province a new pathway for development, while electricity generation remains an option. In this session you will hear about what these opportunities are and what the most realistic pathways to clean energy development may be for the province.
Moderator – Alex Templeton, Partner – McInnes Cooper
Hon. Seamus O'Regan, Minister of Natural Resources
Hon. Andrew Parsons, Minister of Industry, Energy, and Technology
Jennifer Williams, President and CEO – Newfoundland and Labrador Hydro
Keith Drover, VP Project Development – Growler Energy
Blair MacDougall, Founder and Director – Waterford Energy Services
Renewable Energy Strategy Roundtable
To inform the development of Newfoundland and Labrador's renewable energy plan, econext will be hosting a renewable energy strategy roundtable at its 2021 conference on October 22. The roundtable will be a facilitated discussion open to industry representatives and conference participants only. The discussion will serve to inform econext's formal submission on November 4 to the Government of Newfoundland and Labrador for consideration in the development of its renewable energy plan. Please indicate your interest in participating in this session to Kieran Hanley at kieran@econext.ca.
Your ticket will include a continental breakfast and lunch. Online-only registrants will receive a Zoom link to participate in the conference live. All registrants will have access to conference session recordings on-demand following the event.
Information on tickets being made available to students will be released closer to the conference date.
--
To ensure the safety of participants from COVID-19, this event will strictly follow public health guidance in place at the time of the event.