Description
Jeremy Plesman, a cattle nutrition consultant will share how to spend less time getting cows healthy after calving and increase returns on next year's calves by having an in-depth understanding of nutrient and mineral nutrition.
What you'll learn
Impact of basic mineral requirements on calving and conception time
How animal health is linked to better offspring, weight gain and feed conversion – and improved economic returns

Importance of both minerals and nutrients to cow metabolism and health
You'll also hear from Christa Harder from the Dawson Creek Veterinary Clinic on staying current in a changing industry, building the producer/vet relationship, managing herd statistics and the Verified Beef Production Program.
________________________________________________________________________________
Agenda
9:00 a.m. - Coffee and registration
9:30 a.m. – Jeremy Plesman
11:30 a.m. - Lunch and networking
12:15 p.m. - Dr. Christa Harder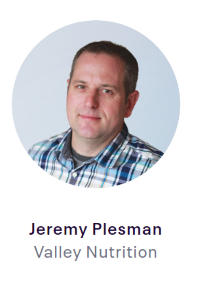 Jeremy Plesman is owner of Valley Nutrition and has been an independent nutritionist and economic consultant for the past ten years based out of the Fraser Valley, working in B.C., Alberta, Montana and Washington State.
His core business is dairy nutrition and economic, but has a growing clientele in the beef industry specializing in cow-calf mineral and nutrient nutritional balancing. Jeremy was formally trained in bovine nutrition by a progressive nutritional company in Brookville, Ohio.
Dr. Christa Harder grew up on a farm in Saskatchewan. Upon graduating in 2009 from the Western College of Veterinary Medicine in Saskatoon she moved north to Dawson Creek where she has since been working at the Dawson Creek Veterinary Clinic. Christa loves working with horses and cattle therefore quickly became a predominately large animal veterinarian at the clinic. Christa and her partner Chance have started their own cow/calf and backgrounding operation on their ranch near Dawson Creek. Christa is passionate about the cattle industry and honored to work alongside ranchers to assist in improving their animal health, economics and productivity.