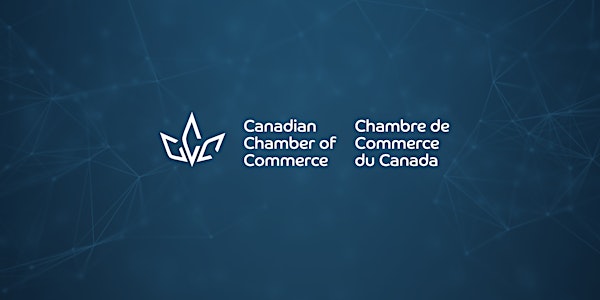 Economic Progress Report | Le Point sur la situation économique
Bank of Canada's Economic Progress Report with Governor Tiff Macklem
About this event
The Canadian Chamber of Commerce will host the recently-appointed Governor of the Bank of Canada, Tiff Macklem, for the Bank of Canada's Economic Progress Report. The event will take place via videoconference on September 10 at 12:30 p.m. ET.
Governor Macklem will discuss the September interest rate decision and will explain how the COVID-19 pandemic is affecting different sectors and people in the economy.
The Governor will speak for approximately 25 minutes and will participate in a live Q & A session with event participants.
The link to the videoconference, along with a mechanism to submit questions to the Governor, will be sent to registered participants prior to the event.
***
Le Point sur la situation économique de la Banque du Canada avec gouverneur Tiff Macklem
La Chambre de commerce du Canada accueillera le gouverneur de la Banque du Canada récemment entré en fonction, Tiff Macklem, qui fera le point sur la situation économique de la Banque du Canada. L'événement se déroulera par vidéooconférence le 10 septembre à 12 h 30 HE.
Le gouverneur Macklem parlera de la décision de septembre concernant le taux directeur et expliquera comment la pandémie de la COVID-19 affecte différents secteurs et personnes de l'économie.
Le gouverneur parlera pendant environ 25 minutes et participera à une séance de questions-réponses en direct avec les participants à l'événement.
Le lien vers la vidéoconférence et un mécanisme permettant de soumettre des questions au gouverneur sera envoyé aux participants inscrits avant la tenue de l'événement.